It's easy. You go to the ocean and take a right.

Of course, you'll miss one of the best parts of the drive, because the stretch of I-5 over the Oregon – California border to Ashland is simply wonderful. Carved from mountain passes, the highway winds and rolls like a bobsled run through Siskiyou Pass and some of the most beautiful mountain scenery either state has to offer.
Your reward for braving this fabulous piece of roadway is the town of Ashland, a delightful and charming oasis in an otherwise fairly nondescript string of small towns along this part of the interstate. Home of the Oregon Shakespeare Festival, this lively burg is filled with inns and bed & breakfasts, dozens of restaurants from which to choose, and other arts and diversions if your interests do not lean towards the theatre.
Further north, the roads from the Interstate out to the ocean are mostly two-lane blacktop, but are lightly traveled. The drive to the coast is usually well under an hour.
Then comes the real deal.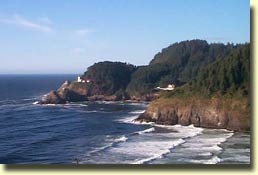 My friends, if you have never spent time on the Left Coastside, you truly owe yourself the treat. Big Sur and Mendocino have always been my favorites, but the Oregon coast now has a place in my heart.
After a night in Ashland, my traveling companion and I secured lodging near Pacific City, a sleepy little town, and our quarters were a mere five minute walk to the water.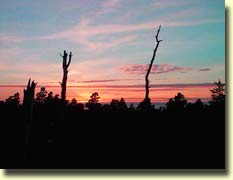 This time of year, there are few visitors to the beach – in fact, we shared more than a mile of broad sandy shoreline with just a handful of folks. A light mist hung low over the beach, giving an otherwise bright day a surrealistic edge. Add to that a different and gorgeous sunset each night, framed by the remnants of coastal pines splintered by the storms of El Niño a few years ago.
All of this is the perfect recipe for R&R of the finest kind – especially when we added some good home cooking and the all star picks from the cellar we brought along.
To make this a true busman's holiday, we scheduled three appointments with our favorite grape.