Landmark Vineyards
I remember visiting the tasting room at Landmark back in 1994 or so, and leaving, shaking my head, and writing them off as "just another Chardonnay producer."
Enter Helen Turley.

Exit mediocrity.

Some change.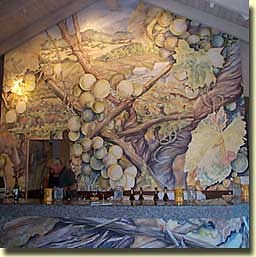 Landmark Vineyards was founded in 1974 by a partnership that included Damaris Deere Wiman Ethridge, the great, great granddaughter of John Deere, inventor of the steel plow. Originally located in Windsor, just north of Santa Rosa, the winery produced rather average varietal wines for years. When rezoning substantially raised the property taxes on the winery in 1989, Ms. Ethridge bought out her partners, and decided to build a new winery near the foot of Sugarloaf Ridge in Kenwood. The new winery was designed and built in the California Mission style, and when they realized the tasting room was too dark and solemn, it was renovated with a bevy of windows that bring the sunlight and beauty of the vineyards into the visitors' tasting experience. Claudia Wagner, a regional artist, was commissioned to create a mural as a backdrop to the tasting bar, and it gives the room a vibrant energy.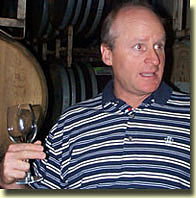 Michael Deere Colhoun (right), Ms. Ethridge's son, is the winery's president, and his wife, Mary T. Colhoun, serves as Public Relations and Hospitality Director. Bob Cooley is Vice President of Sales & Marketing, rounds out the management team and has more than two decades of experience in the industry.
But of course, none of this would be significant if the proof were not in the bottle.
Believe me, it's there.
The key decision was made in 1993, when "pre-goddess" Helen Turley was brought on board as consulting enologist. Ms. Turley had founded her own Chardonnay label, Marcassin, and was quickly building a reputation as a woman with extraordinary drive and talent. Her arrival marked the beginning of a huge turnaround for the winery.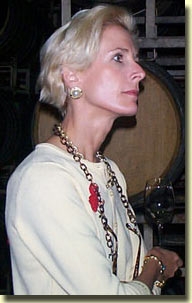 The transition was not always an easy one, as Eric Stern remembers. With Landmark since 1989, he was promoted to Winemaker in 1993, and it was at his suggestion that Turley was considered. Even Bakke joined the winery in 1996, and since 1998 has shared a unique relationship with Stern as co-winemakers. While this arrangement may be confusing to some, nobody can doubt that the end result has elevated this winery well above the pack, creating one of the most amazing winery turnarounds in recent memory.


Go right to the
tasting notes

Left Coast Correspondent
Index
PROFILES:
Tasting Notes from
the Northern Ridge
Synergism
Further Tasting Notes from the Ridge
Up the Coast
Domaine Serene,
Domaine Drouhin
and Archery Summit
More Tasting Notes from the Ridge
Galleron

Scott Paul Wines

Landmark Vineyards

Dashe Cellars
Tasting a Legacy -
Wines of Stag's Leap

TN's From The Ridge & Beyond
Paul Draper and Monte Bello
C O P I A

TRADE TASTINGS
"T" is for...
califusa ventures where the stags leap
Premiere Napa Valley ®

Family Winemakers 02, 01, 98