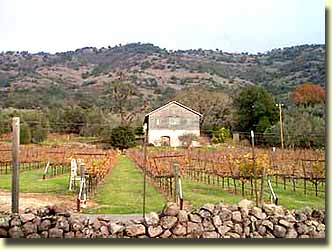 One of the scenic properties found along Soda Canyon Road
Soda Canyon Road breaks off of the Silverado Trail just south of the Stag's Leap District, and winds north for miles up into the hills above Oakville. It is narrow and sparsely traveled, bordered by a mix of newer, gated upscale homes and historic vineyards with rustic houses and outbuildings. Just when you think it can't be much further, the road narrows, and a turn into a nondescript driveway leads to a maze of forks and driveways. Eventually, the scrub oak and underbrush gives way to rows of vines, and minutes later you are surrounded by acres of carefully tended grapevines. Acres. And acres. 500 or so, I understand – the vast majority planted to Cabernet Sauvignon. At the highest point of the vineyard, on a knoll overlooking the rest of the property lies a small block of young vines grafted to a Beaucastel clone of Syrah. Next spring will be third leaf, and a small amount of fruit will be available for experimentation.
There is also a 5 acre block of Zinfandel on another part of the site, planted to Aldo's clone and Old Crane clone. Hopefully, in time this will develop into another vineyard designate for the Zinfandel program.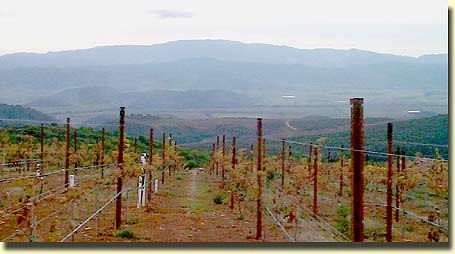 The view from the Biale Zinfandel block at Stagecoach looks
across the entire Napa Valley to the Mayacamas Range
This site is only one of seven that are currently being developed for Biale. They have sought out growers with compatible philosophies – do whatever it takes in the vineyard to create the finest wine. Long term leases will assure a stable supply of fruit - involvement in the vineyard will assure quality – and, a handshake still means something, and is sometimes all that is needed to finalize an agreement. These will be limited production wines, most likely no more than a hundred or so cases. The vineyard sites range from Napa to Alexander Valley to Sonoma Valley and even Paso Robles. Each site has the potential to produce unique wines that will offer a variety of Syrah experiences.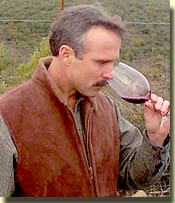 Bob (left), Dave and I lunched from the back of their pickup truck at the top of the Syrah block, and sipped glasses of the first Syrah from Biale. It was wonderful to hear the excitement in their voices and see the sparkle in Bob's eyes as they talk about this new chapter in the Biale story. With a new winery on the horizon, there is a great deal to be excited about.
1999 Biale Syrah Rockaway Vineyard – first Syrah from Biale, sourced from a vineyard on the east side of the Alexander Valley – dense purple color – waves of ripe Syrah fruit and spicy aromatics from the glass, despite being tasted outside with a steady breeze – rich and full in the mouth with flavor to spare – balanced and sophisticated with immediate appeal, but structured for aging. This is a very delicious wine, clearly Syrah and clearly California.
2000 Syrah Rockaway Vineyard - barrel sample - this will be the first wine to bear name and label of the new Syrah program (name and graphics to be determined). Lavender tinged purple robe of youth – restrained aromatics – mostly primary fruit flavors in this very young wine – smooth and friendly in the mouth. I suspect this wine will reflect the vintage, and become an elegant sibling to the 99.
Both of these wines reflect the house style of this producer – rich upfront fruit, character and personality, amazing drinkability.
Maybe I spent too much time with Sean Thackrey, but I find discussions of "varietal correctness" and typicity kinda boring. I don't know what a "true Syrah believer" is, but I know quality wine when I taste it. And, I have been around these folks long enough to tell you that they are committed to producing nothing less.
Perhaps the most exciting part of the Biale success story is just about to be written.
Stay tuned.
Robert Biale Vineyards
2040 Brown Street
Napa, CA 94559
707 257 7555
707 257 0105 fax
BIALEZin@aol.com
© Allan Bree February 2002