Who?
A few new producers at the Family Winemakers' Tasting
I wasn't sure how to approach this tasting from the Gang's perspective. After all, there would be more than 300 (that's right! 300) wineries pouring this year, so comprehensive coverage of any sort (region, varietal, etc.) was purely out of the question. Lots of folks would be posting notes on the "big" and "cult" wineries. So, I thought it would be fun to look for producers I did not know, or had not tasted. Perhaps I would luck out, and stumble on a couple of interesting new wines and producers.
It turned out to be much more successful than I thought it would.
In completely random order:
My first stop today was with my friends Kal and Dorothy Showket, to taste their 1999 Sangiovese and 1999 Cabernet Sauvignon, both of which are far better wines, I think, than some reviews might lead you to believe. The Sangiovese shows a lovely streak of olive and herb in the nose that follows on the palate. The Cabernet is medium to full bodied, beautifully balanced, and quite delicious.
I then stopped to say hello to Robert Foley, and got to taste his 1999 Claret – absolutely delicious, and a taste of the Pride Mountain Vineyards 1999 Hilltop Merlot – likewise yummy, wonderfully concentrated with terrific varietal character. Very impressive.
My first encounter with a new winery was with Tolosa Winery, a 500 acre operation in the Edna Valley, almost all of which is planted – mostly Chardonnay with some Pinot Noir and Syrah. Their first commercial vintage was 1999, and apparently their Pinot Noir from that vintage has done very well in some respected competitions. I'm here with the principals, Bob and Ann Schiedelhut and their brand manager, Jeanette Occhipinti – all very nice folks, and excited about being a part of the tasting today.
Tolosa 1999 Chardonnay Edna Valley – medium bronze in color – pleasant mid-spectrum varietal fruit on the nose, with hints of well integrated oak – the wine is crisp and clean on the palate with good acid structure – should pair well with a variety of foods – probably not built for the long haul, but drinking very nicely right now.
Tolosa 2000 Pinot Noir Edna Valley – bright garnet color – lilting high notes of strawberry and rhubarb-like Pinot fruit with a touch of pleasant stemminess in the aromatics – in the mouth the wine is clean and bright with lovely notes of red cherry and wild strawberry – very clean finish.
Two very nice offerings from Tolosa.
Tolosa
805.782.0300
---
Next stop was with Laraine Winery, a Calavaras county grower, farming Merlot, Chardonnay, and other varietals. Their winemaker is John Gibson, who I know from his work with Snowden Vineyards (that I've commented on before), and also from his connection with Stag's Leap, where he had a hand in the 1985 Cask 23 – a benchmark California Cabernet for me. Their first commercial vintage was in 1991, but was distributed almost exclusively to restaurants in the Los Angeles area – the owner is connected in the entertainment industry. In 1997 the first distributed vintage of Chardonnay was released, followed in 1998 by Chardonnay and Merlot.
Laraine 1999 Chardonnay Gerber Vineyards – medium brass color – pretty, albeit shy Chardonnay fruit in the nose – lightly touched with oak, the fruit is lively and floral in the mouth. John used a deft hand with the oak, and I find it easy to believe that this is the only Chardonnay that he makes. I don't think I've tasted enough of his white wines to draw a stylistic conclusion about his approach to white wine but clearly the wine is delicate and balanced and very pleasant on the palate. It is not dissimilar in style to the Sauvignon Blanc he makes in small quantities for Snowden. $16.
Laraine 1999 Merlot – dark and deep ruby color – lovely purple and black mixed stone fruits in the nose – forward attack of delicious fruits on the front of the palate that follow the aromatic profile precisely – smooth tannins intrude on the midpalate, but this is consistent with the winemaker's style. The wine is unmistakably well structured with good acid, tannin and fruit balance for some aging, but even at this early age is quite delicious. $24.
Two impressive and well-valued wines from Laraine and winemaker John Gibson.
Family
Winemakers
of
California
Eleventh Annual
Tasting
November 13, 2001

Festival Pavilion
Fort Mason Center
San Francisco, CA
Left Coast Correspondent
Index
PROFILES:
Tasting Notes from
the Northern Ridge
Synergism
Further Tasting Notes from the Ridge
Up the Coast
Domaine Serene,
Domaine Drouhin
and Archery Summit
More Tasting Notes from the Ridge
Galleron

Scott Paul Wines

Landmark Vineyards

Dashe Cellars
Tasting a Legacy -
Wines of Stag's Leap

TN's From The Ridge & Beyond
Paul Draper and Monte Bello
C O P I A

TRADE TASTINGS
"T" is for...
califusa ventures where the stags leap
Premiere Napa Valley ®

Family Winemakers 02, 01, 98
---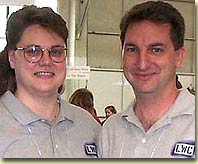 Next was a surprise visit with a familiar name from Brad Harrington's West Coast Wine Net board, Brian Loring, representing Loring Wine Company with his sister, Kimberly.
Loring 2000 Pinot Noir Gary's Vineyard – medium garnet in the glass – somewhat restrained, but pleasing sweet mid-range Pinot fruit in the nose, mostly cherry and red plum – quite delicious in the mouth with fruit flavors that echo the aromatics – good acid backbone with unassuming light and fine tannins in the midpalate – finishes clean and smooth. A very nice and impressive wine.
Loring 2000 Pinot Noir Clos Pepe Vineyard – from fourth leaf fruit – clear garnet color – likewise, aromatically restrained, but a lovely perfume of Pinot comes peaking through – more lush and forward in the mouth, with pretty fruit flavors rather reminiscent of Russian River Pinot – clean and smooth follow with very fine tannins in the midpalate, but they do not detract from the wine at all. I expect both of these wines to open up aromatically with more time in the bottle. They are quite delicious and I recommend them.
A very strong showing from Brian Loring.
Loring Wine Company
877.LWC.WINE
LoringWineCompany.com
---