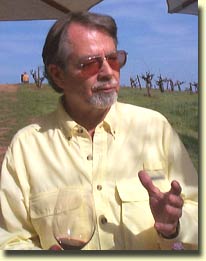 When ideally ripe, Petit Verdot is astonishingly powerful – redolent of violets and black current, with a hint of bay laurel. Densely structured, it can add viscosity to the blend.
2002 Petit Verdot – from the Olivos block, five year old vines - more garnet in color – has more brooding mineral and spice qualities in the nose – in the mouth the flavors are every bit as subdued as the cabernet franc was exuberant. It shows hints of pencil lead, spice and minerals – scant fruit is expressed at this stage of its development, but it is very interesting to see what it might contribute to the blend.
Cabernet Sauvignon dominates the Monte Bello blend, and provides most of its structure, as well as rich tannins, firm acid, and an abundance of dark blackberry/cassis fruit.
2002 Cabernet Sauvignon – from 25 acres of the Monte Bello Vineyard – ruby color – beautiful aromas of spicy berry and cherry-like cabernet fruit – the flavors follow the nose with good medium weight concentration – suggestions of young "grapey" barrel sample flavors.
Monte Bello Merlot can, in some years, be as firmly structured as the cabernet, but its rounded tannins complement the cabernet's more angular ones. It is elegant and voluptuous, with black cherry fruit and balanced acid.
2002 Merlot – from the West block – slightly deeper color than the cabernet – a bit of sulfur in the nose – very smooth entry with velvety ripe merlot fruit in the mouth – the flavors and textures are very expansive, and this sample is absolutely delicious – by far the most impressive of the four components poured today.
Assemblage: The first assemblage is never final. All Monte Bello vintages go through two, if not three, assemblages. The blend we are tasting today is about two-thirds of the way to what the wine will become. It is composed of eleven very rich, classic lots – 70% cabernet sauvignon, 20% merlot, 10% petit verdot – each carefully assessed for stability. Some outstanding lots will remain separate until their stability is assured. We will continue to blind-taste over the next two months, and very probably show a more advanced blend at the May tasting. We expect the amount of cabernet sauvignon to increase somewhat, and merlot and petit verdot to drop.
2002 Monte Bello first assemblage – 71% cabernet sauvignon, 20% merlot, 9% petit verdot – 13.4% alcohol - shows hints of the complexities that develop with the blending of three components of this sample – wonderfully sweet and approachable in the mouth with a burst of ripe fruit flavors that spreads out over the palate – the tannins are smooth and do not interfere with the enjoyment of the wine at this point. It's absolutely gorgeous, and I don't recall ever tasting a barrel sample of Monte Bello that was as flat-out enjoyable at this stage of its life. Although I've said that barrel samples are often not accurate indicators of where the wine is going, this certainly gives me high hopes that the 2002 Monte Bello will be very special.
As I was enjoying the sample Paul Draper poured for me, we chatted a bit about the process that goes into creating Monte Bello.
c – "Could you speak for a moment about the principle of synergism and how that applies to the final Monte Bello?"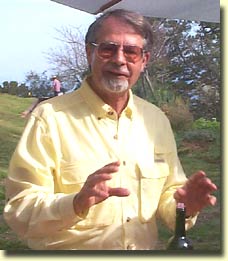 PD – "Well, I guess its one reason that we separate all the parcels and that it is crucial that we do so on the ridge, because the exposures differ as you move around the ridge. For example, with a valley floor vineyard in Napa you don't really have to do that to that degree because you've got that same exposure, same slopes, whatever. But, with all these different parcels, they work together – well, some of them work together, some of them don't – and that synergy, when they do work together…I'm thinking back to the 99, when we actually made two first assemblages. One of them was like this (the 2002), very rich, and one was less big. It was excellent, a lovely wine, but it wasn't of the same structure. We didn't put it in because we didn't want to pull the structure back. We let them age out separately and in August, several months beyond our normal assemblage, we put them in barrel together as an experiment. Within a few weeks the wine was bigger and fuller and richer than either of the two pieces.
That would be a perfect example of synergy, or what we've got here: four wines, and yet this blend (gesturing to the first assemblage) is fuller and richer in a sense than any of those. That synergy, as far as we're concerned, has to be determined by taste. For us, it's the name of the game and we cannot predict it. Yes, we can look at the analytical numbers and say: OK, these are the wines that have the most of this and the most of that. It's a good guide – but it doesn't mean absolutely that they are going to be the ones that work together as well. For us, it is always taste upon which we make the decisions.
We then look at the analysis and confirm it, or we use the analysis as a red flag to tell us: 'Hey, you've missed something, you've got a wine in here which is so small compared to the rest that it may really be bringing down the complete wine. So take a look at that.' That happens very rarely.
Usually, on the basis of taste, you can really see it. On the other hand, to have that analysis, we think, is incredibly important. To be able to work with both taste and analysis..."
c – "Is part of the magic that makes Monte Bello the wine that it is."
PD – "I hope so. And one thing is that the analysis alone can't give us this (lifting his glass). It is tasting, and seeing when that synergy happens. Because (if you use) just the numbers, the synergy doesn't necessarily take place.
We'll do the analysis, and the guy doing the analysis will predict: 'Well, this is what's going to happen.' And it's not what happens – what happens is something greater, or not even as great as the parts. So it really is tasting the wine."
Having taken as much of his time as I felt comfortable with, I thanked Mr. Draper and moved on to the next wine.
1999 Cabernet Sauvignon Santa Cruz Mountains – 78% cabernet sauvignon, 15% petit verdot, 6% merlot, 1% cabernet franc – 12.7% alcohol – deep garnet color – dark plummy fruit and lots of spice in the nose – it has a lovely, sweet and gentle entry – the flavors really broaden out in the middle of the palate with a pleasurable tongue-covering texture. The tannins are very fine and smooth – I suspect they may become a little more prominent after the wine has been open for a bit. Eventually this will develop into a wonderfully flavored and more approachable Santa Cruz Cabernet.
Thus ended a splendid afternoon on the Ridge: blue skies, gentle breezes, young Monte Bello wines and more conversation with Paul Draper.
What more could one ask for?
How about dinner at the Doghouse?
© Allan Bree March 2003