Two wineries are offering Syrah today, including Cain Vineyard and Winery, and after a pleasant chat with Nancy Walker I tasted from a five case lot of their 2000 Syrah Spring Mountain District. This sample has very smooth and suave plummy aromatics – medium bodied and fairly well balanced in the mouth with significant tannins. These vines are earmarked for a new concept wine for Cain that will include Bordeaux varieties.
The 2000 Syrah from Frog's Leap is a ten case lot of the first Syrah they have produced - sourced from the Truchard Vineyard – bright and juicy fruit aromas from the glass – lively in the mouth with zippy acidity – bright and very refreshing. John Williams, Frog's Leap President, is chairperson of this event.
Keep in mind that these wines are selected and/or blended specifically for this event.
The blend from Pine Ridge Winery is two thirds Tannat (a variety grown primarily in Madiran, near the Armagnac region of France) and the balance is Malbec and Merlot. 2000 Obsidian – deep purplish color – dark and brooding aromatics – in the mouth the wine is very pleasant with rich plummy flavors – not terribly tannic – I guess what I like about it most is that it lacks those easily identifiable varietal markers for me – very pleasant and delicious.
Next was Markham Vineyards, presenting a five barrel lot of 2001 Petite Sirah, sourced from 75 year old vines in a small property not far from downtown St. Helena. This PS will see 100% new American oak for one year, and will then be racked into 100% new French oak for an additional year. As the winemaker says: "It can take it." And it can.
In the glass this bruiser has a dense purple color – restrained smoky aromatics – it's a very big wine, but shows some surprising sweet fruit before the very substantial tannins interrupt the midpalate. This would be the one to bid on if you like these huge robust toothstainers.
My next stop was with Plumpjack Winery and their resident winemaker, Mary Pisor. While chatting with Nils Venge, their consulting winemaker, he told me they had "tweaked" this Cabernet shortly before its assemblage. Their five case lot of 2000 Cabernet Sauvignon is a blend of selected barrels from two blocks on the estate.
The wine shows somewhat restrained but pleasant Cabernet aromatics – in the mouth it is very successful, with bright currant and black cherry flavors with oak highlights, all held together in a nicely structured package. This is a very impressive auction lot from Plumpjack.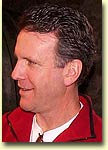 When the ever-present crowd around his table thinned a bit, I had a brief visit with Don Weaver (left) , who handles marketing for Harlan Estate. This 5 case lot of 2000 Cabernet Sauvignon comes from a single block located at the front of the estate.
I've only tasted Harlan on a couple of occasions, but this sample has an aromatic profile that matches precisely my olfactory memories of past tastings – elegant Cabernet perfume, In the mouth it is dense and rich with amazing grace and intensity. Only moderately tannic, it has a clean finish and speak eloquently of its heritage – a very delicious and impressive Cabernet from Harlan. This five case lot fetched a whopping $35,000, the highest of the entire auction.

Next was Cathy Corison (left), representing her own Corison Winery. With rare exceptions, I find her Cabernets to be among my favorites from Napa. This five case lot of 2000 Cabernet Sauvignon comes from the 30 year old vines of the Kronos vineyard, which surround the winery North of Rutherford. It is sourced from a single row of this "beautiful, ugly old vineyard" that is being experimentally trained to cordon.
Clear garnet color in the glass – pretty bright red cherry and high-toned Cabernet fruit aromatics – lovely and elegant in the mouth, with smooth and polished tannins – a well balanced and beautiful effort from Cathy Corison. It certainly expresses an interesting counterpoint to the Harlan, which is about power and intensity – this Cabernet shows more of the elegant, and (dare I say it?) feminine side of the grape. Very impressive.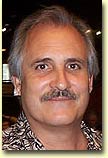 And from Del Dotto Vineyards, a five case lot of 2000 Cabernet Franc, that allegedly went to over 28 brix prior to harvest. This sample is distinctly Franc in the nose – sweet and delicious in the mouth with no hint of the green herbaceousness or olive characteristics that occasionally mar this variety. A lovely offering from the always gracious Dave Del Dotto (left).

I have followed Buehler Vineyards since the early 80s, and I was very happy to see John Buehler (left) pouring from his five case lot of 2000 Cabernet Sauvignon from the "Terraces" block of his estate on Howell Mountain. He now has 50 acres planted on the property, and has a new production building under construction.
The wine shows restrained but pleasant Cabernet fruit in the nose – beautifully focused in the mouth, with a delicious core of ripe black cherry fruit framed with a hint of oak – long, somewhat restrained tannic finish. It speaks of its origin, and all I could do was smile and nod my head to thank John for another delicious effort.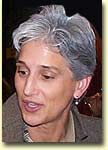 Next was Spottswoode Vineyard & Winery, and it was a true pleasure to meet Rosemary Cakebread (left), the winemaker, and Beth Novak Milliken (below left), President of Spottswoode. With the exception of David Abreu, who manages the vineyards, and the vineyard foreman, all the major players at this winery are women. Their five case lot of 2000 Cabernet Franc contains 80% of the variety, and comes from Block 22 on the estate, which consists of one and a third acres. The vines are thinned to one cluster per shoot.

This sample has a rather shy nose – absolutely delicious in the mouth – it has wonderful body and balance – smooth and polished texture – delightful sweetness of fruit – certainly one of the highlights of the event.

Michael Martini (left) has been the winemaker at Louis M. Martini Winery for 25 years. They are pouring their 2000 Rustic Red, which pays homage to the age worthy Barbera blends they produced in the earlier years of this venerable winery. Rustic Red is a blend of 51% Barbera from Pope Valley and Petite Sirah from Thoman Station in St. Helena, and a bit of Petite Verdot.
Michael describes this as a "fun wine", and I couldn't agree more. It's juicy and ripe with pleasing acidity from the Barbera that can cut through even the richest of foods And, it doesn't take itself too seriously, and it's a pleasure to taste a blend of this type at what is a mostly Cabernet event.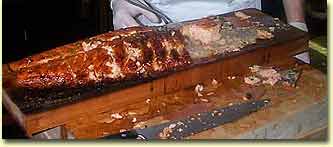 PLANKED SALMON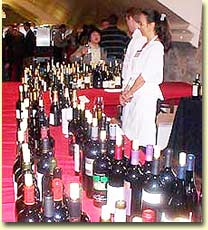 Would you care for a glass
of wine with your lunch?
Needing to refresh my palate, I walked upstairs to the teaching kitchens, where a buffet luncheon awaited the guests. Well, I guess "buffet" doesn't really capture the moment. Foods were grouped according to main ingredient. The seafood dishes included a cold calamari salad, whole glazed salmon filets, and crab cakes with aioli. The meat dishes included a lamb stew served over polenta, game sausages and terrines. The poultry dishes included house smoked turkey breast, frisee with duck confit and other delights. The vegetarian offerings included parsley root persillade, portobello mushroom "steak" with fingerling potatoes and a delicious wild rice salad. It was all too good – absolutely first class, and served by a well trained staff. Two huge tables on either side of the hall held a ridiculous number of wine bottles donated by the wineries for the event.
It was quite extraordinary.
Then, back to the Barrel Room to pick up where I left off.

This was the first time I have met Warren Winiarski (left) from Stag's Leap Wine Cellars, whose 1973 Cabernet Sauvignon finished first in the famed "Paris Tasting" organized by Steven Spurrier in 1976, which marked the beginning of worldwide recognition for California wines. Their five case lot of 2000 Cabernet Sauvignon is a core component of the Cask 23, and honors the close relationship between Mr. Winiarski and the late Nathan Fay.
This Cabernet shows an identifiable Stag's Leap District aromatic profile – smooth entry with pleasing plumy flavors – clean and well balanced with a long finish – a beautifully structured wine.

Toward the end of the tasting session, the crowd thinned out quite a bit. This gave me an opportunity to have a nice chat with Tom Burgess (left) . I've been enjoying the wines of Burgess Cellars for twenty five years. We talked about some of his Petite Sirah that Gang Central recently purchased from a retailer who was liquidating an estate. The last vintage that Burgess produced was 1977, and we hope to open these wines with Tom when my fellow Gangsters next get Left.
This five case lot of 2000 Cabernet Sauvignon shows fairly dense color – restrained aromas of purple and black stone fruits – that profile follows in the mouth with pleasing medium weight stone fruits, harmoniously balanced with a hint of oak – moderately tannic, but delicious, and makes the point that Mr. Burgess has certainly not lost his touch.
Lastly, from Lewis Cellars is their 2000 Cabernet Sauvignon, a five case lot selected from their favorite barrels. The wine is plumy and nicely balanced with fairly aggressive tannins that confuse the palate impression – there is, however, a richness and purity of fruit that is quite appealing.
This event highlights the absolute best that the Napa Valley has to offer – the physical splendor of Greystone, the CIA's incredible culinary resources and the offerings of what are among the finest wine estates in the world. Nevertheless, it manages to eschew the glitz and perceived snobbery that can sometimes overlie these kinds of events. There is a casual feel to this gathering, and one can actually shake hands and chat with winery principals – something that is usually lacking at larger tasting events.
This was an absolutely first-class deal from start to finish, and one that I thoroughly enjoyed.
Many, many thanks to the Napa Valley Vintners Association and the Culinary Institute of America at Greystone for creating a most special afternoon.
From the heart of the Napa Valley,
califusa
Left Coast Correspondent for the Gang of Pour
Napa Valley Vintners Association
Phone - 707-963-3388
Fax - 707-963-3488
Email - reception@napavintners.com


The Culinary Institute of America at Greystone
Phone – 707-967-1010 Restaurant reservations

© Allan Bree March 2002