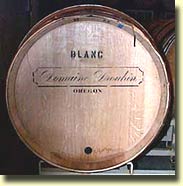 Scott Wright greeted us warmly that foggy morning, and led us on a brief tour of the facility, filling us in on some background information.
The estate totals 225 acres, with 72 acres planted to Pinot Noir, and 13 of Chardonnay. An additional 50 acres will be planted to Pinot Noir over the next five years.
The vineyards are planted to 1 X 1.3 meter spacing resulting in 3100 vines per acre. A variety of Dijon clones of both Pinot Noir and Chardonnay are used, grafted onto a variety of rootstocks – all of which are cultivated and propagated on the estate. The yields are generally between 2 and 2.5 tons per acre. There are 32 blocks on the estate and each is picked and vinted separately.
Only indigenous yeasts are used here. They have a structured, well-planned six-year barrel program with equal portions new, one year old, two year old, etc. François Frères is their primary cooper, and crafts the barrels from a variety of forest sources. Drouhin owns portions of forests dedicated to growing oak for wine barrels. After being cut to stavewood, the oak is dried for 36 months before being used.
The operation is currently at full capacity of about fifteen thousand cases. As the vineyard production increases through new plantings and vine maturity, new winery space will be added incrementally. They project gradual growth to approximately twenty five thousand case production in ten to fifteen years.
The winery itself is dramatically designed and built into the hillside. The four level structure houses state of the art equipment, and is the first gravity flow winery built in Oregon. It was completed in time for the 1989 crush.
After our brief tour, we sat down to taste a few of the current releases.
Three cuvees of Pinot Noir are produced, along with small amounts of Chardonnay.
1999 Domaine Drouhin Oregon Chardonnay – all estate fruit - 50% barrel fermented, 50% stainless steel, 100% malolactic fermentation. Lovely aromatics of soft Chardonnay fruit with wet stone and mineral highlights – absolutely delicious in the mouth with a deft and soft touch – adequate acid structure for aging and food pairing – just a lovely wine.
1999 Domaine Drouhin Oregon Pinot Noir – roughly 10,000 case production, and contains some old vine fruit from neighboring vineyards. Fairly dark color – lots of bright sour cherry aromatically with a touch of pleasant stemminess – soft entry – lovely in the mouth – broad range of cherry flavors – some upfront tannins, but they are so smooth and soft that they add interest rather than detract – very cleanly made with a long finish.
The Cuvee Lauréne Pinot Noir is always 100% estate fruit, and is lot selected. The production is less than 2000 cases. It was first made in 1992.
1999 Cuvee Lauréne Pinot Noir – This wine is extraordinary. Aromatically, it offers all that the Oregon does, but it's even more expressive, and there's a touch more depth and intensity. In the mouth there is a class and elegance that I've rarely experienced in New World Pinot Noir – its considerable depth and power is wrapped in a very sophisticated package – the flavors are wonderful, the balance impeccable – it is tasting well now, but will be even more special in five to seven years.
Cuvee Louise Drouhin Pinot Noir is their premier cuvee, and will never exceed 200 case production. 1999 was the debut vintage and consisted of 68 cases.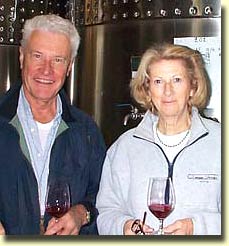 After tasting, we had the privilege of meeting Robert Drouhin and his lovely wife, Françoise. We chatted a bit about the vintage, and tasted some of the must from the first day of crush.
It could not have been a more lovely visit, and we thank Scott Wright, Mr. Drouhin and their people for a most hospitable introduction to the wines of Domaine Drouhin Oregon.
We hopped into the car and sped off – in the wrong direction. Instead of the driveway, we wound up in the vineyards, and the fog. Naturally, we just followed gravity, and drove downhill. As providence would have it, the gate at the bottom of the lowest block opened onto a road – and, the gate was not locked. We continued to follow gravity for another quarter of a mile, and found ourselves in front of the driveway of our next appointment.
Far out.
Domaine Drouhin Oregon
PO Box 700
Dundee, Oregon 97115
503-864-2700
www.domainedrouhin.com
Introduction | Domaine Serene | Archery Summit
© Allan Bree March 2003