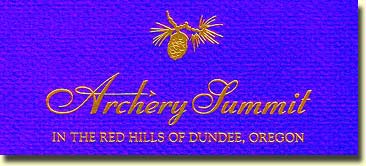 Archery Summit Winery was founded by Nancy and Gary Andrus in 1993, and is the 'sister' operation of Pine Ridge Winery in the Napa Valley.
Both Nancy and Gary retired from active participation a year or so ago, and after a publicized divorce, Gary Andrus has remarried. George Scheppler, President and C.E.O. of Pine Ridge Winery, LLC, now handles the operation of the wineries.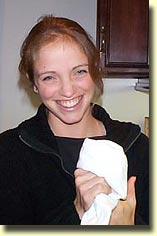 Sari White (right), a lovely young lady whose smile lights up the room, warmly greeted us and since there was already a group of tasters in the room when we arrived, we grabbed glasses and jumped right in.
2001 Veritan – a Pinot Gris based white blend – gentle aromas of pear – lively and fruity in the mouth – flavors follow the nose – good acidity – a pleasant quaffer.
2000 Premiere Cuvee Oregon Pinot Noir – somewhat subdued in the nose with hints of Bing cherry – medium weight in the mouth with pleasant spectrum of cherry flavors and slightly tart acidity - still has some tannins that need to resolve. Cleanly made, and finishes cleanly. Overpriced at $45.
2000 Pinot Noir Red Hills – a single vineyard wine – corked. And, actually an interesting little vignette – we were tasting with a group of interns from neighboring wineries. Some from Australia, others from geographically diverse places, and with varying experience. Five or six other tasters had sampled the wine, and none suggested that it suffered from cork taint.
Do we lack the confidence to suggest a wine is flawed – especially when in the company of other "experienced" tasters? Are we too unsure of our own palates to be the first one to speak up?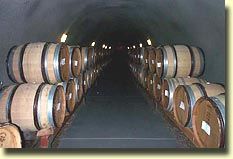 The cave at Archery Summit
2000 Pinot Noir Renegade Ridge – lovely stemmy quality in the aromatics – very pretty in the mouth – bright and nicely balanced flavors – medium weight – clean with a long finish. Quite delicious.
2000 Pinot Noir Red Hills – second taste, this from a new bottle. Again, that 'stemmy' character in the nose, that fades just a bit, revealing layers of rich black cherry and red plum fruits – lovely in the mouth with clean and well balanced fruit flavors that follow the nose – smooth tannins on the tip of the tongue that need just a year or so to integrate.
2001 Pinot Noir Red Hills – from barrel – very restrained aromatically with wisps of menthol and licorice – very smooth entry with the tannins you might expect from a wine of this age – pretty in the mouth with lovely texture and delicious flavors.