I am chagrined to admit that the only Cask 23 (their flagship wine) I own is the legendary 1985. Spurred by Robert Parker's glowing review, I paid more for this wine on release than any other wine in my collection at that time. In fact, to this day I doubt I have more than two or three items with a higher tariff.
I finally opened my first bottle about four years ago, and it was clearly the most evocative wine tasting experience of my life.
It was around the Christmas holidays, and I brought the bottle to one of my favorite restaurants. It was the perfect combination of factors: a table for two near the fireplace, my closest companion, wonderful food - all wrapped up in Holiday spirit. I recall pouring the first tastes, then swirling, sniffing and tasting. Suddenly, I was overcome with emotion and tears welled up in my eyes and ran down my cheeks. It was the only time that a wine has moved me to that degree, and made the purchase price seem like a bargain.
I shared that story with John Gibson a couple of years ago. He had a hand in making that wine and now crafts wines for Snowden Vineyards and others. He seemed to enjoy the story almost as much as I enjoyed the experience.

The last time I visited Stag's Leap Wine Cellars was about a year ago. I was driving by and stopped in at the tasting room. I presented my Gang of Pour business card , and to my surprise, rather than tossing me out, they offered me a complimentary tasting across their line. Perhaps it was my palate on that particular day, but I remember being not too terribly impressed with what I tasted.
It was with surprise that I then received an invitation for a "for trade only" tasting to be held the day after the Premiere Napa Valley 2002 event. Tempted by the promise to pour four vintages of Cask 23 – including the wonderful 1985 – I promptly accepted.
I awoke that Sunday morning, shook the Cabwebs from my brain and downed two cups of Peets' best. Accompanied by the inestimable Bigdog, we motored North from Chateau califusa along the Silverado Trail to the Stag's Leap District. It was good to be in the Valley that day – clear blue skies and crisp fresh air. And – I had a good palate day.
This is an exciting time for this winery. They have recently finished a cave construction project that spanned four years. They have also recently purchased the remaining property of the late Nathan Fay, whose Fay Vineyard has produced stellar Cabernet Sauvignon. Mr. Winiarski purchased this vineyard in 1986, and following Mr. Fay's recent death, the remainders of his land holdings were also purchased, reuniting the property under one owner.
We were warmly greeted, handed glasses and invited to taste. The white wines were offered outside along the "Arcade", which frames the entrances to the caves. The renowned architect Javier Barba designed the project, utilizing dry stonewall and other techniques that blend the structure into the surrounding hillside. As Mr. Winiarski says: "You can see the rock weathering, crumbling into soil. You can see the bits of root from the trees growing above. You can see the process that creates our soil. I wanted this structure to tell that story, and it does. It's beautiful…"
Indeed it is. And it provides a lovely venue for tasting and other events.
---
We were first poured the 2000 Sauvignon Blanc Napa Valley – pretty pear aromas with hints of citrus - pleasantly lean and crisp on the palate without being angular – a good wine for shellfish and drinking very well.
2000 Sauvignon Blanc Rancho Chimiles – relatively small production, so this wine does not reach every market – more citrus along with gooseberry in the nose – smooth with finesse on the palate – good acid structure that does not attack the midpalate, but becomes noticeable mostly in the finish - an excellent Sauvignon Blanc.
2000 Chardonnay Napa Valley – lilting aromas of sweet Chardonnay and white stone fruits – flavors of pear and minerals with crisp acid structure that is not at all assertive – built toward the lean side, this is not your average flabby, overoaked and underfruited Napa Chardonnay – a more "Chablis" styled and surprisingly likeable Chardonnay.
1999 Chardonnay Beckstoffer – from the Napa side of Carneros – 88% malolactic – pear in the nose with hints of wildflowers – very pleasurable in the mouth with a nice salad of apple, pear and grape flavors – long and very clean finish.
1999 Chardonnay Reserve – Bigdog nailed this one – he called it a scaled-back version of the Martinelli Chardonnay Martinelli Road – this wine is, indeed, very reminiscent aromatically – for me, pear seems to be the dominant aromatic component through this entire line of white wines, and this Chardonnay is no different – there is a nuance of sweet buttery oak, and a touch of aromatic richness reminiscent of toasted hazelnuts. The wine is very successful in the mouth, with a lovely melange of fruit flavors and enough acidic backbone to make it interesting and provide a foil for a wide variety of food pairings.
This was a surprisingly pleasant and delicious array of white wines.
We moved inside to the Great Room to taste the red wines along with a beautiful assortment of cheeses. They included Cambozola; Chaumes, a creamy rind-washed French cheese; Chabiquet, a fresh French chevré; d'Affinois, a ripened triple crème; and Brillo di Treviso, an Italian cheese soaked in red wine – the runaway favorite.
The first red wine poured was the 1999 Merlot Napa Valley – predominantly Stag's Leap District fruit, with the balance from Carneros – restrained aromas of Merlot fruit with hints of leather – sweet and ripe in the mouth with polished tannins (which could make this wine drinkable now for those with a tannic predilection) – should easily age for 3-5 years.
1999 Cabernet Sauvignon Napa Valley – a blended wine sourced from 24 different vineyards – shy dusty aromas of ripe Cabernet fruit – very nice varietal flavors in the mouth with smooth moderate tannins that do not interrupt the palate impression – this would be a good restaurant wine. Not terribly inspired, but at a production level of 20,000 cases, it is well crafted without any noticeable flaws.
The next two wines were tasted side by side – the SLV and the Fay Vineyard.
The SLV is the Stag's Leap Vineyard, and the two vineyards are contiguous, however, they have significantly different soil types. The Fay is more volcanic, while the SLV is more alluvial. For that reason, they are vinted separately, in order to highlight the individual characteristics of the two properties.
1998 Cabernet Sauvignon Fay Vineyard – from a generally maligned vintage, especially in the Napa Valley – lovely berry and red currant fruit in the nose – pleasant sweet fruit attack with some significant but not overpowering tannins that interrupt the wine on the midpalate – I can't detect lean or green, under-ripe qualities on this 98, and I think it should develop quite nicely.
Not a showstopper, but better than many of the Cabernets I've tasted from this vintage.
1998 Cabernet Sauvignon SLV – offers more subtle aromatics – more concentrated and focused in the mouth at this point with a beam of red stone fruit and a trace of tartness – the finish is just a bit short. No apologies necessary for this Cabernet, either.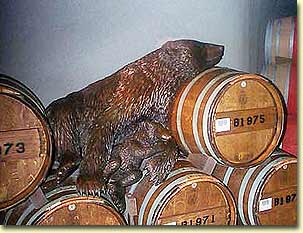 After tasting through these current red wine releases and munching on those wonderful cheeses, we made our way down through the caves, encountering a charming bronze sculpture created by noted Mill Valley artist Larry Shank. It depicts a mother bear and her cub snoozing amidst a stack of wine barrels.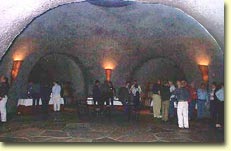 We continued on to the Round Room, the central hub of the cave complex. Its centerpiece is a Foucault Pendulum, a device that scientifically proves the rotation of the earth. Free from external influences such as wind and temperature change, the cave complex provides an ideal site for this apparatus.
Each of the Cask 23 vintages was offered at a different table. The first three had been decanted - the two vintages from the 90s were poured from bottle.
1978 Cask 23 - 13.5% alcohol - 1,060 cases produced - aromas of dusty Cabernet fruit with hints of cedar and baking spice – pleasantly sweet attack with surprising depth and balance in the mouth – still has some polished tannins, but very much alive and would drink very nicely with some medium rare beast.
1984 Cask 23 - 98.9% Cabernet Sauvignon, 1.1% Merlot - 13.5% -1,283 cases produced – shows some funk in the nose that blows off with a bit of swirlitude, revealing assertive aromas of perfectly ripe Cabernet fruit – not over-ripe, but super-ripe – just beautiful in the mouth, with a sweet and ripe blend of Bing cherry and red & purple plum flavors – no intrusion of oak at all – a hint of smooth tannin which gives the wine a little backbone and structure. It has an extraordinary elegance, a flawless structure, and is absolutely seamless on the palate. A wonderful wine drinking experience and a world class winemaking accomplishment.
1985 Cask 23 - 99.6% Cabernet Sauvignon, .3% Merlot - 13.4% alcohol - 1,017 cases produced – shows a similar, although somewhat more restrained aromatic profile, with beautifully ripe varietal aromas – hints of dust and a touch of spice. The wine is enormously successful in the mouth, once again showing wonderful focus and concentration of fruit. It has a bit more noticeable tannin than the 84. It is an impeccably clean wine – the finish is long and deep.
I think these two wines – the 84 and 85 – reflect their vintages quite accurately. The 84 is a bit more lush and elegant, the 85 a bit more structured with a touch more power. It is an enormously pleasant, but difficult task to chose between the two and I will chose not to chose. I am very fortunate to have had the opportunity to taste them side by side.

1992 Cask 23 - 99.92% Cabernet Sauvignon, 0.08% Petit Verdot - 13.5% alcohol - 1,329 cases produced – this is the first year that lots from the Fay Vineyard were included in the blend – previously the wine was sourced exclusively from SLV. Restrained, but lovely notes of sweet varietal fruit – sweet attack of nicely focused fruit – good structure with moderate, but smooth and polished tannins – probably five year from optimal drinking (for my palate).
1998 Cask 23 - 93.5% Cabernet Sauvignon, 4.1% Merlot, 2.4% Petit Verdot - 14.5% alcohol - 2770 cases produced - hints of dust in the nose with aromas of red currant and cranberry – the first of these wines to show noticeable oak, and there's a lot of it – sweetness up front, then fairly brusque wood tannins in the midpalate that interrupt the fruit. This wine is definitely in an awkward stage and needs time to integrate. Judgment reserved.
This was a perfect wine tasting event for us. We left smiling and feeling happy to be alive.
In his own quiet way, Warren Winiarski has been creating these perfect little wine moments for thirty years.
Thank you, Mr. Winiarski – for this tasting, and for a great deal more.
califusa
Left Coast Correspondent for the Gang of Pour
Stag's Leap Wine Cellars
5766 Silverado Trail
Napa, CA 94558
707.944.2020
707.257.7501 fax

BACK TO THE TOP
© Allan Bree March 2002