c – "How old are the vines there?"
P – "The first plantings were done in 91, and he's planting every day."
c – "Does anyone else take the fruit?"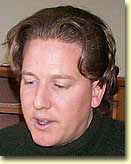 P – "Behrens & Hitchcock splits the Syrah with us. We're the only two wineries to get the Syrah at this time. Apparently there is a list of about eleven wineries behind us. B & H buys Merlot, Cabernet and Syrah from there. Adam (Lee) over at Siduri buys Merlot and Cabernet for the Novy program – they did a Meritage for the 2000 vintage and he gets a little Grenache, Mourvedre and Counoise, which is a little experimental block there. And Patz and Hall – Pinot Noir and Chardonnay.

It's the whole reason – it's what started this. In 98, when I met Stu Bewley, I said 'I want Syrah', and I was very fortunate to get on his good side, and get it, because there are lots of high profile wineries that want Syrah from this vineyard. For him to bless us with it is pretty special.
We were thinking 2001 would be our first year, then he called me up in June of 2000 and said: 'You know, I think I can get you a ton.' So that got the wheels turning, and we sourced a couple of other vineyards to supplement my one ton of Alder Springs that I was going to get for 2000 and we made a go of it.
For 2000 we only did a total of 700 cases, but for 2001 we are closer to a thousand cases – which is really where I wanted to be for 2000, but we wound up bulking a lot out."
c – "Had you been a home winemaker to any extent?"
P – "Yeah, I was. We made Cabernet and Merlot from a vineyard in Yountville next to a friend's house for a couple of years, but I really rely (on consultants) for the technical winemaking stuff. Wells Guthrie (Copain Cellars) is a consultant for us, and Dan Goldfield was hired initially to help source vineyards for us, because he's sort of the 'guru' of the Russian River – he knows every little nook and cranny and corner, and he actually found us one of our vineyards that we're really excited about. The technical stuff I leave to Wells, but I make the wine, along with our one employee.
c – "You mentioned that you travel to France twice a year. Do you think you have been heavily influenced by what you have seen and learned?"
P – "Absolutely. They are very concerned with the soil – the microbial content of the soil, the health of the soil or the deficit of the soil is what makes it distinctive. To fix it and amend it and make it like every other perfectly balanced piece of soil is to do the vineyard a disservice, because it is those deficiencies that will create distinctness, and distinctness is seen as greatness in certain circles – and that's what we want to do. My biggest fear is to have five wines that taste alike. What a shame that would be."
c – "Do you feel that all of these (wines) have enough personality to easily be distinguished from each other?"
P – "Let's go taste."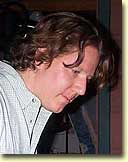 And we did. First from barrel: (These wines are 100% Syrah, except as noted)
2001 Rosé – 3 barrels produced
2001 Syrah Castelli-Knight Ranch Russian River - 15.5 barrels produced, 100% French oak – 50% new, 13.9% alcohol.

2001 Syrah Walker Vine Hill 'Short Rows' Russian River – 3 barrels produced, 100% French oak - 66% new, 15.5% alcohol.
2001 Syrah Lauterbach Hill Russian River – 11.5 barrels produced, 100% French oak – 40% new, 15.5% alcohol.
2001 Syrah Alder Springs Vineyard Mendocino County – 2 barrels produced, 100% new French oak, 14.5% alcohol.
2001 Syrah Alder Springs Vineyard "The Terraces" Mendocino County – 95% Syrah, 5% Viognier, 2.5 barrels produced, 100% French oak – 80% new, 15.3% alcohol.
We truly tasted through the barrels – several of each vineyard source with different fermentation techniques and different oak treatments. Pax was also considerate enough to have assembled representative samples that approximate the final blend.
I started to take notes on all the samples, but after a while I decided to relax a little and just taste – and I found myself enjoying them even more.
There is a wonderful clarity in these samples, a lack of pretense and an honesty of expression that I found refreshing. These are not fruit forward wines, rather, they are wines through which the fruit is expressed.
Then from bottle: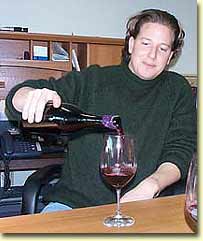 2000 Syrah "Cuvee" – 88% Syrah, 12% Petite Sirah, 400 cases produced, 100% French oak – 40% new, 14.4% alcohol.
2000 Syrah Lauterbach Hill Russian River – 225 cases produced, 100% French oak – 40% new, 14.5% alcohol.
2000 Syrah Alder Springs Vineyard Mendocino County – 45 cases produced, 100% new French oak, 14.8% alcohol.
P – "This is our package. The image behind the 'Pax" (which almost wasn't the name of the winery) is that of Pangea Ultima, which is the single land mass that all seven continents separated from 200 million years ago. The concept being that – land is land, each is distinct, some may be better than others in history or grandeur, but they are all from the same piece. What we want to do is make our mark, and make the best wines – benchmark, reference point – from our (sources)…
So, anyway…Lauterbach – we tasted the 2001 (from barrel) – the 2000 is here, that's what this sample package is. It has a red 'Pax', a red vineyard designation (on the label), a red wax capsule – and the red is for it's personality. It's kind of precocious – the red lipstick, the red heels – it's a forward, precocious kind of wine – that's why it's red.
The Alder Springs has the same back label – the 'Pax' will be in purple, the vineyard designation is in purple, the capsule is in purple. The purple for Alder Springs is royal or grand or…"
c – "Regal?"
P – "Regal – exactly. Castelli, which is the first one we tasted, is orange because that is the color of the soil. I think that is what makes that wine what it is. It's kind of – you know, like you said – not as much depth to it – it's kind of Pinot Noir-ish like you said. It's got a lot of subtleties to it, a lot of complexity."
c – "If I had to describe it, I would call it a more feminine expression of the grape – and I don't mean that as a detrimental descriptor at all. It's just another side – another personality of the grape."
P – "And Walker will be a blue color, and our Cuvee will be an olive green color because the wine reminds me of a Southern Rhone red - even though I never want to say that aloud, because I don't want to compare – 'Oh, this is my Côte Rôtie, this is my Crozes, this is my Hermitage' – that type of thing. But, the Cuvee is our entry level wine – we declassified three different vineyards to make it – we kept the best parts and bulked out the rest.
So for 2000 – Cuvee, Lauterbach Hill, Alder Springs."
c – "Tell me about your marketing strategy."
P – "There's really not much of a marketing strategy. We're offering the wines to a mailing list of customers. Last Fall I went to New York City and pre-sold about a pallet of wine to restaurants. So, we're going to distribute in New York, Connecticut is going to get a couple of cases – we're going to sell to a restaurant there called Valbella – we may catch a couple of others, but basically New York and California.
Then, with our 2001 wine – because we have more – we'll broaden our distribution a little bit. But, for the most part, it's going to be just California and New York, and wherever else passionate people who are interested in the wine and that really like the wine want to sell it.
I mean, I'm flattered by anybody who likes it, and if they are going to do the right thing with it, then that's what we want.
If you are going to have a mailing list, and you want to keep a mailing list, you have to offer things they can't buy in a retail store.
This is the 2000 Lauterbach."
c – "There's a wonderful sweetness in the aromatics that I equate with perfectly ripe fruit."
P – "Yeah. Lauterbach in 2000 was picked on October 23, and we had called 'pick' on this vineyard six times…about halfway through picking it started pouring down rain, just dumping, and we covered up bins and ferried them back and forth and put them under cover – it was really pushing the envelope to say the least.
c – "But you got it all in."
P – "Oh yeah. (slurping sounds) Again, there's a certain purity to the vineyard that we really enjoy.
c – "Mmmm. This is good stuff."
P – "Oh good! I'm glad you like it. I like it.
c – "This is a stylistic aberrance, if you will. I think there are a lot of winemakers who would be afraid to put something like this out. It's a bare-naked wine."
P – "Yeah."
c – "It's not cloaked in anything. It reveals itself so completely. I think that conceptually, that might be a scary notion (with) folks who are accustomed to 'manipulated' wines and 'oaked' wines and 'crafted' wines and so forth."
P – "You know, who has the hardest time with our wines are the winemakers. They love them and hate them at the same time."
c – "That doesn't surprise me. I can understand why they may be controversial."
P – "I mean, the greatest wines in the world are this. I'm not saying that we are one of them, but that's what they are.
(Regarding pricing) It is what it is. It's in a cycle – that we're not going to raise the price. It's coming out at a price – it's a confident price, not coming out low and raising the price every year. We're coming out where we want to be.
(pouring sounds)
c – "What part of the vineyard does this (2000 Alder Springs) come from?"
P – "It's a blend of three blocks: The Terraces, South Bowl and Mother Block. In 2002 we will have the Emerald Pool Block coming on line – there's another ridge top that's planted to clone 99, so we'll have two new blocks coming on line."
c – "These are newer plantings that are coming into production?"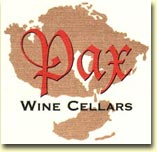 P – "Exactly - with the new clones and rootstocks. It's very exciting. Actually, he planted (clone) 877 the first time after tasting our Lauterbach out of barrel this time last year. He really liked qualities of the clone and he has this "knob" – this mound that's probably two hundred feet tall, and it's terraced around like this (gesturing in a spiral), and it's all 877. He planted that for us. He's calling it: 'Pax's Knob', but I don't think that's going to stick. (much laughter) Hopefully, it doesn't stick!"
c – "I'd apply for an AVA designation. (more laughter)
I'm very impressed with the accessibility of these wines, particularly the Lauterbach. At the same time, I don't have a doubt about their ability to age, because they are beautifully structured as well."
P – " In 2000, this vineyard – I picked the vineyard myself – there's literally one or two clusters per vine. We got less than half a ton per acre. The intensity of fruit, just on it's own, bodes well for the future. The fact that this wine was aged in 100% new oak bodes well for the future. Who knows? Who can say? I don't know. I can't say."
c – "Had I been taking detailed notes on everything we've tasted today – it reminds me of the Havens tasting I attended – I never used the words 'oak' or 'wood' in any of my tasting notes. It's similar with these – I really don't get any…
When is your planned release of these wines?"
P – "April 8th. The second Monday in April. That's the official release."
April 8. I'm smiling.
califusa
Left Coast Correspondent for the Gang of Pour
Pax Wine Cellars
707.591.0782
707.591.0784 fax
Pax@paxwines.com e-mail

© Allan Bree March 2002