---
Provenance Vineyards is the new Napa Valley Cabernet from the Chalone Wine Group. Their winemaker and general manager is Tom Rinaldi, who was the founding winemaker at Duckhorn in 1978. This wine is their second vintage. The fruit comes from the Georges III vineyard, originally owned by BV, and now managed by Andy Beckstoffer.
Provenance 2000 Cabernet Sauvignon – quite shy in the nose – sweet and pretty in the mouth – medium weight – a hint of heat on the finish in an otherwise nicely balanced wine – a very pleasant, if not terribly impressive Cabernet.
---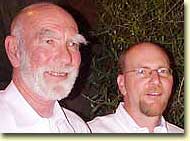 Jim and Sean Sullivan
Sullivan 1999 Cabernet Sauvignon – expressive berry and cassis aromas with a touch of oak that blends ands integrates with swirlitude – sweet and dense in the mouth – harmonious and balanced with excellent structure for aging – a little astringency in a somewhat short finish, but wines from this producer tend to be long lived, and in my experience require ample cellar time to show their best. A very nice Cabernet.
Sullivan 1999 Merlot – hefty and dense in the nose – ripe and delicious in the mouth – with ample tannins that interrupt in the mid-palate – this wine will require quite a bit of cellar time – a much better than average Merlot.
Sullivan 1998 Coeur de Vigne – this is a proprietary blend of 80% Cabernet Sauvignon and 20% Merlot that receives an additional 10 months in barrel – the extra barrel time is reflected in the aromatics that expresses more oak than fruit at this point – very pretty in the mouth with good acid structure and tannins that are beginning to integrate – still a few years away from drinkability for my palate, and I think it reflects to a certain degree the intrinsic weaknesses of the vintage. Nevertheless, a well made wine.
Sullivan 1999 Coeur de Vigne – has the same 80/20 blend – will be released in September. A bit restrained in the nose with spicy overtones – great personality in the mouth – ripe berry flavors, interesting spice and unobtrusive oak – a far superior effort, of course, and a wine that I think will be quite attractive with a bit of patience. Very impressive.
---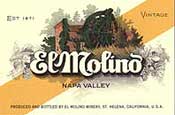 El Molino 2000 Chardonnay – sweet melon and white stone fruit in the nose with a hint of mysterious spice – very nice flavor profile that mirrors the nose, with enough acid to keep it lively – no discernable oak to mar the flavors – an oasis in a desert of mediocre California Chardonnay. Very nice.
El Molino 1999 Pinot Noir – 85% Rutherford fruit - deceptively light color – spicy red raspberry fruit in the nose – attractive in the mouth with good berry fruit and lively acids to carry it – still a bit of tannin to resolve, making this a candidate for medium term aging at the least.
El Molino 2000 Pinot Noir – barrel sample from all Rutherford fruit – a trace of funk in the nose, but I've learned that with Pinot, this is often a harbinger of good things to come – deliciously sweet and ripe in the mouth with structure similar to the 99. These two Pinot Noir are wines that do not try to be more than they are and achieve that very admirably. A very pretty expression of the variety, and for my taste, far more attractive than the vast majority of Pinot coming out of Napa these days.
Star Vineyards 1999 Cabernet Sauvignon – produced by El Molino, a scant 50 cases (two barrels) – marvelously dense color – deep brooding aromatics with a hint of licorice – wonderfully rich in the mouth with great personality and a long finish. This is a really fun and delicious wine.
An often overlooked winery, El Molino continues to produce bottlings of excellent quality.
---
Quintessa – these folks are nearing the end of new winery and cave construction located on the Silverado Trail just north of Conn Creek Road. They hope to crush the 2002 vintage in the new winery, and the visitor's center is scheduled to open in December.
1999 Quintessa – a Cabernet blend – lovely ripe Cabernet berry fruit in the nose – pretty and well balanced in the mouth – a lovely and harmonious wine.
---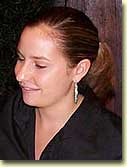 Shannon Staglin
Staglin 2000 Chardonnay – includes all six clones that are grown on the estate – very rich aromatics with an obvious impression of French oak – nicely balanced in the mouth with notes of pear – very smooth with a long finish – a very attractive Chardonnay.
Salus' 2000 Chardonnay – this is a "second label" for Staglin, and 25 percent of the proceeds from the sale of this label is donated to mental health research. The Staglin family is known for their philanthropy in the Valley. More expressive fruit in the nose, with interesting pear and apple aromas – sweeter on the palate with brighter acids – a pleasure to drink, although stylistically quite different from the Staglin.
Salus' 1999 Cabernet Sauvignon – a blend of young and old vines – very attractive varietal berry fruit in the nose – shows its young vines heritage on the palate – pleasantly balanced with just a touch of bitterness on the finish.
Staglin 1999 Cabernet Sauvignon – rather shy nose – not terribly expressive in the mouth at this point, although the pedigree of the fruit and the structure and balance of the wine is evident – it is simply not showing very much right now. Inevitably it will improve with time in the bottle.
---
William Harrison Vineyards & Winery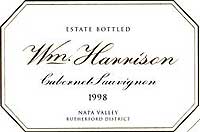 William Harrison 1998 Cabernet Franc – appealing Franc fruit in the nose without the herb or olive notes that are sometimes overbearing – very smooth entry – quite nice in the mouth with good varietal character – well balanced with just a touch of pleasant bitterness on the finish.
William Harrison 1998 Cabernet Sauvignon – shows a bit of volatility and high toned fruit – far more pleasing in the mouth – good medium weight Cabernet fruit – clean finish. A very nice effort from a not so nice vintage.
William Harrison 1998 Rutherford Red – 55% Cabernet Sauvignon, 34% Cabernet Franc, 11% Merlot – sweet and attractive black cherry fruit in the nose – finishes a bit hot.
These three wines, given the nature of the vintage, are very successful. Kudos to Gary Galleron, the consulting winemaker for William Harrison.
---
Flora Springs Winery & Vineyards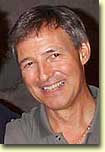 Pat Garvey
Flora Springs 1999 Merlot Windfall Vineyard – blended with a small percentage of Malbec – sourced from a vineyard close to Route 29 at Bella Oaks Lane – very nice aromatics of ripe Merlot fruit – sweet and delicious in the mouth – just a touch of astringency in the finish – a very nice Merlot.
Flora Springs 1999 Trilogy – a proprietary blend of 48% Cabernet Sauvignon, 42% Merlot, 6% Cabernet Franc and 4% Malbec – just a bit shy in the nose - again, very sweet and ripe with lovely balance in the mouth – perhaps not as "big" as other vintages, but absolutely delicious.
Flora Springs 1999 Cabernet Sauvignon Hillside Reserve – more expressive in the nose than the Trilogy with spicy berry fruit – once again, deliciously sweet in the mouth – a sweetness that comes from perfectly ripened fruit – succulent on the palate – drinks easily – clearly one of the most attractive wines I've tasted today, and my choice for Wine That Would Be the Most Fun to Drink with Dinner Tonight.
This is a very strong showing for Flora Springs.
---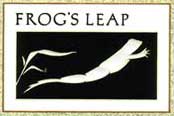 Frog's Leap 2001Sauvignon Blanc – pretty gooseberry and tart grapey aromas – smooth in the mouth with refreshing acidity. An enjoyable change of pace after all these young Cabernet based wines.
Frog's Leap 1999 Cabernet Sauvignon – 82% Cabernet Sauvignon, 18% Cabernet Franc – even though this is the Rutherford Dust Society, I must say that this is the first Cabernet that truly expresses "Rutherford Dust" in the aromatics – sweet and luscious in the mouth – a lovely medium weight wine that delivers a load of flavor – still just a bit of tannin in the finish that needs to resolve.
This winery deserves far more credit than they seem to get.
---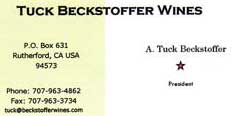 Tuck Beckstoffer 1999 Cabernet Sauvignon – sourced from a vineyard without a name on a plateau in the western hills near Dalle Valle and Showket – shows a nice expression of "Rutherford Dust" with very pretty bright berry aromatics – it's a little tightly wound, but shows very nice balance and acid structure – it should age effortlessly for five years and longer, which is precisely what Tuck intended. This is a very impressive offering.
Tuck is the son of Andy Beckstoffer, one of, if not the largest vineyard holder in the Valley. Tuck is a very personable young man, and is here today with his new bride, Boo. He produced 50 cases of 1997 Cabernet, his first vintage. His production is now up to 350 cases, and will most likely stay at this level.
---
Of course, no Rutherford tasting would be complete without BV.
Beaulieu 1999 Cabernet Sauvignon Rutherford – blended with a bit of Merlot and Petite Verdot – subdued nose with hints of baking spice – green and astringent in the mouth – thoroughly unimpressive, especially from this vintage.
Beaulieu 1999 Cabernet Sauvignon Georges de Latour Reserve – minimally more expressive in the nose – rich and appealing in the mouth – finishes long and clean. This is one of the more impressive Reserves I have tasted from these folks in quite a while.
Beaulieu 1999 Cabernet Sauvignon Clone 6 – aromatically a bit deeper than the Reserve with lovely Cabernet perfume – sharp attack – lacks appeal right now, but has ample fruit and structure – should be more harmonious with a few years of bottle age.
Beaulieu 2000 Rutherford House Red – predominantly Zinfandel with 10% Petite Sirah and 5% Carignane – sweet and juicy in the nose – fun and appealing in the mouth – drinks very easily – this is a wine with lots of personality.
---
I then made my way to the Cabernet Clones Tasting Bar, where samples of the different clones grown in the region were available for comparison. The wines were unblended and from different producers and vintages. Even though there were several variables (vintage, oak, winemaker), there were fascinating differences in the clonal samples. Unfortunately, by that time my palate had completely crapped out, so I am not able to offer you any meaningful notes on the wines.

Click here for some interesting information about Cabernet Sauvignon clones grown in the Rutherford AVA.

Just between you, me and the barrel:

Nibbley bits. Excellent tastes were provided by Best of Everything Events: tender slices of grilled lamb on garlic crostini with frisee and pesto mayonnaise, seared peppered Ahi tuna on Tuscan bruscetta with a coarse cannellini puree, fresh figs with mountain Gorgonzola, strawberry halves with honeyed mascarpone, San Danielle proscuitto on walnut bread with whole grain mustard;

and my favorite, a rich tomato and olive tapenade with pancetta on toasted seeded baguettes. Their servers were personable and polite. Well done!

The Vintage. There's no doubt that the 1999 vintage will produce wines from the floor of the Napa Valley that are almost uniformly very good to excellent. The samples I tasted were fairly lush, fat, and should drink well early and be very easy to like.

Where's the Dust? The famed "Rutherford Dust" that marks Cabernet Sauvignon produced from this special piece of earth was in short supply today. In fact, only two of the wines I tasted struck me with that unique characteristic. I had a brief chat with John Williams of Frog's Leap about this, and he had some interesting comments and told me that this subject had been discussed earlier in the day.

Are the winemakers striving for rich, ripe and fat to the point where the dynamic tension that gives these Cabs their personality is being disturbed? I hope to discuss this topic with Mr. Williams in depth in a future interview.

Thanks to the Rutherford Dust Society for a splendid event, and congratulations on what appears to be a very successful vintage.

And my personal thanks to Jeremy Benson and his staff from Benson Marketing Group – they kept things running smoothly all afternoon. If you are not familiar with these folks, please visit them at their website. They offer daily email newsletters geared to your specific areas of interest.

I'll be back next year to look at the 2000 vintage.

califusa
Left Coast Correspondent for the Gang of Pour