It's hard to resist.
There's enough allegory here to satisfy even the most hyperbolic writer. But lest I cast myself adrift in the gobs, dear reader, I shall promise not to exploit the obvious today.
I won't mention the lure and allure of the Homeric Sirens and how that could be metaphorically alluding to the fabled charms of the grape we call Pinot Noir.
And I'll not talk about the symbolic island on the label, surrounded by a Grecographic ocean.
Further, I shall avoid the temptation to discuss our Odyssean quest to find the elusive Perfect Pinot.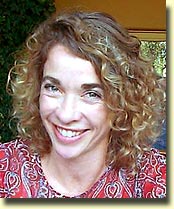 I'll just tell you a little about Laura.
With more time in the industry than I could tell you and still remain discreet, Laura Bishop Wangoe (right) traveled to New Zealand in 1999 to consult some local vintners interested in penetrating the US market.
The rest is herstory.
As many of us have, Laura became smitten with Pinot Noir, and found a variety of producers on both islands of the nation experimenting and succeeding with this finicky grape. After careful research (uh,...tasting, I suppose) she selected three sites, each of which expresses this delightful grape in a distinctive fashion. Each wine is cultivated, vinted and bottled by the grower. These are hand crafted wines, and carry with them the passion and dedication of these small farmers.

Central Otago

This area is the southernmost winegrowing region in the world. With rainforest 20 miles away in one direction and desert 20 miles away in another direction, winegrower Greg Hay has seen that "no two seasons are the same". With dedication, hands-on care, and yields near 1.5 tons per acre, Greg is producing distinctive Pinot Noir.
The fruit gets a one week cold soak and 20% whole cluster fermentation. After pressing, the wine sees one third new oak and is egg white fined prior to bottling.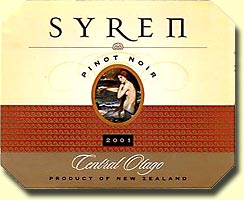 2001 Syren Pinot Noir Central Otago – I found it easier to describe this wine relative to my personal reference points – it has the forward dark cherry and berry flavors of Russian River fruit, and lovely spice without the cola highlights. It also has the structure and focus of the best Carneros Pinots without the austerity.
This is a beautiful expression of the variety, or rather, a beautiful wine through which the fruit is expressed. It tastes as if the winemaker was both skilled and smart enough to get out of the way, and let the wine be what it wanted to be. How fortunate. This is a beauty.