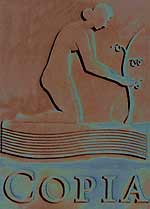 There was magic in the town of Napa this weekend.
COPIA: The American Center for Wine, Food & the Arts opened its doors to visitors and the cornerstone of the foundation of Robert Mondavi's legacy was set in place.
Even the weather celebrated, with warm breezes from the southwest replacing the chilly northern winds that had cooled the Valley for the last several days, graying the skies with high clouds. It was fitting, this spring-like day – it carried with it a sense of renewal, of beginning and of hope. It was just the tonic this community and its citizens needed to soothe their wounds and refresh their spirit.