In general, I generally avoid vintage generalizations.

And there's a method to my redundancy.

To begin with, I think they are poorly used by the wine buying public. 1998 is a good example. It was certainly a difficult vintage for Napa Cabernet, but how about Pinot Noir in Russian River? Or Paso Robles Zinfandel? Or Santa Barbara Chardonnay? North Coast is not Santa Cruz Mountains is not Central Coast and so forth.

More importantly, great winemakers and quality producers are able to minimize vintage differences and produce reliable, enjoyable wines year after year. (Okay, I won't talk about Monte Bello right now, but I did discuss this with Michael Havens a while back).

Lastly, I don't know about you, but I've tasted some very fine wines from the 1998 vintage, including some stunning Napa Cabernet.

So - I encourage folks to trust their own palate, and discover for themselves which varieties, regions, producers and vintages they prefer. There are always some surprises out there that defy the "conventional wisdom."

That being said, I couldn't resist an invitation from Benson Marketing to attend the 2003 Passport to Cabernet tasting hosted by the California Cabernet Society. Over 80 wineries were in attendance, all pouring barrel samples of their 2002 Cabernet, and many offered their current releases as well.

The event was hosted in the barrel room at the Culinary Institute of America in St. Helena, with dinner to follow upstairs in the teaching kitchen. I certainly couldn't turn down that kind of invitation.

Unfortunately, my camera showed its temperamental streak that day, so I have no photos - but I refused to let that dampen my spirits.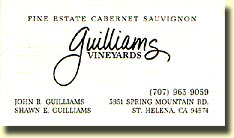 2002 Guilliams Vineyards barrel sample - frighteningly volatile at first, but fortunately, the acetone-like aromas blew off rather quickly, revealing dark fruit and minerals - lovely texture - pleasant fruit flavors and a touch of bitterness in the finish. It balances out with a little bit of time.

1999 Guilliams Vineyards - 91% Cabernet Sauvignon, 7% Cabernet Franc, 2% Merlot - very generous aromas of crushed berries - the flavors follow with a broad mouthfeel and clean finish. I'm quite fond of the wines from Shawn and John Guilliams, and this is a good example of why.


2002 Sherwin Family Vineyards barrel sample - subtle aromas of dark spice and plums - very smooth entry and a velvety mouthfeel - lovely flavors of blueberry and black currant with a touch of spice - little in the way of tannins now - surprisingly approachable and quite delicious right now.

2000 Sherwin Family Vineyards - the aromatics are not dissimilar to the 99 Guilliams (Gee, do you think Spring Mountain may have a terroir of its own?) - smooth entry and very pleasant in the mouth with more crushed berry fruit - there are some tannins in the mid palate, but they do not interfere - very cleanly made.


2002 Clark - Claudon Vineyards barrel sample - fairly bright fruit flavors with hints of dark licorice - really quite tasty and finishes with a touch of pleasant bitterness.


1999 Clark - Claudon Vineyards - again, fairly reticent aromatically with just a hint of bacon - delicious in the mouth with cherry and red plum flavors - very nicely balanced with a clean finish. A very impressive offering.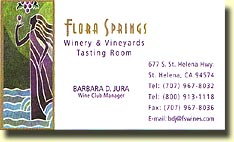 2002 Flora Springs barrel sample - this is the Cabernet that will be part of the Trilogy bottling - slightly jammy aromas of crushed berries and plums - there are also interesting hints of minerals tucked into the nose - the flavors follow the aromatics, leading with lots of crushed fruit - a very fruit forward sample, which is fairly typical of the recent wines from Flora Springs, and one of the reasons I enjoy them so much.

1999 Flora Springs Wild Boar Vineyard - shows spicy and rustic aromas - there's sweet and juicy Cabernet fruit up front followed rapidly by fairly moderate tannins - the flavors are very pleasant and the wine has evolved since my last tasting of it (Premiere Napa Valley a few months ago) - it tastes like a mountain wine; it has that rusticity in its structure - enjoyable now (for tannin fans), but will need a little more time for those who prefer a more civilized drink.


2002 Cakebread Cellars barrel sample - bright cherry aromatics that suggest perfectly ripe fruit - which follows on the palate with just traces of oak - it lacks just a touch in concentration, but I would have to taste it again down the line before I would fault it.

1999 Cakebread Cellars - hints of Rutherford Dust in the nose - rich and full flavored in the mouth with surprising complexity for a wine so young - it has the structure for further aging and improvement as well as an attractive touch of bitterness in the finish. A very nice bottling.


2002 Cain Five - reticent aromas of minerals and dark plum - fairly rich flavors that tend towards the darker end of the Cabernet flavor spectrum - very well balanced with some smooth tannins showing on the follow.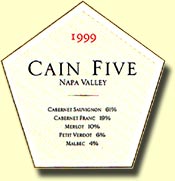 1999 Cain Five - Wow! - the initial aromatic hit was of one of the claret style wines that Ridge made from John Gantner's property not far from the Cain vineyards (deja woo) - traces of that persist in the mouth - tasted blind, I might mistake this for a Ridge wine - shows very enjoyable blended fruit flavors and is not nearly as aggressively tannic as I have found some of these wines to be in the past - still needs some time to show best, but it is very well balanced, and has very pleasant flavors.


2002 Trefethen - this sample will go to their reserve - fairly dense and pleasant plummy aromas - the flavors follow the nose with judicious smack of oak - a quite delicious example of valley floor Cabernet.

1998 Trefethen Reserve - very "Napa Cab" in the nose with hints of dust and nicely ripened fruit - lovely upfront fruit flavors that are interrupted abruptly with somewhat coarse tannins in the midpalate - if they resolve, this could be one of the relatively few successes of the 1998 vintage.


2002 Arrowood - "softer" aromas than the Napa Cabs with a touch of sour milk - no hint of that in the mouth - there's soft, plummy Sonoma fruit with substantial smooth tannins - all in all a flavorful wine if the off aromas in this sample do not persist into the final blend.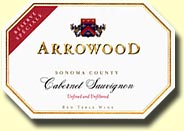 1999 Arrowood Reserve Especiale - Dry Creek and Alexander Valley fruit - 28 months in French oak - fairly reticent aromatically - sweet and pretty in the mouth with moderate and astringent tannins - it may very well integrate with time, but it will require a bit of patience, I think.


2002 Barnett Vineyards - sweet, ripe plummy fruit in the nose - sweet, fruity and expressive in the mouth.

2000 Barnett Vineyards Spring Mountain District - again, what I am finding is a common thread in the aromatic profile of these wines from Spring Mountain - slightly dusty, purple and black plum aromas - a bit coarse on the palate, but lively fruit and good structure.


2002 Arns - hints of char - showing more barrel than fruit in the nose right now - happily, in the mouth it shows more fruit than barrel, with nice concentration and weight - very prettily balanced and hopefully the final blend will show the same fine attributes.

2000 Arns - rather shy in the nose - shows lovely forward and sweet fruit in the mouth - moderately tannic attack just in front of the midpalate - good structure and very pleasant flavors.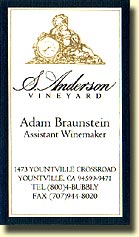 2002 S. Anderson Vineyards - shy, but fairly dense purple stone fruit aromas with a trace of exotic perfume - rich and flavorful in the mouth with hints of tar and a nuance of pleasant bitterness on the finish.

The fruit is sourced from the Richard Chambers Vineyard - longtime fruit source for this producer. This is the first crush from the new owners of the winery, and this wine will likely be released with a new name.


2002 Ritchie Creek Vineyards - again, what is becoming a typical Spring Mountain aromatic profile - lovely crushed purple plums with hints of dust and minerals - sweet and bright in the mouth showing lovely fruit flavors - another delicious Spring Mountain barrel sample.

1999 Ritchie Creek Vineyards - similar dusty mineral highlights over nicely ripened fruit in the nose - very pleasant sweet Cabernet attack - tastes just a bit dilute in the mouth, which is a little surprising given the vintage - it would be interesting to see if the wine shows better on another occasion.


2002 Robert Mondavi To-Kalon Vineyard - dusty oak over green olive in the nose - far more pleasant in the mouth with balanced plummy flavors marred by moderate but fairly aggressive tannins that hit on the tip of the tongue and extend to the midpalate.


2002 Kathryn Kennedy - lovely and generous ripe fruit aromas - the flavors follow the nose - rich and lush in the mouth.


2002 Merryvale Profile - fairly closed aromatically - and in the mouth, as well - there are hints of ripe fruit, but it is an enigmatic wine at this point.


2002 Charles Krug - restrained but characteristic Valley floor fruit aromas - a bit restrained in the mouth also - shows more structure than fruit now, but shows all the components necessary to develop into a very fine Cabernet - very well balanced - good acid structure - while the fruit is shy, it is dense, and I look forward to tasting this wine again a little further down the road.

As I have noted in previous stories, there is some buzz in the industry about serious efforts to resurrect the label and the quality of their wines.


2002 Chimney Rock Reserve - this sample is the final blend - rather restrained nose - rich and very pretty fruit flavors with some smooth but astringent tannins in the midpalate - a very attractive Cabernet.

2000 Chimney Rock Reserve - restrained dusty aromatics - absolutely delicious in the mouth, showing pretty and balanced fruit flavors, perfectly integrated oak and tannins - my "take me home and drink me with dinner" wine of the tasting. Very impressive.




Impressions


I'll begin by saying that this was a statistically insignificant sampling of wines from the vintage, and was geographically skewed towards Napa - not by my choice, but by the makeup of the Society.

Add to that the fact that wineries will understandably choose samples that show well, and in some cases, these examples will not be representative of the final blend.

And, of course, things change and spit happens.

That being said, let me say this about that:

2002 seems to be a fairly fruit forward vintage, and what I tasted suggests the wines will drink well early, and in many cases will also have some aging potential. They are not as impressive as 2001, but better than 2000.

Of more personal importance to me are the wines I tasted from Spring Mountain, and they did constitute a statistically significant sample. These wines continue to improve, and are more clearly stating their sense of place. I encourage you to get to know these wines, and these people.


califusa
Left Coast Correspondent to the Gang of Pour

© Allan Bree June 2003