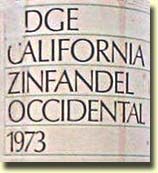 1973 Zinfandel Occidental – 12.7% alcohol – from northwest Sonoma County. Tired, somewhat dusty dark rose color – very pleasing aromatics of aged claret, featuring cigar box notes – the nose evolves, with more tobacco notes coming forward – sweet and pretty on the palate with noticeable acid backbone (which is one reason why these wines have stayed alive) – very smooth tannins in the midpalate – no reason not to drink this with dinner tonight.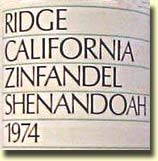 1974 Zinfandel Shenandoah – 14.6% alcohol – the youngest appearing of these wines in the glass – ruby with just a touch of orange and brown – mostly old claret aromas, with hints of Zinfandel fruit peeking through here and there – sweet and lovely in the mouth with a touch of caramel.
While these wines would seem over the hill to many, I find them fascinating and informative. Many thanks to Ridge for allowing us to taste some of Mr. Draper's earlier efforts.
2000 Zinfandel Buchignani – 81% Zinfandel, 19% Carignane – 14.6% alcohol - from a family estate in northern Sonoma County. Clear ruby color – corked.
Second pour from a different bottle – amazingly, corked as well. A very odd occurrence from a winery that in my experience has a very low percentage of cork tainted bottles.
1999 Zinfandel Jimsomare Late Picked – 100% Zinfandel - picked at 26.3 brix – residual sugar 0.06 – 15.6% alcohol. Dark garnet color – jammy blackberry fruit upfront with lively spice in the nose, which is quite unusual for a young Jimsomare. Big and mouthfilling with the typical acids and tannins that characterize this vineyard – there is a wonderful sweetness of fruit, not all of it due to the RS – an unusual Jimsomare, but still three to five years away from drinkability for my palate.
2000 Grenache Lytton Estate – 75% Grenache, 16% Zinfandel, 9% Petite Sirah – 14.8% alcohol. Fascinating floral perfume from the strong Grenache component – the Rhone-like qualities of the variety come to the forefront moments later – sweet and pretty in the mouth with a pretty and pleasant palate of southern Rhone flavors across the palate – there are moderate but smooth tannins that need to integrate, but this is the most impressive showing of a Ridge Grenache at this stage of its development. Very appealing.
1999 Petite Sirah Dynamite Hill – from the York Creek Vineyards, of course – 91% Petite Sirah, 9% Zinfandel – 13.8% alcohol. Deep purple in the glass - wonderful, characteristic and unmistakable aromas of York Creek Petite Sirah – as expected, the wine is absolutely huge in the mouth – the formidable tannins send a jolt through the seventh cranial nerve, but not before the perfectly ripened fruit makes a brief appearance. I anticipate a decade or two of cellaring before this designation (which is rapidly approaching the quality of the legendary Devil's Hill) is drinkable. A unique and fascinating example of this "ignoble" (Hah!) variety.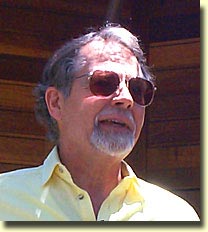 Our good fortune increased manyfold when Paul Draper (left) arrived, just as we were saying our good-byes. I was fortunate to spend a few minutes talking with him before he was pulled away.
There is great excitement about the 2002 vintage at Ridge. The fruit was of outstanding quality, with both great fruit and structure – the best of both worlds. Indeed, Paul thinks that some lots that are ordinarily blended are distinctive enough to be bottled as ATP wines. These "one of a kind" wines will help to fill out the program, and may allow Ridge to give some of the wines (Lytton Estate Syrah, for example) additional bottle age before release.
Having just finished pressing the last of the 2002 Monte Bello, Paul believes it is exceptional as well, and the Santa Cruz Mountains bottling (made from lots selected out from the Monte Bello) will return to the style it carried several vintages ago – smooth and accessible.
After nearly thirty-five years at Ridge, Paul Draper is still excited and enthusiastic.
How fortunate for us.
califusa
Left Coast Correspondent to the Gang of Pour
ฉ Allan Bree November 2002