Galleron Signature Wines

What do Chateau Montelena, Seavey, Whitehall Lane, Del Dotto, Vineyard 29, Grace Family and Hartwell all have in common?
Uh…
…the subject of our story, of course.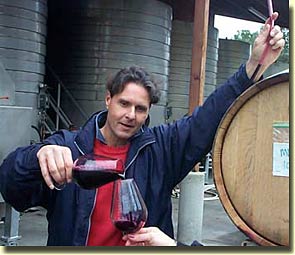 Gary Galleron had no choice. He was born with Rutherford dust under his fingernails, and Cabernet Sauvignon in his veins.
The son of Paul Galleron, and nephew of Virgil - the Galleron Brothers - among the most highly respected names in Napa winegrowing, Gary learned his craft, quite literally, from the ground up. He never learned to rollerskate - he was too busy picking grapes, or pruning vines, or lighting smudge pots, or shoveling pomace.
Gary first began experimenting with home winemaking while he was in high school, and went on to graduate from California State University, Fresno, in 1976 with a degree in viticulture and enology. He returned home, and began working at Chateau Montelena under the tutelage of Mike Grgich, eventually becoming Assistant Winemaker and Cellar Master.
After a four-year stint at Lenz Vineyards on Long Island, New York, Gary returned to the Napa Valley and began compiling a veritable Who's Who list of premium producers for whom he made wine.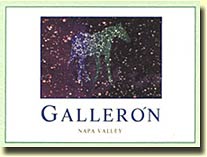 In 1993, in conjunction with Tom Leonardini at Whitehall Lane, he established his eponymous label, and his first commercial release, the 1993 Galleron Cabernet Sauvignon. One third of the fruit for the wine came from the Leonardini Vineyard, and the balance from the vineyard of his longtime friend, Gary Morisoli.
The wine was well received, but I believe Gary's breakthrough wine was the 1994 Galleron Cabernet Sauvignon. I've been fortunate to taste it on several occasions, including the evening it overshadowed the 1994 Shafer Hillside Select in the minds of several of our cyberwine community's most astute palates. I'm a believer.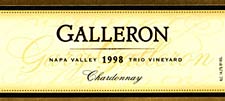 Since that time, Gary has moved on to Mario Perelli-Minetti Winery where he enjoys winemaking responsibilities, and creates the wines for his new label, Galleron Signature Wines. The initial releases were mostly white wines - a Riesling, two Chardonnays, and a lone bottle of Merlot.
The second releases have now shipped, and include 6 red wines and 3 whites, including the 1998 Morisoli Cabernet Sauvignon. While pricey, these handcrafted wines may prove to be worth the tariff. I've tasted the 1999 Morisoli Cab from barrel on several occasions, and it is among the most impressive young Cabernets I have ever tasted.
Gary is a very personable fellow - quick to smile, and obviously in love with what he does. He only displays his shy side when asked about himself - he then steers the conversation back to wines, avoiding any discussion in depth of him as a person. Perhaps he prefers to let the wines speak for themselves, and they speak volumes.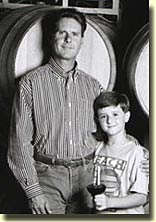 Galleron Signature Wines is very much a family business. Gary, of course, crafts the wines - his sister Paula handles the mailing list and business affairs, and is the cordial voice you encounter when you call. And, the fourth generation of Gallerons, Paula's son Matthew (left), is involved as well - packing and labeling, and getting purple during crush.
Even more exciting are the future wines. After lying fallow for years, the family's vineyards in Rutherford are being planted again. Before too long, we'll have the opportunity to enjoy Galleron Cabernet Sauvignon from the Family Estate Vineyards on Galleron Road.
I'll be there.
califusa
Left Coast Correspondent for the Gang of Pour
Galleron Signature Wines
PO Box 2
Rutherford, CA 94573
707 265 6552
707 265 6559 fax
© Allan Bree October 2000