By Allan Bree, (califusa)
Left Coast Correspondent to the Gang of Pour
Dashe Cellars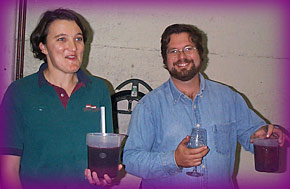 Anne and Mike Dashe showing off their personal spitters


I really can't remember the first time I met Mike Dashe. I think that over the last several years, he became one of several familiar faces I saw at various events at Ridge – folks I recognized and said hello to, but never really got to know.
Last year, Ridge set up a series of interesting wine talks with comparative tastings on a couple of Sundays, and Mike and I chatted a bit after his lecture on tannin management. I was impressed with his level of knowledge, and with his patience and willingness to answer the most basic questions about wine. Since that time, I've made it a point to try to get to know him better, and I'm glad I did.

Mike began his wine career as a cellar rat at Roudon-Smith in Santa Cruz, then went off to pursue a degree at UC Davis. He worked for "single vintages" (crush team?) at Schramsberg, Far Niente, Cloudy Bay (no, the real Cloudy Bay - in New Zealand), and Chateau Lafite Rothschild. Not bad for an itinerant wine worker!
In 1990, Mike joined Ridge Vineyards, and worked as Paul Draper's Assistant Winemaker until July of last year. He left Ridge in pursuit of his dream – founding a small, artisanal winery.
A big part of that dream now is Mike's lovely wife, Anne, and their soon to debut baby. Anne worked at Chateau La Dominique in the town of St. Émilion, and has a first class French wine education. She came to California to learn our approach to winemaking, and worked at Chappelet, and later at the Carneros Alambic Distillery producing brandies. She and Mike were married in 1996.
The first release from Dashe Cellars was their 1996 Zinfandel from the Dry Creek Valley. It was one of my top wines at last year's ZAP tasting. I think I called it "a very clear expression of Dry Creek Zinfandel". It was (and still is) a most delicious Zinfandel.
This year's release will be a 1997 Zinfandel from Russian River Valley fruit, then a Sangiovese, and perhaps a late harvest Zinfandel. I've been fortunate to taste the Sangiovese, and it is quite special – layers and layers of ripe and rich fruit with well balanced acids and smooth tannins.
And who better to learn the alchemy of late harvest Zinfandel from than Mr. Ridge hisself?
Well – I am not terribly objective when it comes to wines and winemakers – and I'm not sure I always want to be. These are lovely people who make very good wine.
I suggest you get on the list early.
califusa
Dashe Cellars
1080 Dolores St.
San Francisco, CA 94110
415. 642. 1169
415. 642. 1603 fax