Tasting events. Bigger tasting events. And even bigger tasting events. That's the trend out Left these days. ZAP, Cal-Italia, Rhone Rangers – all are looking to expand their tastings in hopes of expanding their sales. One can hardly blame them.
Family Winemakers is no different.
I enjoy the Family Winemakers tasting – it gives me a chance to catch up on the impossible task of keeping track of all the new wineries. Good God – they're sprouting up like mushrooms after a spring shower. With the economy as it is, I can't understand why so many people are so anxious to lose their money. But dreams are hard to suppress, and I wouldn't try to deter anybody from chasing their particular bliss.
Nevertheless, it's getting more challenging for a correspondent to find a way to make you, the reader, feel as if you were there. There were more than 300 wineries pouring in the Festival Pavilion at Fort Mason. Last year I tried to find new faces and wines I did not know, so this year I thought to take the opposite tack, and look up friends to see how they were doing since I last saw them.
Well, it was crowded at the entrance, and there was the usual meltdown at 'will call' and registration. These folks could certainly benefit from spending some time with the folks in the ZAP organization - they seem to have much better logistical success with events of this size.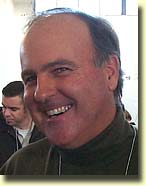 The first stop of the day was with John Guilliams (right) who produces Cabernet from his small family owned vineyard on Spring Mountain.
Guilliams 1998 Cabernet Sauvignon – 82% Cabernet Sauvignon, 10% Merlot, 8% Cabernet Franc – muted Cabernet fruit in the nose with lovely spice – very pretty in the mouth with good acid and tannin structure, but accessible – nicely balanced, as I would expect from this producer. A fine effort, especially with this vintage.
Guilliams 1999 Cabernet Sauvignon – much darker ruby color in the glass – quite subdued aromatically – almost explosive flavors in the mouth – fairly rich Cabernet fruit with a strong acid backbone – again, very well balanced, but showing a lot more stuff than the 98. Another very good wine from this under-recognized producer.
If you call ahead, John and Shawn are likely to invite you up to their place to taste some wine. You will not be disappointed.
Joan and Walt Flowers were away on business and were not able to attend today, but were well represented by Ross Cobb.
Flowers 2000 Chardonnay Sonoma Coast – pretty golden color – the aromas show more oak than fruit at this point – far better balanced in the mouth – lovely melon flavors – a tad too much oak for my palate, but these wines integrate well with a little time in bottle.
Flowers 2000 Pinot Noir Sonoma Coast – nice deep color in the glass – concentrated notes of black cherry with a touch of pleasing stemminess in the nose – well concentrated in the mouth with a touch of velvety tannins – long, clean follow. There's a lot to like in this Pinot – it is elegant, but still has some power and structure, and I find it very appealing.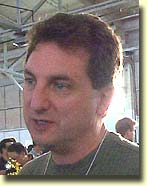 Brian Loring (left) is rapidly endearing himself to winelovers with his luscious Pinots and his exuberant personality. He regularly participates in several wine bulletin boards and was resident winemaker at this year's MoCool.
Loring 2001 Pinot Noir Rancho Ontiveros Vineyard – a bit light in color – rather restrained aromatically, but shows a burst of sweet Pinot fruit in the mouth – medium weight with good balance – some smooth tannins on the back end – all in all, a pleasant medium weight wine that should pair well with a variety of foods.
Loring 2001 Pinot Noir Clos Pepe – deeper in color, but likewise aromatically reticent – wonderful explosion of deep Pinot and pitted fruit flavors in the mouth – full and rich Pinot Noir, and as is typical of this producer: clean and balanced.

Family
Winemakers
of
California
Twelfth Annual
Tasting
November 13, 2002

Festival Pavilion
Fort Mason Center
San Francisco, CA
Left Coast Correspondent
Index
PROFILES:
Tasting Notes from
the Northern Ridge
Synergism
Further Tasting Notes from the Ridge
Up the Coast
Domaine Serene,
Domaine Drouhin
and Archery Summit
More Tasting Notes from the Ridge
Galleron

Scott Paul Wines

Landmark Vineyards

Dashe Cellars
Tasting a Legacy -
Wines of Stag's Leap

TN's From The Ridge & Beyond
Paul Draper and Monte Bello
C O P I A

TRADE TASTINGS
"T" is for...
califusa ventures where the stags leap
Premiere Napa Valley ®

Family Winemakers 02, 01, 98
Loring 2001 Pinot Noir Gary's Vineyard – color is almost identical to the Clos Pepe – again, very restrained in the nose – a richly flavored Pinot with just a bit more stuffing and certainly more tannin structure. It may turn out to be a longer lived wine and have a touch more heft. I am learning after tasting a couple of vintages of Brian's wines that he has unmistakable talent as a winemaker, and is producing rich, clean and well balanced wines that are a very fine expression of California Pinot Noir.
Showket 1999 Sangiovese – Dorothy and Kal Showket held out a portion, and are re-releasing this wine. Wonderfully dark and rich fruit aromas with a hint of road tar and licorice – very attractive – equally rich in the mouth – coats the palate with deep Sangiovese fruit – the tannins that remain are quite velvety – long and clean follow. Those who dismissed this producer's Sangiovese (happily, I was not among them) certainly have to question their observations. While not a classical Italian expression of the variety, it nevertheless is a wine of distinction and character.
Showket 1999 Cabernet Sauvignon – I have eagerly awaited this release, and will enjoy following its development. Very deep color – somewhat restrained in the nose – again, a wonderful richness and depth of flavor in the mouth. I think this is destined to become an exceptional Cabernet – at this point it is still very young, of course, and needs to develop – it undoubtedly shows its potential today.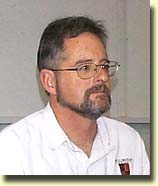 It is always a pleasure to chat with Peter Wellington (right), winemaker for his family owned Wellington Vineyards, in the Valley of the Moon. I tasted two of the ten or so wines he was offering.
Wellington 2001 Roussane Russian River – sourced from the Saralee Vineyard – light golden hue – pretty hints of wildflower and predominantly white stone fruit in the nose - white peach and apricot – the flavors follow with an added component of minerals and slightly steely acidity that produces both wonderful flavors and excellent structure.
Wellington 2000 Syrah Sonoma County – dark ruby color – rich plummy fruit with a not unpleasant touch of rubber that fades after a moment or two – sweet and pretty in the mouth – medium to full bodied with some light to moderate smooth tannins that do not mar its appreciation, but ensure some aging – clean and nicely balanced – a very good expression of Sonoma County Syrah.
---