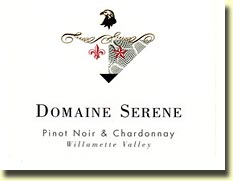 After two days of splendid coastal weather, we awoke to cool and damp fog that failed to lift as we drove inland, and refused to burn off as the morning wore on. It failed to dampen our spirits, however.
The Willamette Valley is arguably Oregon's premier appellation. Natural boundaries and the Willamette River create this 100 mile long, 60 mile wide region, which serves as home for about 120 wineries. It is the coolest of the Oregon winegrowing regions. The valley has an elongated "V" shape, and is bordered to the north by the Columbia River, to the south by the Calapooya Mountains, to the east by the Cascade Mountain foothills, and to the west by Oregon's Coast Range.
Ken and Grace Evenstad came to this valley in 1989, and found what they were looking for in the Red Hills of Dundee: a prime location to grow premium Chardonnay and Pinot Noir. They now own two properties in the Red Hills: the Evenstad Estate and the Winery Hill Estate – a total of 222 acres. They also have the 90 acre Jerusalem Hill Vineyard Estate in the Eola Hills, just 13 miles south.
In 1990, with purchased fruit crafted by their first winemaker, Ken Wright (and a 90 point score from the Guru), Domaine Serene immediately established themselves as a producer of fine Oregon Pinot Noir. Ken Wright made the wines through 1998. He has since, of course, gone on to open his eponymous winery
Tony Rynders is now the winemaker, and while we did not have the opportunity to meet him on this visit, we certainly became acquainted through the wines we tasted.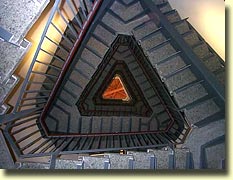 The Stairway at Domaine Serene
This is a very impressive operation. In addition to the careful vineyard practices that have become mandatory in these cool climates, Domaine Serene is enjoying their second crush in the new winery.
This state of the art, five level facility is a joy to behold. The property was purchased from Domaine Laurient, who never developed the one hundred acre site. This is a well thought out gravity flow design. The space is enormous, and they could probably handle one hundred thousand cases if they cared to, but the plan is for fifteen to twenty thousand cases of Pinot and Chardonnay when they reach peak production. They are also making small amounts of Syrah bottled under the Rockblock label.
Particular care and attention is paid to sorting, including use of a large vacuum device under which the fruit passes, and debris, insects and leaves are hoovered away. The Pinot gets three day cold soaks with hand punch-downs. The fermentation is primarily whole berry with little whole cluster. The resulting wines are impressive.
2000 Clos de Soleil Chardonnay – pretty golden hue – fairly restrained aromatically with initial hints of sweet vanillin – smooth entry with well balanced flavors – enough distinct acidity to give the wine backbone and structure – despite being 100% malolactic, the wine is not flabby at all – an excellent food wine.