By George Heritier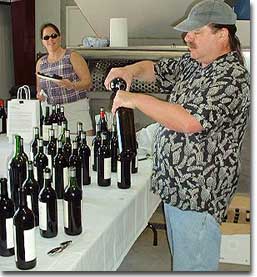 It goes without saying that Geyserville and Monte Bello are obvious choices for themes when it comes to any tasting of Ridge wines. A less obvious choice might be the wines originating from the York Creek Vineyard on Spring Mountain, in the Napa Valley Appellation, and yet this site has been producing fine wines made from several varietals since at least the early Ď70s. Kim and I drank Ridge York Creek Zinfandel during the latter part of that decade, and we liked them quite well, and the Petite Sirah that is grown there is the stuff of legend. Add to that Cabernet Sauvignon, Cabernet Franc and Merlot, and you have quite a diverse output, and itís all really good!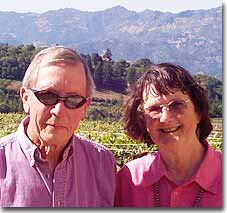 Bree thought that it would make the tasting all the more special if it could be held on Spring Mountain, and we were all thrilled when Barbara and Jim Richards of Paloma Vineyard graciously agreed to host the afternoon event. The Richards are a wonderful, down-home couple whose west Texas roots are reflected as much in their hospitality as in their casual drawl. Theyíve been farming their mountain vineyards since 1985, and from that location you not only have a breathtaking view down upon the Schweiger property below, but an even more stunning view of the Burgess and Viader vineyards across the valley on Howell Mountain. It was an ideal location for the dayís festivities.
Like the night before, most of the wines came from califusaís cellar, with an injection of some older bottles by Mike Ripley. There were 61 bottles opened specifically for this affair, as well as a number of other selections brought along by the attendees. Those attendees included many of our online pals, several of whom were also at the Geyserville tasting, as well as some "in the biz" folks. These included Bayard Fox (Renard), Pax Mahle (Pax Wine Cellars), Delia Montesinos (Testarossa Vineyards), Carole Meredith and Steve Lagier (Lagier-Meredith), and Fritz Maytag (York Creek Vineyards, Anchor Steam Beer, etc.).
As is so often the case, we started with some white stuff.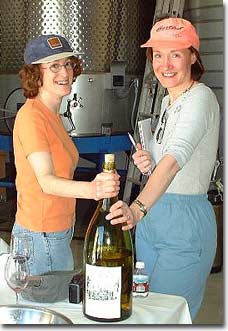 1992 Montelena Napa Chardonnay, 5L: Medium straw-pale gold; nice rich pear flavors and aromas with perfectly integrated oak and a hint of beeís wax. Good acidity and a nice long finish. Over half of this remained at the end of the tasting, and Alan Kerr dragged it around through two counties over the next few days, hoping the crime of wasting the rest could be avoided. AlasÖ
It takes two hands to handle a whopper! From left: Ilene Adler and Evelyne Resnick.
Photo by Randy Resnick ©
1985 Ridge York Creek Zinfandel, 1.5L: Somewhat rusty dark garnet; pretty Draper perfume over a broad spectrum of red berries. Still quite tannic for its age, with good acidity and a long finish. Mr. Kerr noted some mushroom, saying it had "remarkable presence for its age."
1971 Freemark Abbey York Creek Petite Sirah: Still a lot of tannins in this inky bricked garnet; black cherry flavors and aromas with a faint hint of pepper and well integrated oak on the nose. Amazing depth of fresh fruit, with not a hint of funk, mustiness or secondary nuances. One of my two Wines of the Day.
1973 Freemark Abbey York Creek Petite Sirah: Rusty garnet, with dusty chocolate, cinnamon and cola flavors and aromas. Close to its peak.
1974 Freemark Abbey York Creek Petite Sirah: Bricked garnet; somewhat musty, cedar-y red fruit. Not up to the í71 or í73; an intellectual, rather than a sensual pleasure.
1975 Freemark Abbey York Creek Petite Sirah: Bricked garnet; still a tannic monster, being a bit RhŰne-ish and showing some pepper, prune and earthy terroir. Kerrís not sure he likes this, but I sure do!
1976 Freemark Abbey York Creek Petite Sirah: Bricked garnet; big, dense, earthy and quite Port-like with huge chocolate. Has a musty, cedar-y quality on the nose that Iím not wild about, but the flavors are much more to my liking.
1971 Ridge York Creek Petite Sirah: Wow! Wonderful! Rusty garnet; more palate friendly tannins than the Freemarks, with "black currants right off the bat," according to Alan, and "cola nuts on the finish." In between, there is plenty of rich blackberry, raspberry, chocolate liqueur and big spicy cinnamon. "Just so elegant," gushed the Zinfan. My other Wine of the Day; in fact I enjoyed this even better than the í71 Freemark. Amazing 31 year old wine.
1972 Ridge York Creek Petite Sirah: Bricked garnet, with coffee and prune flavors and aromas; not as substantial as the í71, but still a nice wine.
At this point, Alan Kerr took over most of the afternoonís note taking, doing an admirable job and giving me a much-appreciated opportunity to relax and visit with everyone. I continued to chime in with impressions from time to time.
1977 Ridge York Creek Petite Sirah: Still very tannic; lighter red fruit and sweet spice. Alanís least favorite wine so far; he noted that I liked this better than the í74, but we failed to record any impressions of that wine.
1980 Ridge York Creek Petite Sirah Devilís Hill: Rich chewy black currant, cream soda, sweet cherry fruit with hints of coffee and dark chocolate; nice long cherry finish. Good juice!
1981 Ridge York Creek Petite Sirah Devilís Hill: Just a hint of brick; slightly brambly black fruit with a touch of leather and dark roasted coffee. Love it.
1982 Ridge York Creek Petite Sirah Devilís Hill (60%)/Lake (40%) ATP: Funky must, forest floor, dead leaves, morel mushrooms, blackberry comfit flavors and aromas. Nice red fruit acid finish.
1983 Ridge York Creek Petite Sirah Devilís Hill: White mushrooms, cola, black fruit, very big mid-palate, yummy chocolate; still very tannic, but no bitterness. Long finish with strawberry and red currant acidity.
1984 Ridge York Creek Petite Sirah Devilís Hill: Jammy cassis, sweet cola, cherry, plum; very spicy, peppery. Spearmint? Bloody tannic, needs time.
1985 Ridge York Creek Petite Sirah Devilís Hill: Boot polish, touch of rubber, plum, pepper, and blueberry oak. Brick wall tannins are too much for me. Longer, peppery, hot finish.
At that point, the massive Petite Sirah tannins had sledge hammered our taste buds into submission, and we could handle them no more. Looking to refresh our palates, we made what seemed to be the obvious choice and switched to Cabernet Sauvignon! As you can see, they were tasted somewhat out of sequenceÖ
1981 Ridge York Creek Cabernet Sauvignon: Quite lively, though the colour shows its age. Fruit is spicy stewed currant and rhubarb, with some tannins still to resolve. Just OK.
1985 Ridge York Creek Cabernet Sauvignon: Lovely roasted coffee bean, sweet cherry, cassis, sweet spice, star anise, cherry cola; a rise-in-the-Levis kind of wine, with excellent balance and a refreshing finish of black currant.
1984 Ridge York Creek Cabernet Sauvignon: A bigger wine, with cassis, raspberry, chocolate, a touch of mint and a mid-palate of stewed black fruit.
1986 Ridge York Creek Cabernet Sauvignon: One taster with some experience with this wine claimed that it was a "tough little mother for several years," and while it still has plenty of tannins, it also has some obvious charms. It's showing flavors and aromas of black tarry licorice, lovely creamy cassis, spicy cinnamon stick and pepper.
1987 Ridge York Creek Cabernet Sauvignon: Very pretty, much more approachable than the í86; sweet plum, cassis, red currant and cooked strawberries, all adorned with light, soft oak.
1988 Ridge York Creek Cabernet Sauvignon: Light mahogany edge, with aromas of coffee and treacle; fruit fading.
1989 Ridge York Creek Cabernet Sauvignon: Little fruit, mushroom, not much to it. Flat, dull, sucks.
(For comparisonís sake, click here for notes on a recently tasted 1990 Ridge York Creek Cabernet Sauvignon.)
Once again, weíd hit a tannic wall and needed to freshen up our palates, and with all of those Zinfandels right in front of us, how could we resist?
1977 Ridge York Creek Zinfandel Late Picked, .015% Residual Sugar: Quite rusty, with mahogany edges and a lovely blast of sweet perfumed red fruit, licorice root, Zin-berry and cream soda. What a wine for its age!
1975 Ridge York Creek Zinfandel: Browner rim, with simple, earthy light red fruit and balsamic; slight oxidation on the finish, where it falls off quickly.
1978 Ridge York Creek Zinfandel: Brick colour, with lovely ripe cooked red fruit, spicy cinnamon, a touch of blueberry, butterscotch, caramel, anise seed, big pepper and a hint of marzipan. F*ckiní A!!!
1980 Ridge York Creek Zinfandel: Quite brown, with sweet toasty cinnamon, cranberry, a little underbrush, wild mushrooms and hints of coffee; the low acid fruit is aging, but itís still tannic, with a sweet milk chocolate, blackberry finish.
1981 Ridge York Creek Zinfandel: Very ripe, with classic Draper perfume; at its peak. Red and black raspberry, hints of currant and cassis, sweet blueberry, clove and anise; big, full fleshy fruit is still SO lively, with focused mouth coating flavors and a long finish. One of the stars of the day.
1997 Ridge York Creek Zinfandel: Biting spice, acid, plum and pepper.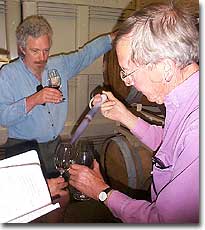 And there you have it. Over a period of about 3 hours, Alan and I were able to try about 29 or 30 wines, roughly half of what was opened. We got a brief sample of some of the recent York Creek Vineyard bottlings that Fritz Maytag brought along, and while they were quite nice, we didnít have time to take notes, because by then we were engaged in cleanup duty. Kerr, Henry Harris and this taster also got to try a couple of barrel samples of 2001 Paloma Merlot (left). The one Alan noted is actually 87% Merlot and 13% Cabernet Sauvignon, and it is mind-blowing in its intensity, with dark chocolate, blackberry, cherry and coffee flavors and aromas. Itís a raw young wine with tons of fruit, and if the í96 Paloma Merlot that we tried the following day is any indication, it has a wonderful future.
One could employ so many superlatives to describe an event like this, and yet Iím not sure that theyíd do it justice. How to describe the warm generosity of the Richards for opening up their fabulous location, or that of Bree, for opening so many of these mostly remarkable bottles. And Iíd be remiss not to once again mention the contributions of Mike Ripley and Fritz Maytag. As always, the friendship and camaraderie of the participants had as much to do with making a success of the occasion as the wines, and itís just a shame that more people could not have taken part in this amazing survey of York Creek wines. It was a very special day!
Click here for Bree's special interview with Fritz Maytag.
Introduction

Friday

Saturday
Sunday

Epilogue

Extra Stuff