RECIPE
Opus One - Day Two
A Very Big Day!

Also visited: Where else? Ridge Lytton Springs and Caymus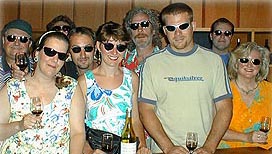 The Gang of Pour and Tony at Ridge Lytton Springs
I was up at 7:15 AM, practiced yoga on the deck in the morning sun, then took a leisurely swim. The others appeared, one by one, over the next couple of hours. Breakfast, prepared by C.Z. (with an assist from Madame L'Pour and Mr. Gumby), was served at 10:30. Zinfan called it "Tacos a la Russian River," and they were the best damned tacos this taster has ever enjoyed! Mr. Flippy had selected a magnum of 1995 Hanna Sauvignon Blanc to accompany this wonderful repast, and it performed very nicely indeed. (This was the first time I'd had wine with breakfast in my life; but, after all, we WERE on vacation, and we WERE in wine country!) It was a perfect start to what was easily the most interesting day of the trip for the Madame and myself.
We were back at Lytton Springs by noon, with a token taco for Tony. He honored Kathy's promise to open a 1992 Ridge Chardonnay Santa Cruz, and it was a beauty! Of course, we again sampled a couple of Zins, a Cabernet, a Merlot, and a Mataro. While we were thus occupied, another couple walked in.
Wayne and Marianna Fisk are also Lytton Springs devotees, and had visited a number of times previously. They were quite friendly and, like us, enthusiastic about their favorite Zinfandel producer. We each gave them a "Gang" card, to their amusement and delight, and as we chatted, The Director and I were quite surprised to discover that they hailed from Dearborn Heights, Michigan, about 20 minutes from our home, as the Ford motors.
Wayne had a very nice digital camera in hand, and generously offered to take group pictures, and contribute the images to this web site. We accepted his offer, the results of which can be seen here.
We said our good-byes, piled back into our vehicles, and headed for St. Helena; we had a 2:30 appointment at Opus One. We arrived a bit early, so, first, we made a stop at Caymus.
As we walked into the tasting room, you could smell the oak; it was an intoxicating aroma of vanilla and wood.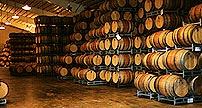 Caymus Barrel Room
Then, you looked to your left, and there it was, a sea of barrels. Hundreds of them were stacked almost to the ceiling, in row after row. It was a very impressive sight.
We tasted the wines that were being poured; the 1995 Conundrum, Caymus' unique five varietal white blend, was particularly nice. We also sampled the 1994 Napa Cabernet Sauvignon, and though it is a very fine wine, it would be completely overwhelmed by what was about to follow.
We left Caymus, and made the five-minute drive to Opus One, arriving at 2:25 PM. Mr. Flippy had made the appointment for a private tour the year before, through connections in the hospitality industry. We entered the fabulous neo-classical structure, and were ushered to the beautifully appointed Grand Salon, to await our tour host. While there, Zinfan and Zinchick produced their stuffed mascot, Clarence the Gecko, and placed him on an ornate ceramic sculpture. (Clarence had also accompanied them to France the summer previous. The little bugger gets around.) As they were videotaping him in his unlikely perch, in walked Wayne Mellen, Opus' Guest Relations representative.
Mr. Mellen is a charming, articulate gentleman, with a fine sense of humor. He quickly noticed Clarence, and took it in stride, without missing a beat. (I wonder if he'd ever encountered anything like The Gang of Pour before?) He gave a brief, but informative history of the ambitious collaborative effort between Robert Mondavi and Baron Philippe de Rothschild that resulted in the marvelous structure in which we were sitting. Then came the tour.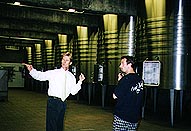 Wayne shows off Opus One's Tank Room to Mr. Flippy
We were shown almost every area of the immaculate winery; from the lab, to the mezzanine, where the grapes are crushed, and the winery's gravity-flow process begins; from the fermentation room (directly underneath the mezzanine), with its giant stainless steel tanks, to the large, semi-circular grand chai, where the finished product ages for one year in new oak barriques. (Graphic detail regarding the specifics of this wonderful facility needn't be repeated here; for that, read Jean T. Barrett's sprawling article in the November 15, 1995 issue of the Wine Spectator. Suffice it to say, however, that no expense was spared in creating the state of the art facility, and it showed.)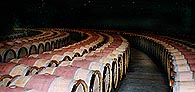 The Grand Chai
Finally, we were led into the tasting room, which had a large round table at its center, and windows, which allowed a good view of the chai. What must Mr. Mellen have thought when, as C.Z. was videotaping the proceedings, Mr. Flippy and I began dancing like demented Deadheads in front of the camera? (Or, for that matter, when Zinchick put Clarence in an empty stainless steel fermentation tank for said camera?) Whatever those thoughts may have been, he showed only humorous indulgence, as he seated us at the table, like knights who'd found the long lost Grail.
At six of the places prepared, there were leather bound certificates, not unlike diplomas, individually addressed to each of the Canadians. The Director and this taster were late additions to the company (indeed, we weren't sure we'd be able to take part in the tour until the last minute), so none were prepared for us.
The Gang in Opus One's Tasting Room
There were also two bottles of Opus One at the head of the table, a vintage 1988, decanted, and a vintage 1994, simply uncorked. At the table's center was a gorgeous orchid display, putting a lovely finishing touch to an already elegant scene.
For the next hour, we tasted both wines, as Wayne discussed various aspects of their make up and creation. (Though every vintage of Opus One is a Meritage blend of Cabernet Sauvignon, Merlot, Cabernet Franc, and Malbec, all can legally be labeled Cabernet Sauvignon. The vineyards which produce the grapes used are primarily dry farmed, with some drip irrigation.)
The '88 model was a success, considering the poor vintage. It had a dark ruby-garnet color, with a hint of brick at the rim. It had big blackberry, currant, and licorice flavors and aromas that showed more of a Bordeaux style than Californian. This taster also noted a hint of cedar, or as The Director described it, cigar box. Zinchick detected a touch of Horehound candy.
The '94 was something else again! Almost the same color, sans the brick, it had enormous flavors and aromas of black currants, raspberry, and chocolate, and, though tannic, was utterly lovely to drink already. Wayne informed us that it had only been released the previous Thursday. It was arguably the Wine of the Trip, and I continue to rue the fact that I didn't bite the bullet and bring at least one home for "the cellar."
As we were finishing the last of these wines, Wayne left the room for just a few seconds, returning with another bottle of the '94, and promptly poured each of us yet another glass! He then finished his presentation with a rough translation of a Swedish toast:
"Here's to a long life and good wine,
Which is better than a short life and bad wine,
Which is much better than a long life and bad wine!"
Thus ended what had to be the highlight of the trip, at least for The Director and this taster. It was 4:30 PM, and we had just enough time to catch "last call" at Beringer.