Morning Reflections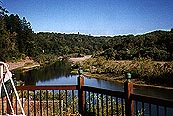 Morning view from the Tree House deck
Another beautiful Sonoma morning found this taster feeling slightly depressed. After all, the Madame and I would be returning home the following evening, and it seemed as though we'd only just arrived. We'd been so totally immersed in our wonderful adventure in wine country, that the week had literally flown by.
As I practiced my usual coffee-yoga routine on the deck, while waiting for the others to arise, I once again enjoyed of the peaceful scene that replayed itself each day on our little stretch of the Russian River.
There was the gray crane (or was it a heron?), that would stalk its prey, majestic and almost motionless, suddenly darting its head in the shallows for a choice minnow or small fish.
There were the duck families (at least two) who'd be swimming along calmly enough; suddenly they'd focus intently, before exploding into a fury of torpedo-like motion, going in all directions, collecting their breakfast.
And, of course, there were always the hawks, soaring overhead, stately, imperious, ready to swoop down upon any unlucky rodent, fish or small bird caught unawares and unprotected.
I waited for two big fish to pass before taking my morning swim, and made a conscious effort to cast aside my mood. It was going to be another great day, and nothing was going to dampen the experience!
After everyone was up and around, Canadian Zinfan, Gumby, and the French guy went to work preparing breakfast, and what a meal it was! This lime tortilla shrimp in chicken broth was, quite literally, the best soup, not only of the trip, but that I'd ever tasted in my life! Seriously!! The rich complexity of flavors was stunning, and it was made all the more wonderful by the wine that accompanied it.
The 1995 Arrowood Russian River Valley Saralee's Vineyard Viognier was my favorite white of the trip, though it would have been interesting to taste it along side the '96 Kunde. Rich, and yet delicate at the same time, this pale straw beauty was ever so slightly oily in the mouth. It showed elements of rose petal, pear, herbs, and a touch of brown sugar. Despite its somewhat steep price tag (around $35), this taster would take this one every time over any of the Chardonnays that were tasted, with the possible exception of the '94 Chalk Hill.
Ironically, the Chardonnay Kid followed this with the '95 version of the Chalk Hill Chardonnay ("Estate of the Art"), and though it was fine and lovely, with its toasty oak, pear, brown sugar and maple syrup nuances, it fell a tad short of the previous vintage.
With that, we were ready to get on with our day.