A dinner party to celebrate Canada Day with Special Guest, SFJoe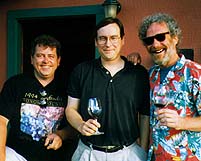 Canadian Zinfan, SFJoe and Bastardo on the deck

Notes taken on the wines tasted this evening:
1992 Silver Oak Napa Cabernet Sauvignon
1986 Newton Napa Merlot
1994 A. Rafanelli Dry Creek Valley Cabernet Sauvignon
1995 Ridge Pagani Alicante ATP Selection
1995 Dehlinger Russian River Chardonnay
1995 Beaulieu Vineyards Carneros Reserve Chardonnay
1995 St. Francis Pagani Reserve Zinfandel
1990 Ridge Geyserville
1992 Ridge Geyserville
1995 Robert Biale Sonoma Monti Rosso Zinfandel
1993 Ridge Lytton Springs Zinfandel
1995 Rabbit's Ridge Sonoma Winemaker's Reserve Zinfandel
1995 Ch. Ste. Michelle Columbia White Riesling Icewine
1995 Inniskillin VQA Niagra Penninsula Vidal Icewine
We arrived back at the ranch to find birthday girl Joanie and son Bob already there, along with a '95 St. Francis Reserve Chardonnay and TWO '95 St. Francis Pagani Reserve Zins. We all did our kow-tows and "We're not worthy" mantra; then, it was time for a swim.
I'd just dried off, when SFJoe arrived, with a '95 Ridge Alicante Pagani ATP selection, and a '90 Ridge Geyserville. (He really knows how to get a "Gang's" attention!)
When asked, Joe described himself as a "recovering scientist;" in fact, he has been involved in important research to find a cure for the AIDS virus. C.Z. and I had both exchanged messages with him from time to time, in the Wine Spectator Bulletin Boards and Robin Garr's Wine Lover's Discussion Group, so we were looking forward to finally meeting him. And, indeed, he proved to be a witty, personable fellow who fit right in with our off-beat little gang.
We'd barely completed introductions, when Mr. Gumby opened one of his '86 Newton Merlots, following that with a '92 Silver Oak Napa. Both were every bit as impressive as they'd been previously.
These were followed by a '94 A. Rafanelli Dry Creek Valley Cabernet Sauvignon. A very pretty wine, it showed cherry vanilla and black currants on the nose, with flavors to match that were augmented by hints of leather and cigar box. Though more fruit forward than the Silver Oak, it was somewhat less elegant and refined.
Next, we sampled one of Joe's selections, a 1995 Ridge Pagani Alicante, from their Advanced Tasting Program (ATP). This wowed everyone with its dense, inky color, explosive nose, and rich, spicy damson characteristics. It was a huge wine, and quite rustic. At first sip, Mr. Gumby blurted, "Holy Shit!" Joe elaborated, "It's pretty wacky!" If only Ridge shipped to Michigan, I'd join their ATP Program in a Detroit minute!
It was about that time that Mr. Flippy served what was to be considered "the salad of the trip," a Caesar seafood number with white truffle oil drizzled over it. My notes contained the following descriptive, "F***ing Awesome!"
Accompanying the salad were two Chardonnays. The first was a 1995 Dehlinger Russian River. It was medium straw in color, with an unimpressive nose that featured a slight detergent element. The flavors picked up nicely, however, with toasty oak, rich pear, and more of the buttery, brown sugar/maple syrup nuances that we'd become so accustomed to in the last week. Joe also noted a leesy quality. All in all, a nice chard; B.B. approved enthusiastically!
The next selection, a 1995 Beaulieu Vineyards Carneros Reserve Chardonnay, was less impressive, with lots of buttery oak that overpowered the fruit somewhat. It was a little flabby in the mouth, and a little short on the finish.
By now, Canadian Zinfan and Mr. Gumby had completed their dinner preparations, and we were all presented with plate of smoked leg of lamb and garlic mashed potatoes, drizzled with truffle oil. Gumby's "Zin of the Trip," the '95 St. Francis Pagani Reserve was poured, and while it was wonderful, one wonders if one of the more mature wines that followed might not have been a better choice with the meal, saving the Pagani for a port-like pre-dessert selection.
The meal was magnificent, and there was no end to the superlatives heaped upon C.Z. and crew. Indeed, almost jaded now, we'd come to expect nothing less from them!