Do You Know?
More Power Tasting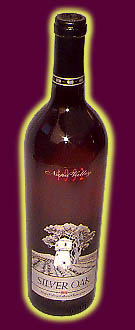 Ferrari-Carano
J. Fritz Winery
Silver Oak Alexander Facility
Chateau Souverain
Alderbrook
Lambert Bridge
And special guest, Jason Brandt Lewis


Today was the first day the The Director and I saw any clouds in the sky. The Canadian contingent had observed a single one the day before we arrived, and photographed it.

The "girls" had appointments in Calistoga for one-hour body massages, so the "boys" went winery hopping. Our first stop was at Ferrari-Carano. I won't even begin to try and describe the over-the-top opulence of the Italian Villa styled estate, other than to say that it's stunning. Even those who may not favor the wines of this producer should pay a visit, regardless.

The Canadian contingent had apparently had a less than memorable experience the week before. This time, however, we walked in, each handed a business card to Louise, the Tasting Room Manager, and said, "Hi, we're the Gang of Pour!" This certainly broke the ice, because she gave us a very upbeat, informative, and generous tasting. Though the Fumes and Chardonnays are just a little too rich and buttery for my tastes, the others loved them. The reds were also well received, especially the Sienna Sangiovese. Perhaps the highlight of our stop here was a comparative sampling of the '89, '91, and '95 El Dorado Gold, F-C's wonderful dessert wine. Botrytis Boy was totally in his element here; the whites were some of his favorites of the trip, and he made several purchases.

As we were leaving, Louise bid us goodbye, saying, "You guys are great!" Of the many delightful tasting room experiences, this was probably the best of the trip (excluding Lytton Springs; that was "home"). It was a shame that the ladies had to miss it.

Our next stop was just down the road at J. Fritz Winery. If Tasting Room Manager Denise wasn't as enthusiastic as Louise at F-C, she was no less gracious and friendly. It was here that I finally got my first taste of wines that the ubiquitous Helen Turley had a hand in, their Zinfandel, and Dutton Ranch Reserve Chardonnay. We all purchased at least one bottle of the latter, it was so tasty. Also of note was a Melon, the grape used in the making of Muscadet, in the Loire Valley. It was a more than creditable example of the varietal, and I now rue the fact that I didn't purchase at least one to bring home for a comparative tasting.

We finished off here with a little of their Late Harvest Zinfandel, along with a Hershey's Kiss; I found it to be yummy, but one or two of the others didn't care for it quite so well.

We were right around the corner from Silver Oak's Alexander facility, so the next stop was a no-brainer. Ironically, the only bottling they were pouring here was the '92 Napa Cabernet Sauvignon; the '92 Alexander was long gone. It was, however, an absolutely wonderfully elegant, refined wine that drinks well now, but will certainly benefit from at least another five years of cellaring. It had well integrated spicy oak and tannins, and showed big cabernet fruit, including red currants and cherries, with cedar and cigarbox undertones that should become more pronounced with age. Madelaine, the pleasant young lady in the tasting room, was quite friendly and informative, and didn't bat an eye when we inquired if we could have a wee refill of our glasses. Perhaps she sensed that Gumby and I would be making purchases.

While we were enjoying the wine and the ambiance of the lovely facility, a couple of gentlemen walked in, and it didn't take long to learn that one of them, Doug Kerr, was from Canada. Raised in the Montreal area, he now resides in British Columbia. We exchanged pleasantries, handing each of them our cards, and before we knew it, Doug and Mr. Flippy were singing exuberantly in French, to the delight of all!

As we were leaving with our purchases (including the Silver Oak wineglasses that were included in the $5 tasting fee), Madelaine told us, "You guys are great!"

Where had we heard that before?

After a quick stop at Chateau Souverain (the staff actually deserted the tasting bar, leaving us alone), we continued on to Mazzacco, right next door to Lytton Springs. Who should follow us in five minutes later, but Doug Kerr from British Columbia, with friend and wives. He and Mr. Flippy IMMEDIATELY broke into French song again, to the delight of everyone! What a scene! Did we get that on video? (The wines were all very nice here too, though at this time, I was making a concerted effort to slow down, and didn't taste them all. Our hostess was delightful, as well, though her name was missed in the festivities.)

Alderbrook, our next stop, was undoubtedly The Worst of Trip. The short guy wearing glasses behind the bar could not have been less friendly, without actually cursing us outright. He made his point; we left right away. He probably would have sold some Zinfandel, had he been the slightest bit hospitable.

We made one last stop, at Lambert Bridge, at 4:31 PM. Shirley, the tasting room manager had just closed out the till, but we implored her to reconsider, and finally, she relented, saying, "How could I refuse five good looking men?!" (This taster thinks the "Gang" cards helped our cause!)

Shirley was a cheerful, animated hostess, and the wines she poured were very good. She sold the Zinfandel that the guy at Alderbrook couldn't be bothered to part with, and, as we were leaving, she told us, "You guys are great!"

With that, we hurried back to the Tree House. We had guests coming for dinner.
---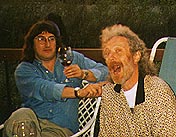 Is Jason putting the whammy on Bastardo?
Our Far-Flung Correspondent, Jason, on The Gang of Pour
The Gang of Pour LIVES!
Posted by Jason Brandt Lewis on June 27, 1997 at 20:44:00
There transpired a memorable evening last Thursday with The Gang of Pour in an amazingly beautiful house right on the Russian River northeast of Healdsberg. . .

In attendance were geo t., Kim, Canadian Zinfan, Zinchick, Mr. Flippy, Botrytis Boy, Ras Lass and Mr. Gumby, along with Tony (works at Lytton Springs), Sandra, the official masseuse to the Gang of Pour (and Tony's mother!), Joanie, and this correspondent.

BTW, geo t. asked me to send his (and Kim's) warmest regards to all in WLDG and to say he's having such a great time, he doesn't miss the net. (Kim, on the other hand, confesses to missing it a little bit. . . but not a byte.)

After a swim in the Russian River, Canadian Zinfan, Mr. Flippy and Mr. Gumby slaved in the kitchen producing a truly superb meal -- kudos all around! -- and I brought a few south-of-San Francisco bottles to share with the wealth of those north-of-SF appellations. Absolutely no notes whatsoever were taken, but I was permitted to create a list of what we imbibed. . .

1995 Storrs Santa Cruz Mtns. Chardonnay (yes, one of mine)
1995 Calera Central Coast Chardonnay (no, I didn't bring this one!)
1994 Ferrari-Carano Alexander Valley Chardonnay "Tre Terre," A Wine Vault Selection
1995 Beringer Napa Chardonnay
1995 Acacia Carneros Chardonay
N.V. Equinox Santa Cruz Mtns. Brut Blanc de Chardonnay. (yup!)
1995 Sausal Alexander Valley Zinfandel
1995 Storrs Santa Clara Co. Zinfandel, Lion Oaks Vineyard. (yeah, yeah -- OK -- me again)
1990 J.Lohr Paso Robles "VS1" Cabernet Sauvignon. (my last contribution!)
1995 Kunde Sonoma Valley "Century Vines" Zinfandel
1994 Foppiano Russian River Valley Petite Sirah, Estate Bottled. (courtesy of la masseuse)
1995 Ridge Sonoma Grenache/Zinfandel, Lytton Springs Vyd. -- ATP release (courtesy of Tony)
1994 Ridge Sonoma Zinfandel, Pagani Ranch. (ditto)
1985 Lytton Springs Winery Sonoma County Zinfandel
1995 Pezzi-King Dry Creek Valley Zinfandel, Estate
1995 Martinelli Russian River Valley Zinfandel, Jackass Vyd
1995 Cline "Big Break" Zinfandel
1992 Silver Oak Napa Valley Cabernet Sauvignon

It was at this point, 1:30 this morning, that Botrytis Boy began pulling out dessert wines, and I bade a fond farewell to the Gang of Pour and returned to San Franciso and my dull, drab, mundane existence. . . and I don't know who the Masked Man with the Silver Corkscrew was, but I wanted to thank him!
---
Bastardo On Jason Brandt Lewis
I first ran into Jason in Robin Garr's Wine Lover's Discussion Group, one of the liveliest, most informative (yet civil) wine forums on the web. Jason has worked in the wine industry since 1969, in one capacity or another, and meeting him for the first time only confirmed what was obvious from reading his many informed posts on different boards and forums; the man is a walking encyclopedia of wine!
This taster was especially appreciative of the Santa Cruz Mtns. wines that he brought along. Mr. Lewis is a tireless champion of this region, and the selections he brought along were impressive. The bubbly exploded from the glass and in the mouth with big yeasty fruit. The Storrs Zinfandel was delicious, with its bright (but, not monstrous) zinberry flavors. The Storrs Chardonnay was my favorite of the three, however; no butter, good acidity, and lots of rich, spicy fruit. I WISH we could get this in Michigan; I'd buy a bunch! (It wasn't even one of the single vineyard bottlings. It should be mentioned that the '90 J. Lohr Cabernet Sauvignon he brought was quite pleasant, also.)
After a day of "Power Tasting," Jason's observation regarding having fun versus taking notes was taken to heart. Special thanks go to him for posting the previous message in Robin's and Brad Harrington's wine discussion groups. To bad he missed the 3AM swim in the Russian River.
Tomorrow? Newton Vineyards