Rafanelli Pit Stop
by Canadian Zinfan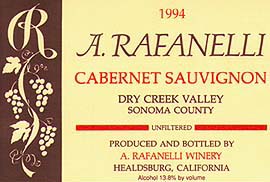 Delicious

Driving down the winding trail to W. Dry Creek Road is similar to that of France's Cotes Du Rhone. The view towards Rafanelli's vineyards is stunning and looks as steep as some of the terrain we encountered at the revered properties of Jaboulet and Chapoutier last year.
"The Grape" (our purple mini van) approached, with caution, down the road towards the entrance of Rafanelli's Domaine. It appeared to be deserted. We parked in what little shade there was and crept toward the front door. After all, we had heard many tales of woe and terror about previous devotees of the vine who had ventured onto this hallowed land.
After opening the heavy varnished door that leads into the tiny, but proficient winery, we did feel at ease. The Gang was greeted by a sun glazed man who seemed dressed ready for a hard days work in the vineyards. His Mediterranean appearance was welcoming and friendly.
Rafanelli is not always able to cater to those that just drop in by chance. The two wines available to taste are hooked up to a nitrogen preservation system. Yet the Gang had lucked out again. The nice friendly guy turned out to be none other than David Rafanelli himself.
He is an extremely passionate winemaker. He was in no rush to leave, instead he rambled on to us about his beliefs, philosophies, the topography of the area and his wines. Oh yeah, the wines, we tried those too.
The Cab was a '94 and the Zin a '95. I loved the Zin, full of black raspberry fruit, cherry and pepper, but the Cab just blew Zinchick and myself away.
As Canadians, we face exorbitant duties when we cross the border back to Canada. Therefore, we are very selective on what we bring back with us. This inky black exotic, rich and full bodied Cab was the sole example of this varietal that we would bring back to Toronto with us.
Mr. Rafanelli was kind enough to sign all our bottles that afternoon. Although writing "to Zinfan and Zinchick," on a cab bottle, did seem weird and did require an explanation.
This treasured souvenir will sit in the cellar for a few years for sure. Maybe, because they had not yet arrived in Sonoma and missed this little adventure, we will drink it with Bastardo and Madame L'Pour, maybe!!!!!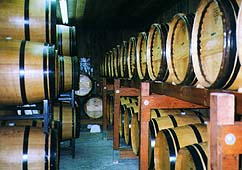 Rafanelli's Barrel Room
Our only regret was, had we been there a few days prior, we could have done a barrel sample as the wines were in the process of being topped up.
Oh well one more reason, one of many, to go back to Sonoma I suppose.


Back to Ridge Lytton Springs or Continue on to Power Tasting - Day One