QUIZ
A dinner party to celebrate Canada Day

Part Two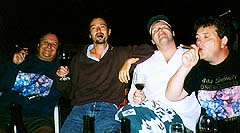 This should have been called "cigar night"
At this point, the sun was down, and Venus was setting over Geyserville, which made the next two selections most appropriate. Joe had brought a 1990 Ridge Geyserville, while I'd purchased a '92 model of the same that very day, so we had the perfect opportunity to taste them side by side.
The older vintage was beautiful; the initial hint of barnyard on the nose quickly blew off to reveal soft, mature aromas of French Vanilla and, as C.Z. described it, " . . . not primary fruit." Mr. Flippy described this as armagnac, which Joe attributed to American oak. The plum, prune, and zinberry flavors were prettied up by that sweet oak, and Zinchick detected a note of linseed oil. This was a classic Mr. Ridge!
The '92 bottling fell a little short of the '90, primarily due to a funky barnyard element in the nose that never quite did blow off. It was more tannic and leathery than the previous selection, with tons of stuffing, and big blackberry, coffee, nutmeg, and toffee-ish flavors. Interestingly, there has been some bottle variation noted among the Gang over the past several months. This taster noted similar funky notes to a bottle tasted in November of '96; posters in the Wine Spectator Zinfandel Forum echoed this observation at that time. However, the Canadian contingent tasted a bottle a few months afterward, and detected none of the funk. Some months previous to that, while on vacation in the Caribbean, Gumby, Ras Lass, and their companions enjoyed several bottles of this, with, again, no noticeable Bret.
Three nights earlier, Jason Lewis had claimed that Ridge winemaker Paul Draper liked a little Bret in his wines, and had actually been known to introduce it during the winemaking process. When I related this to SFJoe, he voiced skepticism; however, this reporter will let those two gentlemen debate the matter on their own time.
The bottom line was that, while the '92 was flawed, it wasn't terminally so; the wine was still enjoyable. It simply had a somewhat distracting element of the barnyard to it.
Next came a much anticipated 1995 Robert Biale Sonoma Monti Rosso Zinfandel that just didn't live up to expectations. Very acidic, its big, bitter dark chocolate flavors overshadowed the red currant fruit; hints of tobacco were also noted. Joe remarked on its lack of mid-palate fruit, and there was a general indifference as to whether or not this would open in a few years.
At this point, the Canada Day celebration was recognized with a rousing rendition of "Oh Canada." This singer found it humorously ironic that The Director and I knew more of the lyrics than a couple of the Canadians; I've watched the CBC's "Hockey Night in Canada" since the mid-'70's, so the words came naturally.
While waiting for Botrytis Boy's dessert, yet two more Zins were tasted. The first, and still perhaps my favorite of the trip, was the '93 Ridge Lytton Springs, which we'd already tasted so many times at the winery. What a lovely wine with its dense, rich plum, berry, coffee and nutmeg flavors. And, as tasty as it is now, it'll get even better with a few more years of bottle age.

Bastardo blows some harp
While we were enjoying the Lytton Springs, the Gang finally coaxed this Blues-man to pull out the Hohners and wail awhile. A rendition of the traditional "Every Night When the Sun Goes Down" was followed in quick succession by two old Muddy Waters' tunes, "The Hootchie-Cootchie Man," and "I Got My Mojo Workin'." Everyone seemed to enjoy the performance; in fact, the reaction was so exuberant, a member of the local police force was dispatched to remind us that we were, in fact, in a residential neighborhood, and a reduced volume would be appreciated. (It should be noted, however, that the smile on his face seemed to say that he realized that the plaintiff might have over-reacted somewhat.)
We thanked the officer, and after he left, we moved on to our final Zinfandel of the evening, a 1995 Rabbit's Ridge Sonoma Winemaker's Reserve. Very much in the R.R. "house" style, it showed lots of blueberry vanilla over the decent zinberry fruit. It also had ample tannins that require at least two or three years to resolve. No one found this wine to be as interesting, or as complex as many of the others we'd sampled; this taster, in particular, found it to be over-oaked, and not worth the $35 price tag that it has in the Detroit area.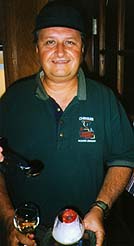 Mr. Gumby and dessert
Finally, B.B.'s Special (as he proudly referred to it) was completed, and what a treat it was! It consisted of a generous scoop of Breyer's French Vanilla Ice Cream in a dessert bowl, with assorted fresh berries, including an oversized strawberry-half containing a puddle of 1995 Ch. Ste. Michelle Columbia White Riesling Icewine, accompanied by a glass of the same lovely wine. No specific notes were taken regarding the wine; however, praise was heaped upon Botrytis Boy, and everyone agreed that this was indeed the Best Dessert of the Trip. For the record, this taster does remember the Icewine as being a fine example of Washington State Late Harvest Riesling; it was very sweet and decadent, yet, clean and not at all cloying (which was more than could be said for the evening's final selection).
At about the same time that Mr. Flippy was heard to say, "I'm losing my English by ze minute!," B.B. poured us each a glass of 1995 Inniskillin VQA Niagra Penninsula Vidal Icewine. Although, by no means a bad wine, it suffered some in comparison with the Ste. Michelle. With an alcohol content of 11%, it was very sweet, with flavors and aromas of over-ripe pineapple and apricot that were somewhat cloying at this point. Perhaps some bottle aging will mellow it to the point where it will become more balanced.
At this point, many of the participants had straggled off to bed. It was too cold for another early morning swim, so Mr. Flippy and Botrytis Boy amused themselves by playing catch with a fairly good-sized watermelon. Neither seemed particularly concerned when Flippy dropped a pass, splitting the melon into several pieces; they simply continued to throw those pieces to, and at, one another other! Zinfan, Joe, and this observer felt the need to take cover at times, especially when turmeric was added to the game. (To their credit, both participants stayed up until six in the morning, cleaning up the mess they'd made.)
Welcome to the Gang of Pour, Joe!
And now, we bring you to the end of our journey...