DAY THREE - A ROUND OF GOLF AND A ROUND OF WINE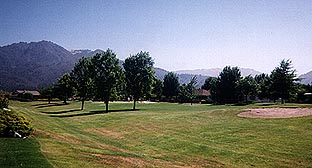 Valley of the Moon golf course
Wednesday's Plan A had been for "the gals" to pamper themselves at one of Calistoga's many wonderful spas, while "the guys" played golf. However, the ladies couldn't get reservations until Thursday, so they opted to shop and take it easy. We gents stuck with the original schedule, and drove to Santa Rosa, where we met Gumby's and Ras Lass' good friends, Frank and Joanie. (The ladies would drive down later, and join us for dinner.)
So, we played 18 holes in The Valley of the Moon (in 90 + degrees). This duffer hadn't picked up a golf club in two years, so I wasn't surprised at my 67 on the front nine. However, I was able to clip 11 strokes off my back nine score, thanks to three bogies. If I could have putted anywhere near decently, I probably would've dropped another seven strokes or so off of my total.
We finished later than we expected, close to 4:30. Most of the wineries in the area (St. Francis, Chateau St. Jean, Kenwood, etc.) closed at that time, but Kunde was open 'til 5, so Mr. Flippy and I hopped in the van and ran down the road as quick as we could. We had to hit at least one place that day!
The Kunde Estate Winery is a beautiful facility that manages to avoid the ultra-opulence of some others, such as Ferrari-Carano. We entered the spacious tasting room and presented our "Gang" cards to Al, the good-natured fellow doing the pouring. He exchanged a few pleasantries with Flippy in French, and gave us a fun run-through of their fine line of wines. I was particularly fond of the '96 Viognier, and bought three.
Afterwards, Mr. Flippy and I felt much better, and returned to find the ladies, who had arrived a short time before. While waiting for the gourmet feast that was to follow, we sipped on a 1990 Jordan Alexander Valley Cabernet Sauvignon, which Joanie had opened. The deep garnet color had a hint of brick; while the flavors and aromas showed nice red currant and a little plum, with just the faintest hint of raisin on the finish. The bottle had been stored in rather warm conditions, so it was a little more mature than some of its sisters, according to Mr. Gumby. Still, this was a very pleasant cabernet that drank very easily.
The Dinner
1994 Matanzas Creek Sauvignon Blanc
1994 Ferrari-Carano Alexander Valley Chardonnay
1994 Chalk Hill Chardonnay
1994 Sausal Alexander Valley Zinfandel Reserve
1994 Kenwood Geyserville Manzzoni Zinfandel
1994 Ridge Pagani Ranch Zinfandel
1995 St. Francis Pagani Zinfandel Reserve
1995 Bonny Doone Vineyard Muscat Vin de Glaciere
1995 Kunde Muscat Canelli
The first course consisted of mussels in a Thai sauce (wonderful), accompanied by a '94 Matanzas Creek Sauvignon. The first whiff of the nose revealed peanut butter; this pretty much blew off, showing grassy pear and herb, with a hint of mineral. Still, there was a persistent note of peanut butter; the Zinfan described it simply as "nutty," saying, "Yours are crushed, mine aren't!"
While waiting for the main course, we sipped on two Chardonnays.
The 1994 Ferrari-Carano Alexander Valley was a pale gold, with nutty pear, citrus, and mineral flavors and aromas; I found it to be much more to my liking than some of the fat, buttery whites they've produced in past years. C.Z. and Botrytis Boy preferred this.
The Director and this taster knew the 1994 Chalk Hill from our "Battle of the '94 Chardonnays" and, frankly, this one tasted much better than I remembered from that time. A very complex wine, this showed lovely pear, butterscotch, and toasted caramel notes. Mr. Flippy was reminded of clarified butter. Mr. Gumby named this "The Chardonnay of the Trip (so far)!" It's probably the one I enjoyed the most, too; I'd be interested in staging a rematch of the aforementioned "Battle" to see if the results might be similar. (The Chalk Hill came in third after the '94 Lindemanns Padthaway [1st] and the '94 Beringer P.R. [2nd].)
Finally, Canadian Zinfan's smoked leg of lamb (over garlic mashed potatoes) was served, and as always, it was superb! It was matched very well with a 1994 Sausal Alexander Valley Reserve Zinfandel. Though it still had ample tannins, what a pretty wine. The vanilla black cherry nose also had a nice touch of maple syrup; I detected the "aquarium" nuance that C.Z. first mentioned some months ago. The Zinfan described as tasting like a "chewy, cherry soaked cigar."
We attempted to solicit thoughts from Mr. Flippy, but he said, "I'm too busy talking to comment on ze wine!" However, when pressed, he responded, "Cooked beet, wizout any vinegar!"
We were still enjoying dinner, when a 1994 Kenwood Geyserville Manzzoni Zinfandel was poured. Like the Sausal, it was still tannic, with a huge chocolate black cherry, black raspberry zin-berry spectrum of flavors and aromas. Mr. Gumby described them as "more carob than chocolate," also likening it to "special raspberry coffee." Everyone preferred it to the Sausal.
Finally, the wonderful dinner was finished, but we weren't. Gumby and I had agreed to compare the '94 Ridge Pagani Ranch Zinfandel with the '95 St. Francis Pagani Reserve Zinfandel, so we started with the Ridge.
Like most of the '94 Ridges, this had a certain Rhone-like quality to it, but it had more stuffing than the others (with the possible exception of the '94 Geyserville). It had an elegant quality to it, with typical black fruit, prune, caramel, and butterscotch elements to it. We found it to be very approachable now, but a few years in the cellar wouldn't hurt it at all. After a few sips, I set my glass aside to consider the St. Francis. I continued to go back to it over the next hour and more, and it continued to open and improve (again, not unlike the '94 Geyserville).
The '95 St. Francis Pagani Reserve stole the show, with its BIG sweet blue-zinberry flavors and aromas. It showed more oak than the other three zins, and as Zinfan commented, it was rather sugary on the nose. A lovely, decadent Zinfandel, we'd taste this again at least three more times during the next four days, and it never failed to impress. Most thought it to be the Best Zin of the Trip, though I was partial to the '93 Ridge Lytton Springs.
Botrytis Boy wasn't about to let us finish the evening without a fine dessert wine or two, so he produced a 1995 Bonny Doone Vineyard Muscat Vin de Glaciere and a 1995 Kunde Muscat Canelli. The Kunde was lovely, but the Bonny Doone was on another plane altogether. While no specific notes were being taken by this time, I did jot, "Oh, my God; Dolphin Girl would go CRAZY for this!" (My daughter LOVES dessert wines. I'm sure she'd get along famously with B.B.)
Gang of Pour throws a dinner party and meets Jason Brandt Lewis