Join us next time as "The Gang of Pour Infiltrates Mo'Cool '97"
Final Day Reflections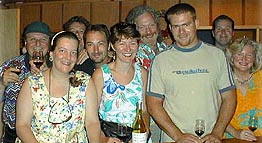 "So long," from The Gang of Pour!
The Director and I spent the morning of our last day in wine country leisurely packing, swimming, and drinking good coffee. We were loathe to leave, wanting to enjoy every last minute at the Tree House, with our Canadian "breddrens."
Finally, however, we had to go, so with many hugs and handshakes we bid the Gang good-bye, and headed back to San Francisco. We later regretted not having left just a little earlier than 1:30 PM; otherwise, we could have hit a few last wineries. (Never did get to Arrowood, Chateau St. Jean, or Mondavi, to name a few).
We heard our first news of the Tyson-Holyfield dinner-date during our drive back to the Bay area, two days after the fact. We took a quick tour of Haight-Ashbury, trying to hook up with Jason, without success. We decided to take a drive to Union Street and find a place to eat.
We settled on an Asian restaurant named "Betelnut," and to steal one of the Zinfan's pet phrases, it was "brilliant." While dining on such doubtless delectables as chicken satay, and beef curry samosas with papaya chutney, we enjoyed a bottle of the 1995 Rafanelli Zinfandel. (I wanted to taste more of this than the minuscule amount given at the winery.)
With its spicy nature, the wine worked well with the food. It had lovely flavors and aromas of cherry, plum, and that elusive zinberry, all enhanced (but, not manipulated) by creamy, toasty oak. Here's another that would have been a fine addition to "the cellar," but, as The Director has often counseled, I won't obsess over it!
Epilogue:
We boarded our plane for the return flight at 10PM, with the same two carry­on bags, and the same two styrofoam wine boxes, now both full of premium California wine not available in the Detroit market. (I also had a slight case of the cold that the Canadian contingent had been passing around during the early part of the trip. They're a sickly lot, due, no doubt, to the sad state of their national health care system.) We sat on the tarmac for an hour and a half because of a computer glitch, finally leaving at 11:30. We arrived at DTW at 6:15 AM. It took us two days to recover from jet lag, but it was a small price to pay for what has to be the finest vacation these travelers have ever experienced.
When can we go back?
P.S. Read about the Canadian Zinpersons' trials and tribulations at Ridge's ATP Party on the 4th of July.