Who We Are
Power Tasting ­ Day One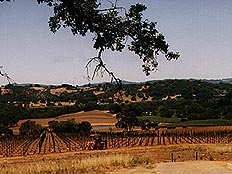 A view from Hanna's porch
Hannah
Traulsen
Field Stone
Chateau Montelena
Cuvaison
As we moved on to several other wineries, it became increasingly obvious that Mr. Gumby was the tour guide. He and wife, Ras Lass, had been to the area a number of times, and knew the lay of the land well. We made stops at Hanna and Field Stone on Alexander Valley Road. Both make excellent wines, and we were given barrel samples of the '95 Cabernet Sauvignon and '95 Merlot by Matt, Field Stone's assistant winemaker.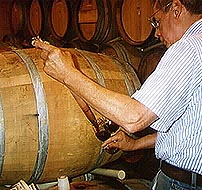 John Traulsen pulling a barrel sample
From there, we drove to Calistoga, in Napa. We made a quick stop at Traulsen Vineyards, tasting the '94 and '95 Monte Rosso Zins, along with a barrel sample of the '96 model. All three were very good, and John Traulsen was a most gracious host.

We continued on to Chateau Montelena and Cuvaison. Chateau Montelena is a beautiful winery, set on lovely, well kept grounds. The staff was professional and courteous, and the wines were very good.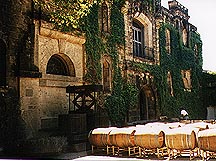 Chateau Montelena
However, we were somewhat disappointed that you can no longer use the picnic area without a reservation. They recommended that we try Cuvaison, which made no such requirement. This turned out to be a fortuitous suggestion, because Cuvaison overshadowed Montelena in both product and amiability. The Canadians said that their '95 Carneros Reserve Chardonnay was the best of the trip, to that point, and the rest of their line was only slightly less charming. The 1995 Napa Zinfandel was particularly delightful, with its rich cherry, blueberry, raspberry flavors, soft tannins, and creamy mouthfeel.
After making several purchases, we retired to the picnic area, set in the midst of the vineyards, and enjoyed gourmet sandwiches and roasted chicken. The aforementioned Carneros Reserve Chard, and a 1995 Limerick Lane Collins Vineyard Zinfandel (brought along by Mr. Gumby) accompanied these. A lovely wine with a velvety style, this Zin showed the same big, rich, creamy blue-black-raspberry flavors that we'd been sampling all day, along with a nice touch of spice. Great now, it'll only get better in the next couple of years.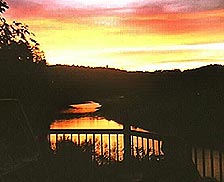 Sunset on the Russian River - A view from our deck
After that, we returned to the Tree House, sated and happy. We enjoyed a good swim in the Russian River; Flippy, Zinfan, and Botrytis Boy took a short canoe trip, making a point of tipping it several times.
We finished the evening with a few more glasses of wine, then everyone turned in by 11PM. We had a big day tomorrow.
We were going to tour Opus!