FACT!
NEWTON VINEYARDS and GROTH
PINE RIDGE and SILVERADO VINEYARDS
SINSKEY and the OAKVILLE MARKET


The fabulous rooftop garden at Newton
I was awakened at 9:30 AM, after what couldn't have been more than five hours of sleep. When I tried to roll over and return to the Bacchanalian dream of satyrs, nymphs, and Ridge Zinfandel without end, I was reminded, with some urgency, that we had an appointment to tour Newton Vineyards at 11AM. After a quick shower, and two good, strong cups of java, we were off to St. Helena, arriving at about 11:05. We were greeted by Vivian, our hostess, and introduced to Bob and Nancy, from Sacramento, who would also be taking the tour.
Though Newton has none of the monolithic stateliness of Opus One, nor is it as lavishly opulent as Ferrari-Carano, it is nevertheless one of the most beautiful wineries in California.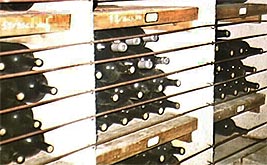 One of Newton's vaults
We were led through caves, burrowed into the side of Spring Mountain, where grapes are fermented and the resulting wines are aged. We were shown the distinctive cedar Pagoda, the stylized image of which can be seen on any label of Newton's several bottlings; it also houses the winemaking equipment. From here, we could look out across the vineyards, and the lovely formal parterre garden that graces the facility.
Another Newton vault
Finally, we came to a shaded deck area with a breathtaking view of the terraced vineyards that produce Peter and Su Hua Newton's red varietals; Cabernet Sauvignon, Merlot, Cabernet Franc, and Petite Verdot. It was here that we tasted two very fine wines; the 1994 Napa Merlot, and the 1995 Napa Chardonnay.
So, here we were, still feeling the effects of a MAJOR party the night before (or, should I say, earlier that morning!), with no breakfast, and drinking wine again, at noon! Who says The Gang of Pour isn't a tough, determined bunch?
While enjoying the view, and the wine, we chatted with Bob and Nancy, telling them about our website, our adventures, and our hometowns. They were particularly taken with my "Team Bukowski" T-shirt, commemorating Charles Bukowski, the celebrated (and, in some cases, defiled) soused poet. As we finished tasting, and made ready to make our purchases, Nancy remarked, "You guys are great!"
Had I known what Mr. Gumby knew, I'd have split the case of 1986 Newton Merlot with him, instead of letting Bob do the honors. It would prove to be THE mature Bordeaux varietal of the trip. All I bought was a stinkin' T-shirt! (Just kidding; it's really a very NICE T-shirt!)
---
MORE Tasting!
By now, we were all quite ravenous, so we left Newton with the intention of stopping at the Oakville Market to pick up picnic fixins. However, Groth Vineyards was on our way, so the decision was made to stop there first.
Despite the feeling that I was rapidly reaching my limit, this was nevertheless a very enjoyable visit. The winery itself is gorgeous, with its Hacienda style architecture. And, the wines, of course, are some of the finest in California, especially the Cabernet Sauvignons. Ironically, the only purchases made here were more T-shirts! We also availed ourselves of a nice photo opportunity.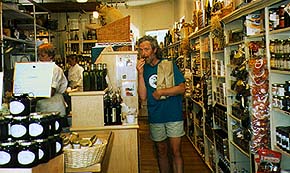 Oakville Market
We finally arrived at the Oakville Market, sometime after 1PM. The place was packed, and the scene could almost be described as a feeding frenzy. While we waited for our sandwiches to be made, we helped ourselves to any number of delectable samples that were set out to try. Indeed, this encouraged yet more purchases.
The market also had a decent wine selection, and, as I was browsing, I was quite exited to find several bottles of Sean Thackrey Pleiades VI. Mr. Thackrey's wines are all made in small lots, and have garnered something of a cult following, due not only to their rarity, but also, from what I'd read, their high quality. Interestingly, they are all named after constellations. I believe the Pleiades bottling is the entry level model; it's a big, rich blend of eight different red varietals, and cost just $15, easily the lowest price tag of any wine this taster purchased during the vacation. I opted for two; then we were headed for Pine Ridge, where we'd do ANOTHER tasting, and delight in a well deserved late brunch.
Pine Ridge is yet another lovely winery, and after hurrying through a few of their wines in the tasting room, we adjourned to the picnic area out front. I doubt that any of the fabulous gourmet feasts prepared by C.Z., Flippy, and Gumby were more appreciated than those simple (but excellent) sandwiches, bread and cheese, we were all so hungry. Mr. Gumby opened one of his '86 Newton Merlots, which only enhanced the experience. Brick red in hue, the wine was soft and luscious, with elegant, mature notes of leather and prune.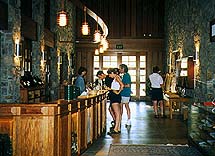 Robert Sinskey's Tasting Room
From there, we took a short hop up the Silverado Trail, stopping at Silverado Vineyards, where a 1995 Limited Reserve Chardonnay was remarked upon by all. Robert Sinskey was next; yet another lovely winery. The Director was particularly tickled by such T-shirt lines as, "Take your Pinot Bowling," but purchased a thermal wine bag instead.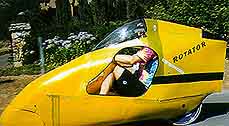 Biking up the Silverado Trail - Just one of many interesting sights
By now, Madame L'Pour and this taster couldn't take much more, but the group wanted to carry on to Joseph Phelps, until Mr. Flippy ran The Grape out of gas. Fortunately, we were just behind them, and gave Zinfan a lift to get a gas can. Call it Divine Bacchanalian Intervention. After refueling the van, we visited the fine wine store across the street from V. Satui that the Canadians called "the biker wine shop." However, while the proprietor may have borne a passing resemblance to Waylon Jennings, it was obvious that he knew his wines better than any of us, and this taster would be honored at his presence at a "Gang" tasting.
I was particularly pleased to find two things here that I'd been looking for; a 1989 Domaine Schlumberger Gewürztraminer Kessler Alsace (it figures I'd find this in Napa), and a good bottle of mineral water! The Gewürz will go into a "Gang" tasting, but the water revived me completely; so much so, that when we returned to the Tree House, we actually tasted a few more wines (and, enjoyed them thoroughly!).
Tasting Notes
1992 Ridge Santa Cruz Mtns. Chardonnay - Normally, I don't favor buttery Chardonnay, but this WAS a Mr. Ridge, after all. Big and rich, it had lovely maple syrup nuances that were enjoyed by everyone.

1994 Ferrari-Carano Tre Terre Alexander Valley Chardonnay - Buttery, but silkier and more refined than the Ridge; it had more pear on the palate, and nice toasty oak.

1995 Mueller Russian River Chardonnay - The ladies noted aromas of feminine hygiene products; the gentlemen could only take their word for it! Otherwise, this had good varietal character, but didn't live up to the first two selections.

1995 Zaca Mesa Zaca Vineyards Syrah - Rich and intense, with great extraction, this had lots of spicy black fruit, and a hint of leather. Like its counterparts from Cote-Rotie, it includes ten percent Viognier, and it showed in the floral notes in the flavors and aromas. Terrific Syrah!

Sean Thackrey Pleiades VI - Couldn't wait to try this one! It's a blend that includes Syrah, Zinfandel, Carignane, Petite Sirah, Sangiovese, Nebbiolo, Grenache, Mourvedre, and Merlot, among others. Rich, round, and somewhat perfumed, it showed elements of sweet cinnamon, red currants, licorice, spice, and pepper. The wine was very well received by all, many of whom were surprised by its $15 price tag. It would make the ultimate ringer in many a blind tasting.

1993 Pahlmeyer Red - Strangely, the only notes I took were: Perfumed, lovely; ". . . .a stunner . . . " (C.Z.); ". . . .a trophy wine . . ." (Mr. Gumby). One of the top five reds of the trip.

1993 Steele Chardonnay Mendicino DuPratt Vineyard Late Harvest - Botrytis Boy opened this one; Canadian Zinfan found it cloying, but others disagreed. Zinchick described it as "thin, not overly sweet sugared peaches and mandarin orange." This taster saw nothing thin about the wine; rather, it was rich and full-bodied, with overripe fruit. Certainly different, but very nice.
Are you still with us???? On to day six