Overheard!
Tasting in Local Wineries
Hop Kiln
Pezzi King
Dry Creek
Rafanelli
Rochioli Vineyards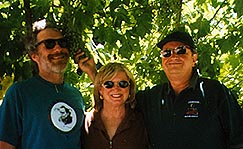 Bastardo, Ras Lass and Mr. Gumby under the arbor at Hop Kiln
With Zinfan, Zinchick, Chardonnay Kid, and Mr. Flippy off to purchase and prepare for the evenings festivities, Mr. Gumby, Ras Lass, The Director and this driver took the opportunity to visit some of the local wineries. First, we made our obligatory visit to Lytton Springs, taking Tony a nice helping of C.Z.'s fabulous soup.
From there, we drove to Dry Creek Vineyards. Here was yet another beautifully well kept winery, and Dolly, in the tasting room, was as friendly as could be. The wines were, without exception, very fine; this taster was particularly impressed with the '94 Reserve Zinfandel, a field blend with rich, lovely bramble and zinberry fruit.
We continued down the road to Pezzi King, where Rebecca and CeCe, who were most hospitable, described the wines, vineyards, and the acquisition of the former Robert Stemmler Winery, which was converted into the tasting room in which we were standing. We got a sample of their Sauvignon Blanc, Chardonnay, and Cabernet Sauvignon, all of which were outstanding; however, the '95 Zinfandel, which has received almost universal acclaim, was not only unavailable for tasting, purchases were limited to one per customer. Madame L'Pour and I took one each; we'd had it the Thursday past, and knew what we were buying.
Next came A. Rafanelli, the scene of our Canadian contingent's giddy experience the previous week. Neither David nor Patty were on hand, but we tried the '95 Zinfandel (nice), and the '94 Cabernet Sauvignon (even better), opting for one of the latter for "the cellar."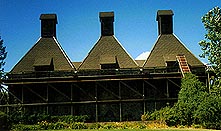 Hop Kiln
After Rafanelli, we moved on to Hop Kiln, so named because it's located in a renovated hop kiln, built in 1909. (From the late 19th through the early 20th centuries, hops were THE cash crop in Sonoma County; at harvest time, thousands of people, from all walks of life, would turn out to take part in the backbreaking endeavor for what now seems like pitifully small wages.) Their wines were very nice, especially the Zinfandels, but no purchases were made.
Our Final stop was at Rochioli Vineyards, where I hoped (in vain) to try some of their legendary Pinot Noir. The staff was very upbeat, and the wines they poured were quite delicious; however, I had to purchase their '95 Sodini Vineyard Zinfandel to get a taste. (It would prove to be terrific!)
With that, it was time to make our way back to the Tree House; once again, we were expecting guests, and we'd be celebrating Canada Day, albeit a few days early.