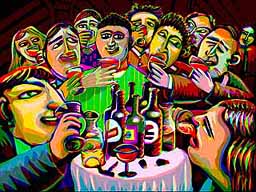 Main Storyline Commentary by Bastardo
Side Storyline Commentary by Canadian Zinfan
HTML Grunt Work & Photos by The Director
Animation and Gang Graphic by The Savant
Bottle Graphics by The Artist

Prologue:

During our March 4th get together with them (chronicled in "Further Conversations with Mr. Ridge"), the Canadian Zinpeople told The Director and me of their upcoming three week trip to Sonoma wine country (June 18th-July 7th), and wondered if we'd care to join them at some point.

Care to join them?! Do bears spit in the woods??!! We'd LOVE to join them!!!

So, over the next several weeks, plans were completed, and it was decided that we'd hook up with them from June 23rd-June 30th.

We made our airline reservations over the Internet; we were even able to select our own seats.

Finally everything was settled, and on June 23rd, at 7AM EST, we boarded a plane for San Francisco ("Don't call it 'Frisco; you'll be shot before you leave the airport!"), with two carry-on bags and two empty boxed styrofoam wine cases. We landed at 9AM PST. (The couple of hours gained were a godsend; those that were lost on the return flight would be hell.) We procured our rental car, and by 10AM, we were driving north on US-101, to begin our adventures in wine country.