Snapshots From the Road to Gang O' Pour: Further Conversations With Mr. Ridge

1992 Ridge Lytton Springs Zinfandel
1993 Ridge Sonoma Zinfandel
1994 Ridge Sonoma Zinfandel
1995 Ridge Lytton Springs Zinfandel
1994 Edna Valley Chardonnay Paragon

Following our initial encounter with them, the Canadian Zin people cordially reciprocated by inviting The Director and me to join them for food and wine.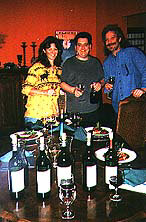 Our first meeting had been truly memorable, and being fellow members of that nameless cult that worships Mr. Ridge (not that we think there are any spaceships hidden at Lytton Springs or Geyserville!), we accepted without hesitation. So, armed with three of Paul Draper's finest, we drove to Byron, Ontario on April 4th, exactly one month after our initial meeting. The Director brought along a $2 toy camera (?!) to document the event. We arrived at mid-afternoon, to be greeted by Canadian Zinfan himself.
C.Z.: "Gotta hand it to these 'Gang of Pour' people, when they give an ETA, they stick to it. I arrived home, after a painful day of shopping (one minute after the planned meeting time, I might add), to find them sitting in the driveway, cork screw in hand, eager and ready to start the evening's festivities. What do you cook for folks that show up on your doorstep with three of Mr. Ridge's finest? Nothing but the best would be fitting, I would think!"
FIRST COURSE: Canadian Zinfan, a professional chef and co-owner of an impressive cellar,

had planned a menu that would be presented in three courses throughout the evening. He began by serving a thin crust pizza accompanied by the '93 Ridge Sonoma Zin, submitted by their accomplice in crime, Mr. Flippy, with the stipulation that a glass of each selection be set aside for him until his arrival.
"Zinchick and I both are huge fans of pizza." C.Z. said. "A paper thin crust full of wine friendly toppings is the best way to satiate the hunger and wash down the aperitifs. The crust is drizzled with olive oil, then sprinkled with minced, roasted chile peppers. A liberal coating of a blend of Canadian Oka, Emmenthal, English cheddar, and a touch of Feta cheeses supports the roasted garlic, sliced Portabella mushrooms, and basil. Once removed from the oven, white truffle oil is drizzled on top of the bubbling flat bread."
The pizza was a culinary delight; in fact, The Director was heard to remark, "I'll never do Pizza Hut again"!
The '93 Sonoma was my favorite wine of the evening, if only because it is peaking now. It was full-bodied and perfectly oaked, with the obligatory deep garnet color. It exuded aromas of spicy blackberry, with hints of blueberry, vanilla, and brown sugar that echoed in the flavors, with a bit of pepper on the long finish. It exhibited all of the qualities that have made Ridge Zinfandels a revered treasure among the four of us.
While leisurely waiting for the next course, we listened to a succession of musical selections that included Pink Floyd, Chris Issak, and Muddy Waters, while sipping the '94 model of the Ridge Sonoma. It was obvious that while it was perfectly fine when considered on its own terms, it suffered somewhat in comparison with the previous vintage. It had the deep garnet color and full body, but its cooked plum and prune flavors came up just a tad short, as did the finish. It showed something of a Rhone-like quality, which has been noted in other '94 Ridge bottlings, as well.
SECOND COURSE consisted of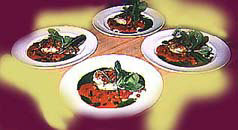 Galettes ( patties) of salt cod, shrimp and scallops with red pepper coulis, Arugula, and cilantro dressing and the 1994 Edna Valley Chardonnay Paragon. C.Z.'s galettes were like something from heaven, and his choice of wine served to accentuate the fact.
C.Z.: "For an appetizer we made cakes of pureed salt cod and potato that were laden with fresh shrimp, scallops, lobster, and various fresh herbs and spices. After frying they were topped with a sautéed Black Trumpet and Shitake mushrooms. We made a sauce from the lobsters shell (she didn't need it any more) with white wine cream and roasted red peppers. This needed a big wine: I had first thought about trying a Zin, but Zinchick came to the rescue and slapped some sense back into me." The Edna Valley Chardonnay was the most suitable candidate.
In fact, the Paragon Chardonnay was a perfect match for the galettes, with it's lovely complex flavors and aromas, including pear, walnut, herbs, and a spritz of lemon peel. The Director noted a hint of celery seed, while This Taster detected a touch of asparagus. With a medium straw color, it was fat and buttery in the mouth, but not over oaked, and proved to be every bit as enjoyable as the fine zinfandels."
The Road To
Gang O' Pour
The pizza was a culinary delight; in fact, The Director was heard to remark, "I'll never do Pizza Hut again"!

IN ATTENDANCE 4-4-97
This Taster
Canadian Zinfan
Zinchick
The Director
Mr. Flippy