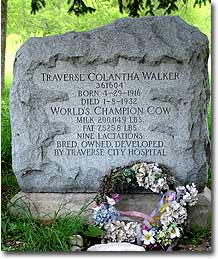 Originally established as the Northern Michigan Asylum in 1885, it grew from the single "Kirkbride Building," now known as Building 50, to a sprawling complex of 60 acres of buildings on an even larger plot of land. The original concept was to treat mental patients with quiet country life in a self-sustaining community involving extensive farming operations that were finally discontinued in the 1950s. The complex was closed in 1989, fell into disrepair and was scheduled for demolition, which was avoided due to the efforts of local preservation groups. Now known as The Village, it is undergoing an extensive and ambitious project of adaptive reuse, with buildings being restored and renovated to accommodate restaurants (Trattoria Stella being the first), art galleries, an artisan bakery, a micro-brewery, a hotel and of course, Left Foot Charley. Black Star Farms also plans to put a tasting room in the same building as Trattoria Stella.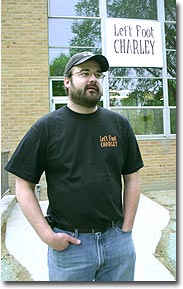 Speaking of ambitious, the Ulbrichs hope to have their facility open by July 1st, a little over a month from this writing, and while the building itself is coming along nicely, no equipment has been installed as of yet. (So far, the LFC wines have been made in "a glorified garage," giving further evidence that Wyncroft's Jim and Rae Lee Lester are not Michigan's "only" garagiste winemakers, at least for now.) Bryan made his first small lots of Left Foot Charley in 2004; the plan for the new winery is to ramp up to 3,000 cases after the 2007 vintage and to eventually produce 5,000 cases a year, with a warehouse capacity of 7,000 cases. There will be a dedicated bottling room, something that Bryan has always dreamed of. The 3,000 liter stainless steel fermentation tanks that will be used are 7.5 feet tall by 3.5 feet wide by 5 feet long, broadening the model of traditional tall cylinders in order to give the lees more room to spread out and avoid off-odors. They will also have cooling jackets that will allow them to halt fermentation immediately, which is explained in more detail on the LFC website. Bryan told us that they will also use ozone rather than steam to clean everything, including bottles and barrels. Everything is being done with the highest quality in mind.
* Photo of Bryan Ulbrich by Joel Goldberg/MichWine

The Ulbrichs have one silent partner in their venture, a friend and grower with a 40% interest, the remainder of the project being financed by bank loans. Bryan said, "Banks in the area are excited about the wine industry," adding, "A lot of (them) really like us right now." Income from Ulbrich Wine Cellars custom clients such as Bowers Harbor Winery is also very helpful and important as the business gets going.

Bryan has strong ties with the growers that he's come to know and trust over the years; he pays them premium prices for their grapes, telling us, "We're trying to take it up a little in intensity. The vineyards are getting to be 10-12 years old and they're starting to change and produce more layered, complex fruit." Based on what we tasted, that plan is already paying dividends.

After getting a good look at the winery, we took a tasting opportunity with a tank sample of one of Bryan's '06s; then we piled in the car for a quick tour of "The Village" before driving up the Old Mission Peninsula to visit the vineyards he works with, starting with the one from which was sourced the aforementioned tank sample. On the way, he gave us a thumbnail history of his journey to becoming a winemaker.

Ulbrich grew up in Buffalo Grove, Illinois, north of Chicago. He attended Valparaiso University, majoring in history before moving on to grad school in Arizona. He also spent some time in England, where he developed a serious taste for German Riesling. While working part time in the tasting room of a winery south of Tucson ("Cab doesn't do well there, but Petite Sirah does…"), he caught the bug. In the meantime, Bryan's mother was "talking up Michigan wines," and told him he could work in the industry here, so he moved to Traverse City in 1995 and got a job with Chateau Grand Traverse, working in the tasting room, packing Ice Wine and serving as a cellar rat. In 1996, he became Lee Lutes' apprentice at Peninsula Cellars, where he learned as much as he could as fast as he could, including viticulture while working the vineyards. Two years later, Lutes was gone and Bryan took over as winemaker for the next 11 years. "The only formal training I received was from seminars," he told us.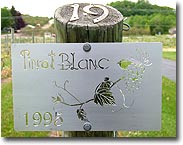 We pulled into Werner Kuehnis' Island View Vineyard, just down the road from Chateau Grand Traverse, and it was immediately obvious that the vines growing right out in his front yard receive immaculate care. Planted in 1995, it's the oldest Pinot Blanc vineyard in Michigan, and one Ulbrich is intimately familiar with, having worked with it for years while at Peninsula Cellars. Swiss native Kuehnis has spent years retraining the vines, which are planted "the wrong way," with an eastern exposure. The vines are trained with a standard trellis system, so that the fruit is on the south side; the vineyard has also been "re-trunked" a couple of times, due to winter freeze damage. (Low shoots are purposely left on the vine for insurance in such instances.) The sample we tasted showed amazing intensity of fruit, considering that the site is a little over one acre in size, and yet produces four to five tons, depending on the vintage. Here're my "snapshot" impressions: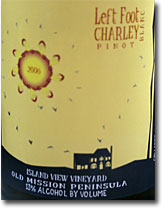 2006 Left Foot Charley Old Mission Peninsula Pinot Blanc Island View Vineyard Tank Sample, 13% alc.: Pale straw color, with piney green apple flavors and aromas, underscored with nice minerality; medium-full body, with good cut and viscosity and excellent intensity. Rich, round and quite tasty; I'll happily buy this when it's released.

We also took a gander at Werner's "private vineyard" in his side plot, planted to Sauvignon Blanc, Gewurztraminer and Merlot exactly as it would be in Switzerland, with southern exposure and manicured precision. He vinifies the wines himself in his garage, which Bryan says is very well appointed.

From there, we walked around to the back of the Kuehnis Estate, over the crest of a moderate slope, and found ourselves standing at the eastern border of the Tale Feathers Vineyard, owned by Gary and Theresa Wilson and planted to Pinot Grigio with a northern exposure. According to Bryan, the P.G. ripens early and fast, a definite plus in this neighborhood, and he expects big things from this 6th year, 3rd crop vineyard.

From there, we piled back into the car and made the short drive to Tom Scheuerman's Seventh Hill Farms, where Bryan sources his best Riesling grapes. He agrees with Sean O'Keefe of Chateau Grand Traverse that Riesling is the varietal that will put the region "on the map," adding that he thinks it compares favorably with Rhineland-Palatinate in Germany rather than Alsace. He says he picks Riesling purely on the acidity, striving for less alcohol but more intensity each year. Ulbrich has been working with this particular vineyard since it was planted in 1997, and when Peninsula Cellars let it go, he stepped into the breach. It has two blocks with southern and western exposures planted with different, fairly high vigor clones (239 and 198), and according to Bryan, "…as long as he (Scheuerman) is in charge it will be the standard for Riesling in America." When one observer commented on the irrigation hoses throughout the vines, it was explained that they are necessary because Riesling needs a lot of water at bloom and veraision. He then pulled out glasses and poured us a sample of just what this vineyard produces.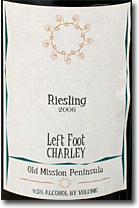 2006 Left Foot Charley Old Mission Peninsula Riesling Tank Sample, 9% alc., 2% residual sugar: Pale straw color, with lovely aromatics of honeysuckle and red apple, following through on the palate with some added minerality and good acids; medium bodied and almost delicate, but with excellent intensity, a great mouth feel and a long finish.

Bryan says that halting the fermentation is responsible for this kind of mouth feel (the cooling jackets on the new fermentation tanks are perfectly suited for this), adding that he wants to fashion "a glass doll" with his Riesling, but one that won't break. He has certainly succeeded with this wine; it's already lovely and shows great promise.

Our final stop was at the 80-acre farm of Leonard and Eddie Ligon, who are thoroughly dedicated to their vineyards, orchards and their workers as well. They've built a house on the farm for their foreman because Leonard wants to keep the same good people, rather than have to depend on transient labor. The Ligons grow Pinot Grigio and Gewurztraminer for Left Foot Charley, and there's a newly planted Merlot vineyard as well. Ligon employs the Scott Henry Trellis System for all of the grapes that he grows for LFC, a nine-wire setup that allows for four canes per vine instead of the customary two, which are trained both high and low, encouraging the vigorous vines to produce quality fruit from a larger crop. The entire operation is meticulously managed and very impressive to explore.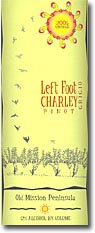 Afterwards, I was so taken with what we'd seen and tasted, that when I found three bottles of Left Foot Charley at the venerable Blue Goat wine shop in Traverse City, I picked them up and we tasted them after returning home. Here're my notes:
2005 Left Foot Charley Old Mission Peninsula Pinot Grigio, 12% alc., $15.29: Pale straw in color, with green apple and citrus flavors and aromas shaded with a hint of herb and an undertone of mineral; good cut and concentration and decidedly dry. A very satisfying white, and on this occasion, a fine match for some roast duck. More, please…
2004 Left Foot Charley Old Mission Peninsula Riesling, 12% alc., $17.69: Medium straw color, and showing excellent varietal character, with stony mineral and just a hint of petrol over rich apple-like fruit shaded with a hint of lime. Medium to medium-full bodied and decidedly dry, with more weight, complexity and concentration than the vast majority of Michigan Riesling and a long, lingering finish. Rich, pungent and delicious, this is as good as, if not better than, the 1999 Wyncroft Lake Michigan Shore Riesling Avonlea Vineyard, our previous standard for dry Michigan Riesling. Drinking beautifully now, with great promise for further development.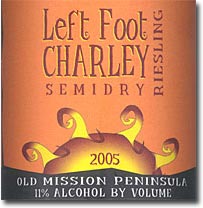 2005 Left Foot Charley Old Mission Peninsula Semidry Riesling, 11% alc., 375 ml, $17.69: Pale straw color; rich and ripe, with red and green apple flavors and aromas underscored with nice minerality and with a sweetness that falls somewhere between Kabinett and Spatlese levels. Medium to medium-full body, with excellent balance and acidity and good length; very nice with panko and crushed walnut encrusted Tilapia. I wish I could drink every one of these wines on a regular basis.

37 year old Bryan Ulbrich is "looking at 10-years to really establish the label," and based on the wines that we've sampled, it'll take a really big meteor hit or the onset of another ice-age to derail him from his goal, and we'll be following his progress closely. Left Foot Charley is destined to become one of the standard bearers for Michigan wineries, proving that we CAN produce world-class wine here in the Winter Water Wonderland, and is undoubtedly the most exciting Michigan winery we've come across since Wyncroft.

Reporting from Day-twah,
Bastardo

Other Recent Wine Explorations
Red Wings & Red Rhônes Playoff Diary - Round Two
Red Wings & Red Rhônes Playoff Diary - Round One

The Wines of Cono Sur
More Red Wings & Red Rhônes, 2007
Tasting Two Napa Wineries:
Stag's Leap Wine Cellars & Merryvale Vineyards
No Shiraz at Shiraz (this time...)
Spice Route, Fairview and Goats Galore
Back to the Underground Index

Back to the Top



© George Heritier June, 2007