2004 Wyncroft Lake Michigan Shore Riesling Madron Lake Vineyard, 13% alc.: Pale to medium straw color, with moderately sweet red and green apple flavors and aromas, underscored with subtle minerality; clean and refreshing, with bracing acidity and a nice finish, this was bottled just a few weeks ago. We bought some to put down for a few years, based on the promise that this one shows, and will report back in due time.
2003 Wyncroft Lake Michigan Shore Gewürztraminer Madron Lake Vineyard, 14.6% alc.: As soon as this medium straw was poured, Sally exclaimed "pure litchi on the nose," with Joel adding an impression of rosewater and Jim chimed in with red grapefruit, and indeed, it does exude a gorgeous perfume, all peach and litchi – like, in my not so humble opinion. It has fairly low acidity, and is somewhat oily, both typical qualities of Gewürztraminer, but while it shows excellent attack on entry, it loses some intensity as it progresses toward the finish. Jim says that it has tightened up recently, but that it should open up again down the road. "It will improve and grow in the bottle over the next four or five years," he predicts, adding that it "will turn golden in color with age, and develop some apricot and honey" characteristics. At this point, the bouquet alone is enough to make one linger long and practice the fine art of swirlatude.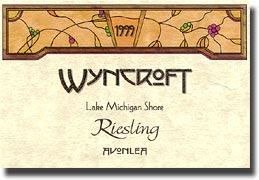 1999 Wyncroft Lake Michigan Shore Riesling Avonlea Vineyard, 13% alc.: It's always nice to taste this old friend again; we must have enjoyed it six or eight times since Jim and Rae Lee first introduced us to it two years ago. Medium straw in color, it offers up nice earthy petrol, apple and mineral, with good viscosity and presence; very nice dry Riesling, in a decidedly Alsatian style.
2002 Wyncroft Lake Michigan Shore Chardonnay Avonlea Vineyard, $35, 14.8% alc.: Medium straw to pale gold in color, with spicy butterscotch, Crème Brule and toasty oak over pear and pure Chardonnay fruit; the wine exhibits excellent acidity, good density and viscosity and a long, long finish. With air, a slight note of something like women's perfume emerges on the nose, and while that could be unpleasant, in this case it's quite attractive, adding another facet to the greater whole of the wine. Joel feels that the oak (1/3 new, 1/3 one year and 1/3 two year old Allier) is too accentuated for his tastes, but I don't have a problem with it at all, especially given the perspective of the following selection.
2000 Wyncroft Lake Michigan Shore Chardonnay Avonlea, $30, 14.6% alc.: The intervening year has toned down the oak nicely since we last tasted it; it takes a more subtle stance in the flavor and aromatic profile, but then Jim says it saw a little less new wood than the '02. It has all of the essential characteristics of that wine, everything has just had time to settle down and integrate.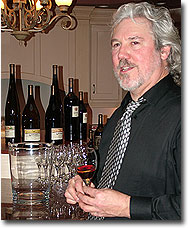 2003 Wyncroft Lake Michigan Shore Chardonnay Avonlea Vineyard, 14% alc.: This pale gold was drawn from tank earlier in the day, and exhibits more Puligny – like characteristics, whereas the '02 has a somewhat Kistler – like personality. It offers a subtle, yet expressive, perfume in which the oak takes a back seat to the leesy, savory apple and pear fruit. Everything here is in good proportion, all of the 'components' are balanced, so that they aren't components at all, but rather make for a seamless whole, with restrained vanilla and butterscotch over lovely Chardonnay fruit. Very harmonious; I can't wait to taste this again in a year or two. Jim says it received the same oak regimen as the '02, but this one simply didn't retain as much wood in flavor and aroma. As we were sipping on it, Joel turned to me and opined, "These are serious wines. They deserve to be discussed every bit as much in the same breath as West Coast wines."
2004 Wyncroft Lake Michigan Shore Pinot Noir Avonlea, $45, 14.3% alc.: Ruby garnet in color, this was bottled only five days previous and is all cinnamon and clove on the nose, showing the influence of the François Freres Allier oak, but underneath all that, the smoky plum and black cherry fruit has an 'un-bright' quality to it, and comes across as rather Burgundian on the palate, with medium intensity and subtle earthy undertones. Jim admits that "the mid – palate is not very expressive right now," and when asked if it will put on weight with some time in the bottle, he replied, "This tastes thin compared to what it will become. I personally think it will turn out to be the best Pinot Noir I've ever made." He went on to explain, "I vinify Pinot to only extract the real fine tannins and to develop complexities," and the next wine noted would seem to confirm that. (A 2003 Wyncroft Lake Michigan Shore Pinot Noir Avonlea Vineyard was also opened and tasted for comparison's sake, and while I took no notes on it, that was primarily due to the fact that it is pretty much the same as we remember it from a few months ago.)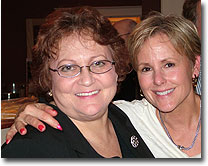 1999 Wyncroft Lake Michigan Shore Pinot Noir Avonlea Vineyard, 15% alc.: We last tasted this smoky ruby garnet colored Pinot Noir on the very first occasion that the Lesters paid us a visit two years ago, and it has certainly gone through an evolution during that time. It elicited such descriptors as "autumnal earth, dry aged meat," and from our new friend, Master Sommelier, Claudia Tyagi (far left, shown with Sue Sadowski), "carpaccio and strawberry jam." Very earthy, and again, far more like Burgundy than anything from the Left Coast, it shows a dark plumy character underneath the impressions noted above, being soft, yet solid, with mostly resolved tannins, balanced acids and a very nice finish. As I jotted down my final impression before moving on the next wine ("So impressive!"), I turned to Joel and blurted, "That's a funky motherf*&er, I like it!" He chuckled and added, "It's SO head – and – shoulders above what anyone else in the state is doing. This is gorgeous stuff."
2003 Wyncroft Lake Michigan Shore "Shou" (pronounced "Show") Avonlea Vineyard, 79% Cabernet Sauvignon, 17% Cabernet Franc, 4% Merlot, 13% alc.: Aged in ½ new and ½ two year old Allier medium toast barrels, this dark garnet smells more like Bordeaux than anything from California or Washington, showing earth, black currant, black cherries and as it opens, subtle oak that adds another dimension; one taster added impressions of black pepper and ancho chilies. The silky tannins show mainly on the long finish, the acids are well balanced and the fruit sweetens some as it opens, but this is by no means a fruit bomb. When Jim mentioned that it has recently been said to resemble both Pauillac and Margaux by two tasters with very fine palates, Joel chimed in to add, "I get more Pauillac than Margaux, this has the lead pencil and fine grained tannins."
2002 Wyncroft Lake Michigan Shore "Shou" Avonlea Vineyard: As with previous varietals, this deep, dark garnet was poured to give context to the previous wine. It gives up earthy underbrush and black fruit aromatics and flavors to match, with restrained oak very well proportioned to the overall profile, and yup, there's some of that lead pencil again. This full-bodied wine has marvelous concentration, and once again the tannins show most on the long finish. Tasted next to the '03, it shows (no pun intended) a little less toast than the later model, and both offer excellent promise for future development. As Joel put it so well, "No one would guess in a million years that this is a Michigan wine."
As a side note to this report, just a week before this tasting, we opened another Wyncroft and served it blind to our colleague Alan Kerr aka Canadian Zinfan, and although we were busy grilling and gabbing, we did manage to record these impressions:
2002 Wyncroft Lake Michigan Shore Riesling Madron Lake Vineyard: Medium straw in color; Mr. Kerr's initial impressions were "crab apple, reminiscent of a Loire Chenin Blanc," but when have you ever had a Loire Chenin Blanc with the kind of petrol that this one exudes? That's OK, Alan's never been a big fan of Riesling, although he grudgingly admitted that he liked this one. The wine is very much like a young Alsatian Riesling, with the aforementioned crab apple, petrol and an earthy, stony underbelly, being medium full bodied, with excellent cut and a long finish. Tart at first, it opens nicely with air as it warms in the glass, and even without previous experience with Jim and Rae Lee's Rieslings, it obvious that this has excellent potential for development in the cellar. With four more down in ours, you can expect periodic updates, but be patient. We're trying to keep hands off for the next year or so.
This was a rare opportunity to get an overview of multiple vintages of multiple varietals of Wyncroft; they just don't make that much wine, and most of it sells out quickly to mailing list clients and restaurants. We've made it clear how much we like these wines in four previous pages over the past two years, but we feel that an even better perspective might be given by Joel Goldberg, who with Sally, has been a long time follower of the Michigan wine industry. We leave you with his observations:
In nearly every imaginable way, Wyncroft follows roads not taken by other Michigan wineries. While attention has focused on the explosion of new wineries in the Leelanau and Old Mission Peninsulas in the northern part of the state, Wyncroft owners Jim and Rae Lee Lester tend their two small vineyards in Michigan's "original" wine region, the Lake Michigan Shore appellation of the southwest.

They also give new twists to a business strategy adapted from Bordeaux garagistes by way of Napa's high end boutiques, hand-crafting tiny batches of single varietals and a Bordeaux blend and selling directly to mailing-list customers and restaurants at premium (for Michigan) prices in case-only quantities.

Jim Lester can (and does) discourse at length about the longer, warmer growing season his location provides, the selection of grape varieties to match soil types, and the severe pruning regimen that drops yields to minuscule levels. But the proof is in the tasting, and here the results are stunning: throughout its range, Wyncroft displays fruit concentration and physiological ripeness -- along with alcohol levels -- one rarely associates with Michigan wine.

Not that the wines are fruit bombs. The bone-dry 2004 Riesling, my favorite among the new releases, offers up a mouth-puckering cool-climate citrus acidity alongside its apricot fruit, while the 2003 "Shou" blend is restrained and Pauillac-like, with a slight hint of bell pepper. These could never be mistaken for Californians, but neither are they "old world" in style. In short, they demonstrate exactly what the Lesters set out to prove: rigorous and costly winemaking can yield a unique Michigan style that sets the bar for most other state wineries. ---Joel Goldberg
Reporting from Day-twah,
Bastardo

Other Recent Wine Explorations
All Pig Dinner at Five Lakes Grill
Cassoulet Fest with Wines From the Languedoc
Some New World Clarets and a Single Sauvignon
Back to the Underground Index

Back to the Top



© George Heritier March 2006