By: George Heritier
Page Links At Bottom
A Visit to Chateau Grand Traverse



We awoke the morning after our visit to The Bluebird and enjoyed a continental breakfast in the Inn's restaurant; then we saddled up and rode north to the Grand Traverse Lighthouse, on the tip of the Leelanau Peninsula. The weather wasn't particularly pleasant, with overcast skies and intermittent rain, so we took a quick look, then turned around and drove down the east side of the peninsula, noticing a sign directing us to the Leelanau Cheese Company just south of Suttons Bay, known for their national award winning raclette. We found it to be located at The Black Star Farms, which also housed a winery we'd been advised to investigate. Both operations are housed in a sparkling new state of the art facility, but because the Leelanau Cheese Company had just relocated, there was little for us to sample, except for more fromage blanc with the wine. We tasted through a variety of wines, including Chardonnay, Riesling, Pinot Gris, and Merlot, all of which were pleasant enough, if rather innocuous. The Pinot Gris probably had the most going for it, but we didn't take any home with us.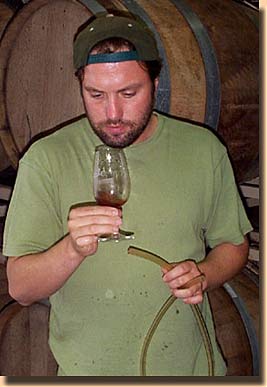 We pressed on back to Traverse City and up the Old Mission Peninsula, stopping in at Chateau Grand Traverse, northern Michigan's oldest and largest winery and vineyard, established by Edward O'Keefe in 1974. Our intention was not only to sample the wines, but also to say hello to Sean O'Keefe (left), Edward's son and CGT Vice President. Sean has recently joined the online communities at the West Coast Wine Network and Wine Lovers' Discussion Group, and MoCool's Joel Goldberg informed us that he'd also attended the Saturday BBQ just two days before.
We tasted a number of the same sort of varietals that Black Star was pouring (with a step up in quality I might add), as well as Gamay and Pinot Noir, and a 1998 "Late Harvest Reserve" Riesling that was quite creditable. We were just finishing up and about to continue on to Chateau Chantal, when Sean appeared and offered to take us into the winery to sample from tank and barrel.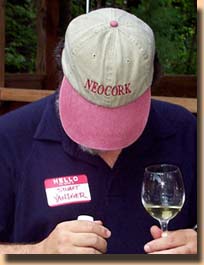 Sean O'Keefe is a bundle of energy, intensity and enthusiasm. I immediately recognized him as the gentleman engaged in an animated technical conversation with Stuart Yaniger (right) regarding corks that I'd eavesdropped upon briefly at the MoCool BBQ. He humorously describes himself as Vice President "of every thing no one else wants to do" at the winery, but in fact he lives and breaths wine, and has a deep commitment to raising the quality of CGT wines to a world class level. He took us out in back of the facility and showed us an impressive expanse of vineyards, including the oldest plots of 26-year-old Riesling. He feels that this is the varietal most suited to the region, a viewpoint I've long held myself, but in fact, we tasted through a number of interesting selections inside. I found a '99 Pinot Gris to have the kind of concentration that reminded me of those we'd tasted in Oregon last summer, and we were surprised at the promise shown by some barrel fermented Gamay and Merlot.
O'Keefe has input in winemaking decisions, likes to experiment and indeed has control over certain lots himself. He talked of meeting Tom Rochioli, telling us that the best advice he got from him was, "Don't be afraid of screwing up." He has no illusions about the uphill battle in elevating the quality of Michigan wine and its image throughout the world, but after spending an hour with this engaging young man, I wouldn't bet against his chances for success. We'll be keeping an eye on Chateau Grand Traverse, as well as taking a closer look at more Michigan wineries in the future.
A Visit to the Bluebird

Last Day