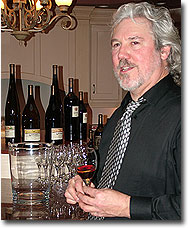 very other month or so, we get a call from Wyncroft wine-meister Jim Lester to let us know that he's in town, and to inquire as to if he might stop in to renew acquaintances and try a few wines. We're always happy to hang out with Jim and his wife and co-proprietor Rae Lee, because they're two of the most fun people we know. Such was the case not long ago, when Jim visited with samples of their newly released 2003 Avonlea Vineyard Chardonnay and the '02 model for comparison's sake. Of course, we opened a few things that we thought he might find intriguing as well, and we tasted a little later than we may have intended, but boy, did we have fun! Here's a rundown of the evening's festivities.

2003 Wyncroft Lake Michigan Shore Chardonnay Avonlea Vineyard, 14% alc.: The last time we tasted this pale gold colored Chardonnay, it had been drawn from tank earlier in the day, so it's nice to get a taste now that it's had a little more time in the bottle; the aromatics are tight at present, but the flavors offer pretty, rich apple and pear accented with a hint of smoke, toasty French oak and a subtle note of butterscotch. Medium full-to-full bodied, with crisp acids and very good length, this is a wine with a lot more presence and promise than these poor descriptors may convey.
Comparing this with the '02 version is most interesting; the '02 is a little less acidic and a little richer and fatter than the '03, with lovely pear and Crème Brule flavors and aromas.
Jim characterizes this one as more in the praline-pecan spectrum, while pointing out that the '03 shows more hazel nut. He added that the '03 "stayed lean and mean for a long time," but that it's now starting to fill in and open up. He got no argument from us, as it's showing very well, with plenty of promise for future development. A recent sampling of the '98 Avonlea Chardonnay suggests that both the '02 and '03 will show very well with some time in the cellar. (For a nice read about Wyncroft, please check out Sandra Silfven's wine column in the Detroit News.)
Lester had never tasted anything from Sean Thackrey, so Kim opened a bottle of the recently arrived latest version of one of her very favorite wines, year in and year out. (Wait 'til he gets a load of Sirius and Orion!)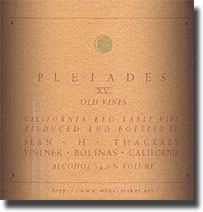 Sean Thackrey Pleiades XV Old Vines, $24.00, 14.6% alc.: Dark garnet, fading to pink at the rim, showing spicy, savory red and black berries and currants, shaded with overtones of cola-rock 'n' rye-root beer and underscored by some earthy forest floor; as it opens, there's a nice floral quality to the lovely aromatics that adds to the appeal. Jim added impressions of roasted lamb chops, meat fat, subtle dried lavender and a hint of brett (the latter eludes me through the six bottles that we've gone through before and since this particular one, but then, tasters often seem to get different impressions from the same selection). Very nice depth, structure and length here, and interestingly, these have shown some minor bottle variation, with one notable exception; that one was clearly inferior to the other five, lacking in depth, body and structure, providing my only reservation in otherwise proclaiming this to be easily best of the last four Pleiades Thackrey has made. Find this wine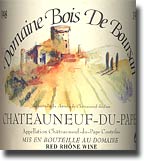 1998 Domaine Bois de Boursan Châteauneuf du Pape, $29.99, 13.5% alc.: Jim mentioned having had this a few months before and being blown away by it, so I played a dirty trick and opened one to see if he could recognize it blind. (It had also been a while since we'd had it, and I was curious as to how it was coming along myself.) There's some rust to the dark garnet color and it offers generous flavors and aromas of earth, iron, black plums and berries, smoke and a hint of cola. It drinks great poured straight from the bottle, but there's still a lot of structure and depth here; the wine has not yet seen its best days.

Lester swirled and sniffed, swished and swallowed, and had these comments: "Some tannic tightness in the middle, but still expressing itself really well; graphite, dusty cherry, that dark, dangerous smell that you get on the nose; flavors are so rich and profound; some herbal tones."

After about 15 or 20 minutes, Jim decided to take a leap and call this one a Cabernet Franc, so needless to say, when I pulled the bottle out of the plain brown wrapper, he got a big kick out of seeing what it really was. The wine constantly evolves, screaming Châteauneuf du Pape more loudly with every sip; my final impression reads, "smells like a rusty nail with extended air," and that's intended in the most complimentary way. Jim hit that nail on the head when he concluded, "There's nothing lacking; it's the perfect balance of power and elegance." I think I may have one or two more down in the cellar from heck; if so, we'll give a progress report in another three to five years. Find this wine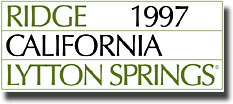 1997 Ridge Lytton Springs Dry Creek Valley, 80% Zinfandel, 15% Petite Sirah, 2% Carignan, 2% Mataro, 1% Grenache, 14.9% alc.: I found a stash of ten of these for a song and a dance in late 2005, and this may have been the last one; I'll have to put on my armor and wade into the cellar to find out at some point. We opened this bottle because Jim's experience with Ridge, while favorable, has been rather limited, so why not pull out something that has some age on it that shows how the great ones can evolve? It's evolved considerably since the last time we reported on it in 2004; here are our notes by committee:

"Poopy nose initially, then mint and dried dill." – Jim
"Dusty dill, and that's just the nose." – Kim
"Dusty plums and blackberries; the poop blows off almost immediately." – geo
"The dill is in the background." – Jim and geo
"A note of tar." – Jim
"Huge and jammy." – Kim
"Blackberries covered with pepper." – Jim
"Celery seed." – Kim and geo
"Caramelized maple syrup; sorghum; a dark corn smell like sticking your nose in a whiskey barrel after it's empty; shines more and more with air; elegant and supple; jammy in the savory sense." – Jim

This lovely zin blend continues to open as long as there's still some left, and it has yet to hit its peak, if you're of a like mind as we are that these aren't only about the vibrant fruit of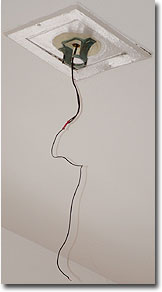 their youth, but show even greater glory as they age and become more nuanced and claret-like. I think it may be time to open another '97 Geyserville to see how those are coming along, but we'll try to wait until Jim's next visit for that. Find this wine

We were still sipping on the Lytton Springs when I almost killed Jim. I reached up to turn off the fan on the light fixture over the dining room table, and the whole damned thing came crashing down on the table. Amazingly, only one glass was injured, albeit terminally, so it now remains a source of amusement for those of us who came away from the incident shaken but unscathed. We'll be much more careful the next time a world class winemaker walks into our humble abode; we'd hate to gain the reputation as the deviants who deep sixed the likes of Jim Lester.
Reporting from Day-twah,
Bastardo

Other Recent Wine Explorations
No Shiraz at Shiraz (this time...)
Spice Route, Fairview and Goats Galore
Back to the February 2007 Index
Back to the Underground Index

Back to the Top



© George Heritier February, 2007