In 1998, Cono Sur implemented the Integrated Vineyard Management system, using natural alternatives to fertilize, prevent and control pests, diseases and weeds. (They use geese to control the common pest 'burrito.') In 2000, they started their first organically managed vineyard, producing their first Certified Organic wine in 2003, and they were the first winery in South America to receive two ISO Certifications, one for quality assurance and one for environmental policies.
The winery itself is state of the art, with a capacity of 8.5 million liters in temperature controlled stainless steel tanks, and a temperature and humidity controlled ageing cellar holding up to four thousand barrels. There is also an adjacent boutique winery devoted to producing their finest Pinot Noir. The entire operation is owned by the Guilisasti and Larrain families, who also own Concha y Toro.

We tasted examples from two moderately priced "ranges" of wines from this producer, the entry-level Cono Sur range and the more limited production Visión range.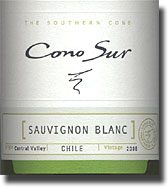 2006 Cono Sur Central Valley Sauvignon Blanc, 13% alc., $10: Medium straw color, crisp and medium full bodied with very good varietal character, grapefruit and gooseberry flavors and aromas, with piney undertones and a little minerality. A solid core of fruit here, with good intensity that doesn't go steroidal like some of its relatives from New Zealand and decent length on the finish; solid QPR (quality-price-ratio). Fruit sourced from the Santa Elisa Estate in Chimbarongo/Colchagua (70%) and Quitralmán Estate in Mulchén/Bío-Bío (30%), vineyards planted in 1998; alluvial, gravelly soil, low in fertility. Vertical trellis, drip irrigation and integrated vineyard management including geese and INIA bands for pest control. Harvested March 12th, handpicked with a yield of 4 tons/acre. Vinification: 100% destemmed, stainless steel, cold maceration at 46º F, followed by 3 months in stainless steel. Find this wine

2006 Cono Sur Casablanca Valley Sauvignon Blanc Visión, 13% alc., $14: Pale to medium straw color, with a note of jalapeno over grapefruit and gooseberry on the nose, and more of the same on the palate, minus the pepper; crisp, sleek and perhaps a little more streamlined and a little lighter in weight than the regular model noted above. It's a bit more Kiwi-like than the first wine and perhaps that's why I don't like it quite as well, but that's not to say that it isn't a good wine on its own terms. Fruit sourced from the El Centinela Estate; mineral soil with red clay. Clone Davis #1, vertical trellis, drip irrigation and integrated vineyard management including geese and INIA bands for pest control. Harvested April 21st, handpicked with a yield of 3.24 tons/acre. Vinification: 100% destemmed, stainless steel, 100% cold maceration with no malolactic, then aged in stainless steel. Find this wine

2006 Cono Sur Central Valley Chardonnay, 13.5% alc., $10: Medium straw color, with rich Chardonnay character reminiscent of apple and pear flavors and aromas laced with a streak of lime, herbaceous undertones and a touch of minerality; a little stingy on the nose, but more than enough concentration on the palate to compensate. Medium full bodied, with excellent cut and good length; another solid QPR. Fruit sourced from the Santa Elisa Estate in Colchagua (34%), El Marco Estate in Casablanca (38%) and Quitralman Estate in Bio-Bio (28%); alluvial, gravely soil, sandy with a bit of clay, low in fertility. Vertical trellis, drip irrigation and integrated vineyard management including geese and INIA bands for pest control. Harvested in Casablanca, March 23rd; Colchagua, March 13th; Bio-Bio, April 2nd, with yields of 4 tons per acre. Vinification: 52% destemmed, 42% direct pressed. Stainless steel, then aged for 3 months in medium toast French oak. Find this wine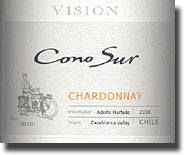 2006 Cono Sur Casablanca Valley Chardonnay Visión, 13% alc., $14: Medium straw color, with a tight nose of ripe apple-pear; follows through and expands on the palate with undertones of pine, lime and a certain herbaceousness; Full bodied, rich and ripe, with good cut and length and excellent intensity. Well worth the price tag. Fruit sourced from the El Centinela Estate; mineral soil with red clay. Vertical trellis, drip irrigation and integrated vineyard management including geese and INIA bands for pest control. Harvested April 10th, hand picked, with yields of 2.83 tons per acre. Vinification: 100% direct pressed, no maceration, no malolactic, then aged in stainless steel, and 40% in new French oak for 7 months. Find this wine

2006 Cono Sur Bio-Bio Valley Riesling, 12.5% alc., $10: Pale straw color with a tinge of lemon; crisp, correct and refreshingly dry, with green apple, citrus and mineral in both flavor and aroma. Good intensity of flavor here and excellent acidity; there's nothing lazy or flat about this, and it pairs well on this occasion with sautéed chicken breast and onions, broccoli and baked potatoes. Fruit sourced from the Quitralman Estate, vineyard planted in 1986; mineral soil with red clay. Vertical trellis, drip irrigation and integrated vineyard management including geese and INIA bands for pest control. Harvested April 10th, hand picked, with yields of 4 tons/acre. Vinification: 100% destemmed, stainless steel, cold maceration at 46º F, no malolactic.
Find this wine

2006 Cono Sur Casablanca Valley Gewurztraminer Visión, 13.5% alc., $14: This medium straw sure smells like gewurz, all peachy and litchi and stuff, but it tastes more like Sauvignon Blanc at first, according to Cousin Larry Meehan; medium to medium full bodied, tart and crisp, with under-ripe fruit; however, it opens quickly with only a few more sips to reveal the floral peach and litchi that are so characteristic of the varietal and a subtle fruit (not sugar) sweetness, with good intensity and some mineral underneath. There's nothing delicate about this wine, indeed, it's quite assertive, and the more I sip, the more I like. Fruit sourced from the El Marco Estate, planted in 1997; sandy soil with clay and low water retention. Vertical trellis, drip irrigation and integrated vineyard management including geese and INIA bands for pest control. Cordon pruning with 2 bud spurs every 10 cms., 35% leaf removal. Harvested April 10th, hand picked, with yields of 2.83 tons/acre. Vinification: 100% destemmed, stainless steel, 100% cold maceration; aged in stainless steel. Find this wine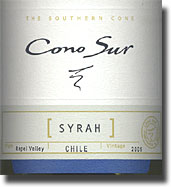 2005 Cono Sur Rapel Valley Syrah, 85% Syrah, 6% Malbec, 4% Carmenere, 3% Cabernet Sauvignon, 2% Aspiran Bouchet, 14% alc., $10: Ruby dark garnet color, with kind of a red fruit Santa Claus nose, all cherry, berry and plum with a hint of chocolate as well; the aromatics don't exactly jump out of the glass, but they do give a glimpse of the considerably more expressive flavors, which echo and expand with plenty more of everything, plus a toasty note of oak. With moderate tannins, just enough acidity and decent length, this is ready and easy to drink; not very complex, just a good everyday $10 Syrah. Fruit sourced from vineyard(s) with alluvial soil, poor and stony. Vertical trellis, drip irrigation and integrated vineyard management including geese and INIA bands for pest control. Cordon pruning with 2 bud spurs every 10 cms., 35% leaf removal to enhance phenolic ripeness. Harvested April 20th with yields of 4.45 tons/acre. Vinification: 100% destemmed, stainless steel, cold maceration for 4 days, with 100% malolactic fermentation; aged for 10 months in medium toast French oak. Find this wine

2006 Cono Sur Central Valley Pinot Noir, 14% alc., $10: Clean ruby garnet color and very tight on the nose, gradually opening to give a little preview of the medium full bodied black cherry and plum flavors with dark mineral undercurrents; good now, but this has the depth, tannins and acids to develop for at least a year or two. An hour's worth of air helps this out, so some time in a decanter can't hurt at all; all in all, a good everyday Pinot Noir. Fruit sourced from the Santa Elisa Estate in Colchagua (75%), Quitralman Estate in Bio-Bio (20%) and El Marco Estate in Casablanca (5%), with alluvial, gravelly soil, low in fertility. Vertical trellis, drip irrigation and integrated vineyard management including geese and INIA bands for pest control. Harvested March 21st with yields of 4 tons/acre. Vinification: 100% destemmed, stainless steel, cold maceration for 4 days at 46º F., with 100% malolactic fermentation; aged for 3 months in medium toast French oak. Find this wine

2006 Cono Sur Colchagua Valley Pinot Noir Visión,
14% alc., $14: Ruby garnet color with a reticent nose; more generous on the palate, offering black cherry, plum and hints of coffee and cola, all underscored with an earthy dark minerality and being a little deeper and richer, with a little more of everything than the regular model. Three to five years worth of tannins, with good acids and length; I would give this some time in the cellar and drink it later rather than sooner. Fruit sourced from the Santa Elisa Estate in Colchagua (85%) and El Marco II Estate in Casablanca (15%); alluvial, gravelly soil with moderate fertility; planted in 1968. Oregon clone, vertical trellis, drip irrigation and integrated vineyard management. Harvested March 16th, 100% handpicked with yields of 2.83 tons/acre. Vinification: 100% destemmed, stainless steel, 100% cold maceration and malolactic fermentation; aged for 10 months in French oak barrels 80% new and 20% second use. Find this wine

Neither one of the Pinot Noirs are lightweights, but neither are they steroidal Syrah wannabes like too many coming out of California these days; both have substance and depth, and I'd like to try them again in a few years.

2006 Cono Sur Colchagua Valley Carmenere, 85% Carmenere, 9% Cabernet, 4% Syrah, 2%, Aspiran Bouchet, 13.9% alc., $10: Dark garnet color, with blackberry and blueberry flavors and aromas that show earthy undertones and noticeable oak; medium full bodied, fairly smooth, and reasonably well structured, with decent length. This is a nice enough everyday red in the international style and will likely improve with a year or two in the cellar. Fruit sourced from the Paredes Viejas, Santa Elisa and Puente Alta Estates in Colchagua; dark clay soil with moderate vigor. Vertical trellis, drip irrigation and integrated vineyard management including geese and INIA bands for pest control. Cordon pruning with 2 bud spurs every 10 cms., 35% leaf removal to enhance phenolic ripeness. Harvested in late April, 100% handpicked with yields of 4 tons/acre. Vinification: 100% destemmed, stainless steel vessel, cold maceration for 4 days at 39-46º F and 100% malolactic fermentation; aged for 11 months in medium toast French oak. Find this wine

2005 Cono Sur Colchagua Valley Merlot Visión, 85% Merlot, 7% Cabernet, 5% Malbec, 2% Syrah, 1% Aspiran Bouchet, 14% alc., $14: Dark garnet color; charred oak gives notes of balsa, coffee and toast over black fruit on the nose, with a little vanilla lurking in the background. The oak dominates even more on the palate, and that's just what this tastes like, oak. Black currant and blackberry provide a solid core of fruit underneath and it's too bad that it's overwhelmed by all the wood. There's good structure and depth here, but did I mention that there's just too much oak?! I can just about finish one glass, but that's all. Fruit sourced from the Paredes Viejas Estate (85%), and other vineyards (15%) in Colchagua ; dark clay soil with moderate vigor. Vertical trellis, drip irrigation and integrated vineyard management including geese and INIA bands for pest control. Harvested April 20th, handpicked with yields of 2.83 tons/acre. Vinification: 100% destemmed, stainless steel, cold maceration and malolactic fermentation; aged for 10 months in French oak. Find this wine

OK, so the whites from Cono Sur are all pretty enjoyable, showing good fruit and balance with no excessive characteristics; the Pinot Noirs are interesting too, and show good promise for further development, but the Carmenere and Merlot give some indications that they have yet to get their Bordeaux varietals right, unless you LIKE all that oak. And while we're not wild about these last two, they don't come close to being as objectionable as the following abomination.

2005 Cono Sur Central Valley Cabernet Sauvignon, 85% Cabernet Sauvignon, 9% Merlot, 2% Carmenere, 3% Syrah, 1% Aspiran Bouchet, 14% alc., $10: Dark garnet color, and that's the only good thing that can be said about this one. Kim wondered aloud, "Where's the Cabernet in this? It's hard to tell this is even a grape product." She has a good point; it's all about allspice, with no fruit character of any kind to be found. I took four or five sips to make sure I was not hallucinating as to what I was tasting and then dumped the rest of my glass. A truly horrid wine, and not even worthy of inclusion in the vinegar crock. Fruit sourced from vineyards planted in 1985; alluvial and gravely soil, low in fertility. Vertical trellis, drip irrigation and integrated vineyard management including geese and INIA bands for pest control. Cordon pruning with 2 bud spurs every 10 cms., 35% leaf removal to enhance phenolic ripeness. Harvested April 2nd, with yields of 4 tons/acre. Vinification: 100% destemmed, stainless steel, cold maceration and 100% malolactic fermentation. The must is concentrated by bleeding some juice. Aged for 10-12 months in medium toast French oak. Find this wine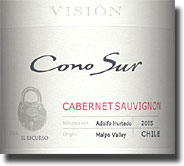 2005 Cono Sur Maipo Valley Cabernet Sauvignon Visión, 85% Cabernet Sauvignon, 5% Syrah, 4% Malbec, 3% Carmenere, 2% Petite Verdot, 1% Aspiran Bouchet, 14% alc., $14: Dark garnet color, with far too much oak for my liking, but at least it shows fruit characteristics, with a solid core of deep, dark black currant and cassis bolstered by excellent structure; still, the wood is overpowering to the point where I seriously doubt that it will ever integrate with time in the cellar. Maybe someone will open a bottle for us in four or five years in the interest of scientific inquiry, because we have better things to spend our money on. Fruit sourced from El Recurso Estate in Maipo (85%) and other vineyards in Rapel (15%); alluvial and gravely soil, low in fertility. Vertical trellis, drip irrigation and integrated vineyard management including geese and INIA bands for pest control. Harvested April 23rd, with yields of 2.83 tons/acre. Vinification: 100% destemmed, stainless steel, 100% cold maceration and malolactic fermentation. Aged for 12 months in French oak, 60% new, 30% 2nd use, 10% 3rd use; 3 months in stainless steel. Find this wine

Cono Sur imported by Vineyard Brands, Inc., Birmingham, AL

Reporting from Day-twah,
Bastardo

Other Recent Wine Explorations

More Red Wings & Red Rhônes, 2007
Tasting Two Napa Wineries:
Stag's Leap Wine Cellars & Merryvale Vineyards
No Shiraz at Shiraz (this time...)
Spice Route, Fairview and Goats Galore
Back to the Underground Index

Back to the Top



© George Heritier April, 2007