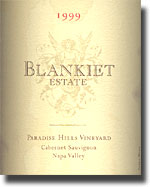 1999 Blankiet Estate Napa Cabernet Sauvignon Paradise Hills Vineyard, $90-ish: A big disappointment, one we'd have been better off to flip, given the ridiculous sums its getting at auction. Dark garnet, fading to pink at the rim, it immediately drew the following comment from Kim: "It smells like plastic." Margaret agreed, and while I didn't get any plastic, I didn't find anything to get excited about either; it's not exactly flat or dull, but it seems rather clunky, especially after The Maiden, with black currant and plum and some tobacco as it opens. It's buoyed by moderate tannins and acids, with a so-so finish, and while it's not a "bad" wine, it's way overpriced, and if it wasn't an off-bottle, some people who're paying those big bucks on the secondary market are going to be plenty pissed off. I revisited it later in the evening to see if it improved with air, and it actually did a little, but not enough to gain redemption. Find this wine

2001 Domaine Robert Chevillon Nuits - St. - Georges Les Bousselots, $60, 13.5% alc.: This ruby dark garnet isn't as exuberant as it was in July of '05, offering earthy forest floor that dominates the smoky black cherry fruit; medium full bodied, with excellent intensity and smooth texture belies the significant structure. All about promise right now, this needs years to show its best; I'd like to try it in 2016, and with one in the cellar, hopefully I will. Find this wine

Imported by Kermit Lynch Wine Merchant, Berkeley, CA



~Three from Morgon~


2001 Marcel Lapierre Morgon, $22.99, 12.5% alc.: A cloudy ruby garnet in color, reminiscent of the 2001 Jean Foillard Morgon Cote du Py in that regard; Kim's initial comment was that "it tastes like strawberries," and indeed it does, earthy terroir-laded strawberries, and some raspberries thrown for good measure. It throws a sweet perfume over all the earthy characteristics, and it's structured for cellaring; this could use another five years and is surprisingly tannic when first poured, but it does open nicely with air, gaining some spicy rhubarb subtleties that add some interesting complexity. Find this wine

2002 Guy Breton Morgon "Vieilles Vignes," $21.49, 12.5% alc.: A fairly light ruby garnet in color, and initially showing a little merde on the nose; the flavors are all about earthy cherry, red berry and plum, but don't let these descriptors fool you into thinking that this is a "fruity" wine, because it isn't. It shows good structure, with unobtrusive tannins, and opens nicely with an hour's worth of air. This is a excellent example of what "dogshit French wine" is all about, and I mean that in the kindest possible way. Find this wine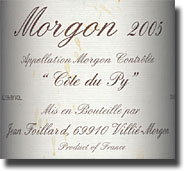 2005 Jean Foillard Morgon "Cote du Py," $28.99, 13% alc.: Putnam Weekley told me that this ruby dark garnet was a beauty, and I never doubted him for a minute. Right away, it exudes an effusive aromatic that's more like Pinot Noir than Gamay, all deep, dark, spicy black cherry; on the palate, it's not quite as deep and dark, showing more of its Gamay personality, and very nicely so. It has some size and density, yet it retains a lovely sense of proportion to the creamy black cherry flavors accented with some sweet spice and subtle earth underneath, along with a note of chocolate that emerges with air. I'd have to agree with both Kim, who called this "eminently drinkable" and Scott "The Geek" Tobias, who characterizes it as "very smooth on the palate;" in fact, this lovely super middleweight drinks so well now, I'm not sure I'd want to lay it down for more than a year or two. Find this wine

Jean Foillard, Marcel Lapierre and Guy Breton Imported by Kermit Lynch Wine Merchant, Berkeley, CA



~Three 2001 German Rieslings~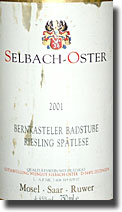 2001 Selbach-Oster Bernkastler Badstube Riesling Spatlese Mosel – Saar – Ruwer, 8.5% alc: I lucked into five of these beauties during the summer for little more than a song and a dance; the retailer didn't know what he had, the bottles had been hanging around and hanging around and he just wanted to get rid of them. We went through four of them over successive months with no notes taken, enjoying every sip, so when I opened the last one recently, I thought it might be a good idea to record some impressions.

Pale straw color, with enticing aromas of moderate petrol, white peach, a little apple and hint of citrus and honey; on the palate there's more peach and apple, along with that hint of citrus and honey, underscored with a good dose of steely mineral and a little less petrol than the aromatics give at this point. Excellent cut and length, with medium sweetness and great aging potential, but I like these so much, I just can't keep my hands off of them. I opened one late in the summer with daughter Jessica Rose aka Dolphin Girl, and being the big Riesling lover that she is, she just murmured, "Mmm, yeah…"

This wine is everything a fine Spatlese should be, and will easily develop and improve through its 10th birthday and beyond; too bad I couldn't save at least one until then. Maybe I'll luck into a few more, but in the meantime, if you have any of this, don't be afraid to pair it with some spicy Asian cuisine, or even some pan fried trout, brook, rainbow or otherwise. Find this wine

A Paul Mann Selection: Imported by L&L Wine World, Royal Oak, MI

2001 S.A. Prüm Graacher Himmelreich Riesling Spatlese Mosel – Saar – Ruwer, $29.99, 8% alc.: Another fine '01 Mosel Spatlese that I found languishing in another out of the way corner of Day-twah, and one I couldn't haggle down to a price more favorable to the buyer than the retailer, but no matter, it's worth the tariff. The descriptors are much the same as for the Selbach-Oster; the pale straw color, the petrol, white peach, honey and steely mineral, with a similar medium sweetness, but less citrus and a decidedly earthy quality, all of which are underscored with just a hint of decaying fruit that does nothing to lessen the appeal. There's also a little less acidity, a somewhat oily quality, and good length on the finish. I like this wine a lot, although not quite as well as the Selbach-Oster noted above, which seems to be just a little more finely chiseled. Still, it'll make a fine match for the same foods, and is none too shabby while just sipping and enjoying the music of the Buena Vista Social Club. Find this wine

Imported by Wein-Bauer, Inc., Franklin Park, IL

2001 Kees-Kieren Graacher Himmelreich Riesling Auslese Mosel – Saar – Ruwer, $19.99, 8% alc.: Based on a sample of this pale gold colored sweetie that I received a while back, I bought up the last two cases in the state for my department, and purchased several for personal consumption at the great close-out price. I shared the second to last one a few weeks ago with Scott "the Geek" Tobias, and like me, he was just so impressed with it, calling it "sweet, but not sentimental," adding that it's "clean, like a baby is clean." It's clean all right, but it's complex as well, with delicious peach, apricot, honey and petrol in both flavor and aroma. With good acidity, some underlying minerality and a slightly oily texture, it's still primary, and yet so tasty, with a long, long finish, I wasn't at all surprised when Scott called it "the best Riesling I've ever had." It's not the best Riesling I've ever had, but it's certainly one of the best wines of any kind that I've had in 2006. I wish I'd brought both cases home, instead of selling most of it to those lucky customers. Find this wine

A Paul Mann Selection: Imported by L&L Wine World, Royal Oak, MI



~Three Italians~


We met up with our buddy Bennett Traub for dinner at one of our favorite places, Bacco Ristorante, where we dined on such delectables as melt-in-your-mouth Carpaccio, Strozzapreti Norcina (Italian sausage, black truffles, tomatoes and cream), Costolette d' Agnello alla Brace (Char-grilled Colorado Lamb chops) and Saltimbocca (Veal scaloppine, prosciutto di Parma, sage, wine and demi glace), eating it all up with the following wines.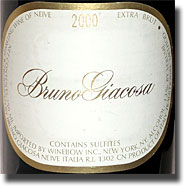 2000 Bruno Giacosa Extra Brut, 13% alc.: What bubbly! It wouldn't mean that much to say that this pale straw colored Blanc de Noirs, made from 100% Pinot Nero, is the best sparkling wine I've ever had from Italy, because in fact, I can probably count them all on the fingers of both hands. Still, it's so impressive, exploding on the palate with an immense concentration of bubbles and laser-sharp flavors of bone dry, stony under-ripe apples, brilliant cut and a marvelous overall impression in the mouth. This is a killer example of just why I've been so jazzed with all things bubbly for the last few months. Matthew, our sommelier, told us that only one case of this came to Michigan, and he got it all. Bravo! Find this wine

Imported by Winebow, Inc., New York, NY

1999 Querciavalle Losi Chianti Classico Riserva Millennium, 90% Sangiovese, 5% Canaiolo, 5% Malvasia Nera, 13% alc.: Dark garnet in color and classic Chianti Classico in character, with lovely flavors and aromas of earth, sticks, underbrush, dried cherries and dark berries; so smooth and elegant, and not at all rustic, being medium full bodied, with fine balance and excellent length, rich and yet bone dry at the same time. A fine match for my Costolette d' Agnello alla Brace. Find this wine

Imported by Tricanna Inc., Plainview, NY

1997 Capitel della Crosara Amarone della Valpolicella Classico Monopolio Montresor D.O.C., 14.5% alc.: Dark garnet in color, fading to pink at the rim; rich and somewhat raisined, with black cherry and cassis; Bennett offered impressions of "crushed raisins, but not hot or over the top," adding "a little more raisined and it might be Banyuls." It's all anchored to an earthy core, with excellent structure and length, and as tasty as it is already, it's by no means at its peak. Delicious Amarone. Find this wine

Imported by Opici Import Co., Glen Rock, NJ

Reporting from Day-twah,

Bastardo

Other Recent Wine Explorations
Following Up With Fisher, Ladera and Schweiger
QPR All Stars: MAN Vintners & Marqués de Cáceres
Back to the Underground Index

Back to the Top



© George Heritier December, 2006