Although the Detroit Red Wings finished the regular 2006-07 NHL season with the best record in the Western Conference, there were many in the hockey world who felt like JR Bates when he gave us this feedback in our comments feature: "Beware the SJ (San Jose Sharks) power play, Detroit. The biggest thing is you would have one of the oldest and most skilled teams in the league going against the youngest and one of the most skilled teams in the league. I will take the young legs at this time of the year." Indeed, the first four games were as tight as could be, all decided by a single goal with each team winning one on enemy ice. Then, it was all Red Wings, who scored convincing 4-1 and 2-0 wins to seal the series and head on to the semi-finals. The key player for Detroit may have been Dominik Hasek, who was nothing short of brilliant in goal, but the turning point was arguably the return of Tomas Holmstrom, who, in Game 4, came back from an eye injury suffered in the final tilt against the Calgary Flames in Round 1 to play an instrumental part in the final three victories of that series.

And so, the Red Wings move on the Conference Championship round against the Anaheim Ducks, and we'll open plenty of fine Red Rhône mojo on their behalf. Here's what we conjured up for Round 2.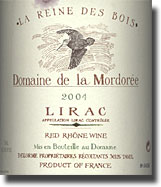 2004 Domaine Mordoree Lirac Cuvee de la Reine des Bois, 1/3 Grenache, 1/3 Mourvèdre, 1/3 Syrah, 14.5% alc., $32.99: Dark garnet color, fading to pink at the rim; the earthy, tarry nose develops a leathery quality with some air. Plenty of earth and fairly rich dark plum and berry shaded with sticks and underbrush on the palate; serious concentration and structure, with zippy acids and several years worth of formidable tannins to resolve. Find this wine
Imported by Kysela Pere & Fils, Ltd., Winchester, PA
This will be a very fine wine in about five years and beyond, or you can drink it now with extended air and grilled meats or a hearty stew, but it didn't go so well with a Red Wing loss in the opener against the Sharks. From 40 year-old vines; matured 30% in oak barrels, 30% in wooden tun and 40% in enameled steel tank.
I quite liked what I tasted with Christian and Dany Berthet-Rayne from their estate in Châteauneuf du Pape last summer, so it was a no-brainer to bring home a bottle of their latest offering, and it provided some solid Red Wings mojo.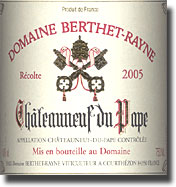 2005 Domaine Berthet-Rayne Châteauneuf du Pape Tradition Rouge, 65% Grenache, 20% Mourvedre, 10% Cinsault & 5% Syrah, 14.5% alc., $29.99: A clean dark garnet color, with earth, iron and a hint of tar over deep, dark black fruit on the nose; the big, rich, ripe, earthy flavors echo and expand with considerable depth, structure and a note of black cherry at the core of the fruit peaking out from time to time. Surprisingly approachable for its youth, and a boatload of potential for future development, so give it an hour in a decanter if you're trying it now and serve it with the usual culinary suspects, or give it three to five years in cellar to see what develops. Find this wine

Imported by Eagle Eye Imports, LLC, Bloomfield Hills, MI

Jim Lester stopped in on the night of the big breakthrough overtime win by the Wings in San Jose, so we opened four with him while hooting and hollering for our heroes.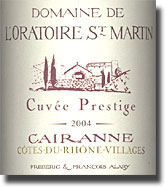 2004 Domaine de L'Oratoire St. Martin Cairanne Côtes du Rhône Villages Cuvée Prestige, 60% Grenache, 40% Mourvèdre, 14% alc., $25.99: Deep dark garnet color, not quite opaque, with a nice nose of fairly ripe spicy black plum and berry shaded with underbrush, leather and a wee bit of chocolate; the big, rich earthy flavors offer plenty more of the same along with what Mr. Lester describes as iron, red meat, roasted herbs, dried juniper and powdery dry tannins. I had to wonder some when he gushed over the wine's silky texture, because to me, this is an angry youngster with significant structure, even more acidic than tannic, but then, it wouldn't be the first time two tasters had differing impressions of the same wine. This is an ager (10-15 years), so be patient and give it some time in the cellar or barring that, at least some hours in a decanter. From 90-something year old vines. Find this wine

2004 Domaine de L'Oratoire St. Martin Cairanne Côtes du Rhône Villages Haut-Coustias, 60% Mourvèdre, 20% Syrah, 20% Grenache, 14% alc., $31.99: Deep dark garnet in color, and not quite as dense as the Cuvée Prestige, this benefited from an hour and a half in a decanter before we poured glasses; the tight nose only gives up a little leather, balsam and cocoa powder, but the underlying dense, earthy red and black plum and berry really comes to the fore in the flavors, with a good dose of iron and significant structure that gives this a bit of a bite right now. Kim loves this, adding impressions of coffee and tobacco (isn't that a Jarmusch
film?), and Jim mentioned a smoky quality; I wouldn't disagree with either of them. Drinkable now with air, but I'd give it five years in the cellar and then see where it's at. From 65+ year old vines. Find this wine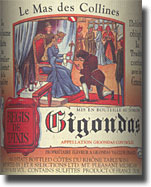 1998 Domaine Le Mas des Collines Regis de Taxis Gigondas, 13.5% alc., $18.99: Slightly rusty dark garnet color; earth and iron over black fruit on the nose, following through on the palate with a big note of cola, which has been a consistent characteristic of these in our experience going back to the 1990 vintage. Still big structure here and nowhere near optimum drinking, but an hour of air helps it immensely, making it more than approachable. Another killer example of why this has been one of our favorite Gigondas for more than a decade; best to let this one sleep for another three to five years. Find this wine
Imported by J et R Selections, Mt. Pleasant, MI

We opened the following wine for the overtime period, and while good sense should dictate that we never should have, hindsight coupled with some healthy superstition says that we did exactly the right thing.

2000 Paul Jaboulet Aine Châteauneuf du Pape Les Cedres ®, 14% alc., $26.99: Dark garnet color, whit nothing but raw petroleum and leather on the nose; in the mouth, it's all saddle leather, earthy cassis and ripe black plum. Although it's drinking pretty well now (Jim says it was nice the next morning), there's still plenty of structure and it's nowhere near its peak. Try again around 2010. Find this wine
Imported by Frederick Wildman and Sons, Ltd., New York, NY

I figured the '05 Domaine de L'Oratoire St. Martin Cairannes would have a youthful rough and tumble to them, especially after the two '04s noted above, but despite that, I was determined to see what kind of potential they had to offer, since we've had more than a few in past years that we liked a lot.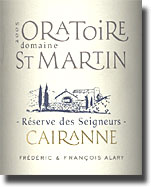 2005 Domaine de L'Oratoire St. Martin Cairanne Côtes du Rhône Villages Réserve des Seigneurs, 60% Grenache, 30% Mourvèdre, 10% Syrah, 14.5% alc., $22.99: Purple garnet color, with seemingly Grenache-heavy flavors and aromas of spicy berry, cherry and plum underscored with a lot of earth and iron and bolstered with big, full bodied structure featuring significant tannins and plenty of acidity. A wine of serious power and depth, needing several years to show its best, but it has all the goods to be another terrific Réserve des Seigneurs from Domaine de L'Oratoire St. Martin. From 50-something year old vines. Find this wine

2005 Domaine de L'Oratoire St. Martin Cairanne Côtes du Rhône Villages Cuvée Prestige, 60% Grenache, 40% Mourvèdre, 13.5% alc., $29.99: Purple garnet color, with berry, cherry and a hint of bubble gum on the nose, following through emphatically on the palate with a big, earthy core and some lavender and thyme. Serious structure here, and yet more approachable than the '05 Réserve des Seigneurs noted above; with a few hours of air, this is not only downright drinkable, it's thick, rich and delicious, especially when paired with a clinching 2-0 Wings victory over the Sharks. Find this wine

2001 Eric Texier Châteauneuf du Pape Vieilles Vignes, 14% alc., $26.05: Clean dark garnet color, and ever-so-slightly sour, but this is no '99 Brezeme; not a lot on the nose, but it only shows some of the oak on the palate that so turned us off in '04. Otherwise, there are smooth blackcurrant, plum and berry flavors here that are mostly devoid of Châteauneuf character, but it HAS improved quite a bit since the last time we tasted it. The sourness disappears with a little air, but there's far too little of the big earth, leather, iron and spicy character so typical of this appellation; even at $26.05, this is only a good CdP, and nothing more. At least it doesn't taste like red pop and wood like the last time, and while a little iron and raw petroleum finally emerge with extended air, it still has a certain homogenized quality about it. Not a bad wine by any means, but not exactly what we're looking for from our CdP either. Find this wine

Imported by North Berkeley Imports, Berkeley, CA

Reporting from Day-twah,
Bastardo

Other Recent Rhône Explorations
Red Wings and Red Rhônes Playoff Diary-Round One
More Red Wings and Red Rhônes 2007
Rednecks & Red Rhônes 2007 "Yo, Dood, Wake Up!
Wines of Domaine Berthet-Rayne
More Red Wings and Red Rhônes 2006
Back to the Underground Index

Back to the Top



© George Heritier May, 2007