No less an authority on Champagne than Tom Stevenson himself has stated, "Vilmart is the greatest grower Champagne I know." Champagne Vilmart, founded by Desire Vilmart in the village of Rilly in the Montagne de Reims in 1872, is owned and operated today by Laurent Champs. The vineyards are farmed organically, and the wines are fermented and aged in oak, a practice instituted by Laurent's parents, Rene and Nicol (Vilmart) Champs at a time when the practice was rare in Champagne. We began with the 1997 "Cuvée Création," and it wasn't at all hard to see why Stevenson holds this house in such high regard. Incidentally, both of these were terrific with the hors d'ouvres, especially the dynamite ancho shrimp tortilla with avocado purée, which I had to restrain myself from indulging in more than my share of.
"This is a wine to retire with to a quiet room
and just sip all night long."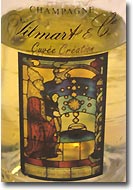 1997 Vilmart Champagne "Cuvée Creation," 12% alc. : Medium straw color, with a very fine bead ; a big yeasty bread dough and under-ripe green apple nose leads into equally big, rich flavors that mirror the aromatics with a chalky minerality, a hint of flint and a note of oak that lends a creamy quality to the overall character of the wine. Madeline was spot on when she described this as "both lush and austere at the same time." I've had the pleasure to try several great Champagnes over the last several months, and this is right there with the best of them. I like Brad Baker's comment on this: "This is a wine to retire with to a quiet room and just sip all night long." Find this wine

1996 Vilmart Champagne "Cuvée Creation," 12% alc. : Medium straw color, very fine bead, but not as effusive aromatically as the '97 ; this seems tighter and in need of more time, offering mineral and tart green apple flavors and aromas, with excellent cut and length, and a hint of lime on the finish. Jim speculates that this may be the better of these two with time, but for now, the younger model is the one to drink. Find this wine

A Terry Theise Estate Selection – Imported by Michael Skurnik Wines, NY
GRILLED HAWAIIAN SEA BASS
Ginger Cilantro Butter & Sticky Rice

1998 Wyncroft Chardonnay & 2000 Leflaive Meursault-Charmes
Jim Friedman thought that it would be interesting to see how one of Jim and Rae Lee Lester's fine Michigan Chardonnays (the only non-Euro wine in the bunch) matched up against the "real thing," and I'm happy to report that it more than held its own. Not that we're surprised…



1998 Wyncroft Lake Michigan Shore Chardonnay Avonlea: Pale gold color, with soft hazel nut and some little sherried character on the nose; lots of crème Brule on the palate, accented with notes of butterscotch and toffee, along with a bit of minerality on the long, lingering finish. The secondary characteristics clearly carry this and the flavors are BIG, even more so with air; this wine is in a really nice place right now, and provides an excellent match for the grilled Hawaiian sea bass. Very impressive!


2000 Olivier Leflaive Meursault-Charmes, 13.5% alc.: Medium straw color, with a smoky, stony nose; in the mouth, it offers under-ripe apple and pear with some subtle stone that expands to a lot of minerality on the finish. Good cut and length, a creamy quality and a certain elegance to this, all on a medium full bodied frame. Quite nice, and as Madeline remarked, it presents "a nice foil for the Wyncroft ;" it certainly has a good future ahead of it, but on this night, it was (gasp!) relegated to 2nd fiddle by the wine from Michigan. Find this wine
Imported by Frederick Wildman and Sons, Ltd., New York, NY.
GRILLED PRIME TENDERLOIN
Roasted Parsnips & Haricot Vert
1998 Giacosa Barolo & 1998 Giacosa Barbaresco
The beef tenderloin was a substitute for a venison dish, because, as Jim put it, "We don't eat Bambi." Happily, there was no substitute for the Giacosas!

1998 Bruno Giacosa Barbaresco Rabaja, 14% alc.: Smoky ruby dark garnet color, with flavors and aromas of smoke, light tar, earthy dried cherries, tobacco and a little licorice; the texture of this is lovely, almost like velvet, and it drinks so well with just a little air. The smoky character sets the tone here, and the fruit fills it all out, but the utter beauty of the wine belies the deceptive structure, as it has a fine future indeed. It's a little lighter in body than the following selection, but still quite substantial on its own. Find this wine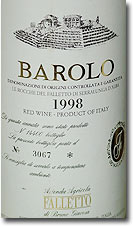 1998 Bruno Giacosa Barolo Rocche, 14% alc.: Smoky ruby dark garnet color, and a little bigger than the Barbaresco, with smoke, earth, dried cherries and tobacco flavors and aromas, all with stony undertones; this is also like velvet on the palate (Madeline described it as "tender"), and again, the deceptive structure is camouflaged well. A beautiful wine now, and even better some years down the road. Find this wine

Bruno Giacosa Wines are Leonardo Locascio Selections, Imported by Winebow, Hohokus, NJ
ROASTED TRUMPET ROYALES
Endive & Garlic Confit

1985 Vega Sicilia "Unico"
I've been reading about the legendary Vega Sicilia "Unico" for years, and until now, had never had the opportunity to actually taste one. All I can say is that it certainly lived up to its exalted reputation.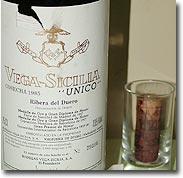 1985 Vega Sicilia "Unico" Ribera del Duero, 13% alc.: Dark garnet color, with sweet oak that shows right away on the nose, but it's been tempered by the interceding 21 years; pretty black berries and cherries vie for dominance in both flavor and aroma, and with air, the oak morphs into a note of cedar and subtle earth underneath everything. Madeline gave impressions of "lush, but a ton of fruit," and she made a good point. The velvety texture can't quite disguise the still-obvious structure here, and it would be a real treat to try it again in 10 or even 15 years, but then, it's a real treat right now, and so fine with the roasted mushrooms. Find this wine
Imported by Wine Cellars, Ltd., Briarcliff Manor, NY
BRAISED LAMB SHANK
Winter Vegetables

1995 & 1996 Château Cos d'Estournel
What more can one say about Bruno Prats' marvelous Cos d'Estournel than that it's one of the great wines of Bordeaux, and that's it was still a relative bargain until the 2003 vintage? Plenty, I suppose, but for now, we'll stick with the following notes.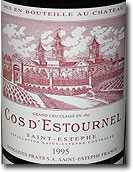 1995 Château Cos d'Estournel St. Estephe, 13% alc.: Deep dark garnet color, fading to pink at the rim, offering dusty old oak, earth, black currant and cedar on the nose; all soft satin in the mouth, with earthy cassis, cedar and hints of coffee and toast. Silky tannins, moderately low acidity and a long, lingering finish make for a classic claret and then some, and like all the other reds tasted on this occasion, it has a wonderful future ahead of it. Find this wine

1996 Château Cos d'Estournel St. Estephe, 13% alc.: Dark garnet color, fading to pink at the rim; the tight nose gives up some decaying vegetation, dusty old wood and a hint of cedar over black currant-cassis. The so-smooth flavors echo with an earthy base, and again, this is remarkably drinkable already, despite the deceptive structure, and the note of decay adds to the complexity of the greater whole, rather than detracts. Not the equal of the '95, but still a fine, classic claret that lingers nicely on the palate. Find this wine
Imported by The Kobrand Corp., New York, NY
FRENCH CREME PROFITEROLE
Peach, Apricot & Citrus Sauce

2001 Château Lafaurie-Peraguey Sauternes
Pastry chef Jennifer's Sweet Surprise was actually French Creme Profiterole. The Lafaurie-Peraguey Sauternes was a dessert course in and of itself, and quite delicious.



2001 Château Lafaurie-Peraguey Sauternes, 13.5% alc.: Pale gold color, with big oak offset with a note of old wood over sweet rich apricots; viscous, unctuous, smooth and lush, with a laser beam focus to the fruit and tons of botrytis. Utterly enjoyable, even at such a relatively tender age. Find this wine
Imported by The Stacole Company, Boca Raton, FA
PARMIGIANO REGGIANO & FRUIT

1995 Symington Quinta do Vesuvio Vintage Porto
1995 Symington Quinta do Vesuvio Vintage Porto, 20% alc.: Inky purple garnet color, fading to pink at the rim; earthy, fumy dark cherries and chocolate on both the nose and in the mouth. Still a young wine, big, rich and concentrated, with massive structure; a little rough now, but so rich, that you can overlook that. Still, this will show best with at least another 10 years of further bottle age and probably longer. Find this wine
Imported by Premium Port Wines, Inc., Sausalito, CA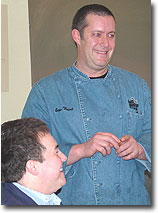 This was quite simply a killer wine dinner, and a great time was had by all. Many thanks to Brad Cook (below, left), who is so instrumental in organizing these and other tasting events, Madeline Triffon, Chef Eric Ward (left, over Brad's left shoulder) and the staff of Shiraz for providing the marvelous menu and superior service and all of the attendees for their friendship and camaraderie. We're greatly looking forward to the next gathering of this great group of friends and lovers of fine food and wine.



Reporting from Day-twah,
Bastardo

Other Recent Wine Explorations
Spice Route, Fairview and Goats Galore
Back to the February 2007 Index
Back to the Underground Index

Back to the Top



© George Heritier February, 2007