hree is a number with universal significance, being the first to which the meaning "all" was given, the number of the whole, including the beginning, the middle and the end. The principle of three appears again and again in our experience; consider heaven, earth, and water; body, soul and spirit; birth, life and death; past, present and future; Curley, Larry and Moe. The wines we've tasted lately continue to come at us in threes as well, but whether that is of any mystical significance remains unclear. What IS certain is that we've run into an exceptional bunch of wine trios as of late, and we can only hope that our good fortune continues during the New Year. Here's a rundown on what we've enjoyed in the last few weeks.

These first three were enjoyed with (and courtesy of) our friends George and Mary Palmer, proprietors of the delightful Taste Artisan Cheese and Gourmet Shop in San Diego, California.
~Three French Reds~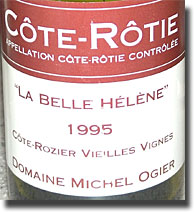 1995 Michel Ogier Côte Rôtie Cuvee Belle Helene Côte-Rozier Vieilles Vignes: Easily the best wine I've tasted in 2006, this dark garnet fades to pink at the rim, and offers gorgeous aromatics of bacon, black plum and garrigue, which echo loudly in the lovely flavors; the fruit is rich and beautiful, and very herbaceous, and that's a good thing! Mary remarked that it "starts out with velvet on the front and stays velvet all the way down," adding an impression of white pepper on the finish, and of course, the wine just gets better and better with air. Still well structured, this may well improve with further bottle age, but it's so good now, I'd be hard pressed to keep my hands off if I had any in my stash. Find this wine

Imported by Adventures in Wine, Daly City, CA
2000 Noel Verset Cornas, 12.5% alc.: Deep dark garnet color, with deep, dark black fruit and iodine flavors and aromas accented with a note of pepper and some "sticks-y" underbrush that emerges more and more with air. Despite the ample structure, this is surprisingly approachable, but still, it needs to age beyond its 10th birthday before it hit its stride, and then it will indeed be a beauty. Find this wine

Imported by Kermit Lynch Wine Merchant, Berkeley, CA

2003 La Bastide Blanche Bandol Cuvée Estagnol, $22.25, 14% alc.: We liked the regular '03 La Bastide Blanche a lot, so when I saw this one for so reasonable a price, it was an easy choice. Dark garnet, fading to pink at the rim, with grilled meat over dark fruit on the nose; flavors echo and expand with added saddle leather, earth, and briar-bramble underneath. Significantly structured, yet not unapproachable; thick, full bodied and impressive, but needs to rest until around 2013 to show its best. Find this wine

A Peter Weygandt Selection; Imported by Weygandt-Metzler, Unionville, PA



~Two Monte Bellos and an Orion~


The following three beautiful renditions of some of our very favorite wines were enjoyed the night after Christmas with Alan Kerr aka Canadian Zinfan and the enigmatic Madame Mystery. The two from Monte Bello Ridge were our first tastes of each since the great Ridgestock Sunday affair, while the '99 Thackrey was our first taste of that vintage period, and our first renewal of acquaintances with any Orion since August of 2005. All were well worth the wait.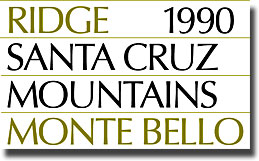 1990 Ridge Vineyards Monte Bello Santa Cruz Mountains, 85% Cabernet Sauvignon, 10% Merlot, 5% Petit Verdot, 13.5% alc.: This dark garnet colored Mr. Ridge is showing little if any bricking as of yet, and if you stuck your nose into a glass unnamed, no one would blame you for mistaking it for something Bourdeaux-ish. It offers earth and cedar, with some black currant in support, along with some shading of dusty cocoa; these impressions echo and expand on the palate with what CZ describes as "super-ripe plum, an almost oyster shell mineral aspect, seaweed and iodine." Ms. Tree added that it shows "more cassis as it opens, with that underlying green tone that you don't get from other fruit." Still lush and well structured, this would seem to have a good 10-15 years of great drinking ahead of it, and yet it already makes a marvelous match for grilled lamb-sicles. Find this wine

1997 Ridge Vineyards Monte Bello Santa Cruz Mountains, 85% Cabernet Sauvignon, 8% Merlot, 4% Petit Verdot, 3% Cabernet Franc, 12.9% alc.: Deep, dark garnet in color, with a dusty cocoa and black currant nose and some subtle Draper perfume that emerges with air; rich and lush in the mouth, with black currant, plum and earthy undertones. Nothing ripe or extracted about this, it's all about balance and structure, with pure claret character and while it has a long future ahead of it, it's already starting to hit its stride and drink really well, and also pairs deliciously with those lamb-sicles. Find this wine

1999 Sean Thackrey Napa Orion California Native Red Wine Old Vines Rossi Ranch, 14.8% alc.: A deep, dark garnet in color, with big dark plums and blackberry aromatics right away; MM finds some heat here, but Alan and I don't. Kerr added, "It's plastic-y on the nose; I know that's not going to sound complimentary, but I like it." I get none of that either; I do get a note of eucalyptus, leather and pine needle, and all of these follow through on the palate, being rich, ripe and yet fabulously balanced. As it continues to open, it elicits such descriptors as burnt couverture chocolate from Kim and iron from the Mysterious Madame, and Alan mentions something about getting "a tilt in me kilt." So nice right now, but it's almost certainly not yet at its peak, and can easily go for another 10 years and more. Of these three truly great wines, this one may have been the Wine of the Night, and that, my friends, is saying something. Find this wine



~Three '97 Napa Cabs~


Our buddy Bennett Traub was in town once again to take care of business, and as we are often wont to do, we got together for dinner and drinks. On this particular occasion, the drinks were in the form of some 1997 Napa Cabernet Sauvignons, and were enjoyed with that old Gang of Pour standby from the grill, lamb burgers. Laugh all you want, but they're easy, they're good and they're mucho cab friendly. We got things started, courtesy of Mr. Traub, with one from an outfit that Kim and I are quite fond of, but from a vintage we'd never tasted.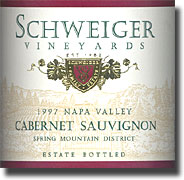 1997 Schweiger Napa Cabernet Sauvignon Spring Mountain, 13.9% alc.: Deep, dark garnet color, fading to pink at the rim; the toned down sweet oak hasn't turned tertiary yet, so it caresses the black currant and blackberry aromatics accented with subtle overtones of blueberry and mint. It's not as sweet on the palate, offering earthy black currant with shades of tobacco, briar and bramble. Full bodied, with fine tannins, balanced acids and very good length; after tasting through this trio, this is clearly the best of the bunch, with its attractive nose and impressive personality. A lovely wine, and a classic Napa Cabernet Sauvignon. Find this wine

1997 Karl Lawrence Napa Cabernet Sauvignon, 13.6% alc.: Bennett described this slightly cloudy dark garnet as "denser, more brutish, sullen and not as friendly as the Schweiger," and in fact, it's not as expressive on the nose as the previous selection, but the chocolate-y black currant and blackberry aromas do follow through and fan out on the palate with some added tobacco fairly nicely, albeit with low acids and a plump character that doesn't appeal to me all that much. (The latter observation might be interesting, given the sobriquet of the following wine. Or not.) Of the three tasted on this occasion, this is the lowest in alcohol (maybe they lied), and the ripest in flavor. Certainly drinkable and enjoyable, but it has some chubby chocolate issues that just rub me wrong. Find this wine

1997 Plumpjack Napa Cabernet Sauvignon Oakville, 13.8% alc.: Deep dark garnet color with no rust as of yet, and not quite up to either of the other two wines here; it does open up and emerge from the "shadow" of the KL, showing somewhat earthy black currant and tobacco in both flavor and aroma. While it shows good structure and presence, it lacks the depth of the other two for me, although Bennett characterized it as "a little brighter, with a little more acid than the Karl Lawrence." At least it's not the chub-butt that the KL is. It's full bodied, but not as full as the others, and while fairly well balanced, there's a hollowness in the middle that is a detraction for this taster, and it's definitely not as impressive as when we tried it two years ago. Bennett likes it better than the KL, while that vacancy in the middle knocked it down to #3 for me. Find this wine



~Three Grower Champagnes~


Since going on my bubbly binge during the recent MLB playoffs and World Series, I've continued to investigate the varieties of the sparkling wine experience, and hooking up with a Champagne geek like Brad Baker has been most enlightening; the man has displayed a wealth of knowledge, and I'm lovin' it, trying new sparklers three or four times a week. Brad and his wife Michele dropped in for dinner and drinks not long ago, and what better drinks could we have than Champagnes from three artisanal grower-producers? (Readers may also be interested in comparing the following notes with Brad's take of these selections.)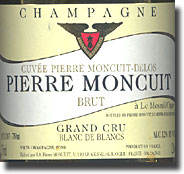 Pierre Moncuit Cuvee Pierre Moncuit-Delos Grand Cru Blanc de Blancs Brut NV, Le Mesnil-sur-Oger, 12% alc., disgorged 09/05.: Pale gold in color, with all the trimmings (good mousse, fine active bead); big toasty, yeasty bread dough and yellow apple flavors and aromas. Medium full body, rich and delicious, with excellent zip and intensity; made entirely from Chardonnay, sells for around $30. This estate is situated in Mesnil-sur-Oger, with about 25 hectares of vineyards planted exclusively to Chardonnay, all wines being produced from a single vintage, even those labeled non-vintage. Yves Moncuit takes care of business, while Nicole Moncuit tends the vines and makes the wines. Find this wine

Imported by AHD Vintners, Ltd., Warren, MI

Jean Laurent Brut Rosé NV, $46.99, 12% alc., disgorged in either August or September of 2005: Salmon/strawberry pink color, with strawberry, watermelon and cherry flavors and aromas; not really toasty, not really yeasty; Brad calls it meaty, adding that it's not feminine, but rather masculine. Really shows its 100% Pinot Noir makeup more and more with air, and a certain creamy quality emerges as well, along with a note of smoke. The clear favorite of the three tasted here; even Kim, who is no bubble-head, likes it. Aged a minimum of five years on yeast. According to the Hand Picked Selections website, Jean Laurent's family has been growing Champagne in the village of Celles sur Ource, located in the Aube region, for over 1,000 years; Laurent limits yields to below authorized maximums and uses a minimum of herbicides and pesticides, thanks to repeated plowing, hand care and organic fertilization. We've already made our admiration for his wines known, and this one only strengthens that respect. Find this wine

Imported by Hand Picked Selections, Warrenton, VA

Alfred Gratien Brut Cuvée Paridis NV, 12% alc.: Golden color, with bull mousse, medium active bead and Don Ho (tiny) bubbles; somewhat oxidized, but in a good way, and obviously an older bottle, with a rich nutty, sherried character than doesn't show a lot of fruit. Brad added impressions of "baking spice and a creamy nutty finish." This opens nicely with air, becoming more and more enjoyable, but still finished third among these three in my opinion, despite Brad's observation that it's "very old school, just the way Krug does it." Champagne Alfred Gratien is located in Epernay, and Cuvée Paridis is produced from approximately 75% Chardonnay, 15% Pinot Noir, and 10% Pinot Meunier; we were unable to deduce a date for disgorgement of this bottle. $75-100 is simply too much money to pay for what we found in the bottle on this occasion. Find this wine

Imported by New Castle Imports, Inc., Myrtle Beach, SC



~Two Vintage Champagnes and One More Grower~

The following three were tasted at a delightful "Champagne and Appetizers Party" thrown by George and Mary Palmer.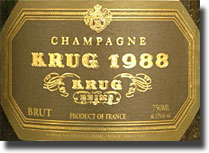 1988 Krug Brut, 12% alc.: Pale gold color, with the big mousse, and moderately active bead; there's still no oxidized character here as of yet, and while it's not exactly primary, it's not exactly secondary either. Even though it's hard to describe any fruit characteristics at first, this is definitely rich on the palate, with an earthy nuttiness to it; as I meditated over a generous pour, courtesy of Walt Nagy, it came together to reveal an earthy mineral, smoke, quince and under-ripe apple personality, showing excellent intensity, length and pairing beautifully with a lovely Pierre Robert Triple Cream cheese, "the soul mate of Champagne." Easily one of the two or three best Champagnes I've had the pleasure to experience. Find this wine

Imported by Clicquot, Inc., New York, NY

1999 Taittinger Brut Millésime, $46.99, 12% alc.: Medium straw in color, with big mousse, a very active bead and rather different flavors and aromas; it gives up a big yeasty bread dough nose, followed by apple-like flavors that aren't under-ripe, with good intensity, acids and length. Fairly one-dimensional at this point, but pleasant enough for all that. Perhaps this in need of further bottle aging. Find this wine

Imported by The Kobrand Corp., New York, NY

Gaston Chiquet Blanc de Blancs D'Aÿ Brut NV, $36.99, 12.5% alc.: The cork from this pale to medium straw colored Champagne was tossed before I could record the date of disgorgement; it shows fine mousse, with an active bead but doesn't give much on the nose. On the palate, it's all flinty, smoky earthy under-ripe apple, with excellent intensity, zippy acidity and a long finish. As it opens in the glass, it really shows its toasty, yeasty notes, and proved to be quite tasty, more so, in fact, than the '99 Taittinger. Find this wine

A Terry Theise Estate Selection – Imported by Michael Skurnik Wines, NY
Reporting from Day-twah,
Bastardo

Other Recent Wine Explorations
Spice Route, Fairview and Goats Galore
Following Up With Fisher, Ladera and Schweiger
QPR All Stars: MAN Vintners & Marqués de Cáceres
Back to the Underground Index

Back to the Top



© George Heritier January, 2007