On the palate, it shows less chocolate and more of the earthy, briary black fruit, finishing long with the earth and briar taking dominance. Well structured, yet quite approachable now, this is worthy of grilled red meats, a hearty stew and Red Wings hockey, and as is so often the case, it gets better and better with air. Three to five years in the cellar will reward patience with an even smoother, more harmonious wine, and despite the note of "chocolate" detected in this one, there's really nothing "international" about it, so so-called purists need not avoid it. Find this wine

Imported by Kysela Père et Fils, Winchester, VA

We'll always try anything imported by J.C. Mathes and J et R Selections, and the following two wines are from producers that we've greatly enjoyed previously.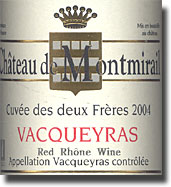 2004 Château de Montmirail Vacqueyras Cuvée des Deux Frères, 14.5% alc., $21.99: Ruby dark garnet in color, with less than effusive aromatics that give a little earthy, some decaying vegetation and a hint of ash; more generous on the palate, with earthy plum and berry, vanilla and Maraschino cherry (White House) ice cream and again, the slight notes of ash and decaying vegetation. A solid core of fruit offsets the earth and funk, and this has the structure to age and develop for at least another three to five years. It aired for about 90 minutes before we tried it, and that didn't hurt it at all, as it drinks very well if you like funky Rhônes, which of course, we do. Interesting and enjoyable. Find this wine

2004 Domaine de la Tourade Côtes du Rhône, 14.5% alc., $12.99: Dark garnet color, fading to pink at the rim, reticent on the nose, but offering nice flavors of earthy plum and beet root, with a very subtle overlay of chocolate and a somewhat creamy mouth feel; good depth, structure and length, and while a year or two in the cellar wouldn't hurt it at all, it's already drinking very well, with or without food. Excellent QPR. Find this wine

Château de Montmirail and Domaine de la Tourade imported by J et R Selections, Mt. Pleasant, MI

We tasted through another batch of wines from the Perrin family, most of which are upcoming releases, but we started with one that we found in The Andersons on Talmadge in Toledo.

2000 Perrin & Fils Vacqueyras, 80% Grenache, 20 % Syrah, 14% alc., $23.99: Dark garnet color; earthy black plums and prunes, shaded with some subtle leather on the nose. The big flavors give plenty of earthy black plum, prune, iron, cola and root beer-rock 'n' rye; at a little over six years old, this is still a massive, well structured wine that only starts to open with an hour's worth of air, and really comes around after about three, so give it that much time in a decanter and enjoy it with a good grilled haunch of beast and/or a good Red Wings-Blackhawks game. It seems to have more than enough depth of fruit to make it to 2010 to see where the tannin levels are at that time, and I think it may well be in its prime drinking window on its 15th birthday. A big, solid Vacqueyras, this. Find this wine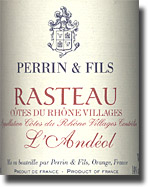 2005 Perrin & Fils Côtes du Rhône Villages Rasteau L'Andeol, 80% Grenache, 20% Syrah, 14% alc., $18.99: This ruby dark garnet colored Rasteau is very tight on the nose right now, offering only a glimpse of the flavors to follow; hard, tannic, earthy black plums and currants are accented with some briar and bramble in the background, and with an hour of aeration, some leather and mahogany emerge in both flavor and aroma. The first half glass of this was unaccompanied and hard to cozy up to, but when paired with a lamb shawarma and a plate of tabouli, it transformed into a rich, almost ripe red wine, becoming much more user friendly, and I suppose that there's a lesson there. So, try it now with food, or lay it down for five years and have it with food then as well! A solid successor to the fine 2004 model. Sourced from south-facing slopes protected from the mistral winds, which produces early ripening grapes; they then undergo the same flash heating process prior to fermentation as at Château de Beaucastel. Matured 90% in stainless steel tanks and 10% in oak casks, with 6 months of further bottle aging. Find this wine

2005 Perrin & Fils Vacqueyras Les Christins, 80% Grenache, 20 % Syrah, 14.5% alc., $22: Deep, dark garnet color, with a stingy nose that only hints at the big, earthy black fruit flavors complimented with a surprising note of bacon, shades of briar-bramble and a bit of pepper; well structured, turning somewhat astringent on the finish, this is obviously in need of some cellar time, and should be showing really well in about five to eight years, but that's not to say that you can't give it an hour or two in a decanter now and enjoy it with beef, lamb or a hearty stew. The 20 acre Les Christins vineyard is located in the commune of Sarrians, leased by the Perrin family and operated by the Beaucastel team; vines average around 50 years of age. After crushing, the grapes are slowly fermented for a month in 50-hectoliter vats, and then matured half in tank and half in cask. Find this wine

2005 Perrin & Fils Côtes du Rhône Villages Vinsobres Les Hauts de Julien, 50% Syrah, 50% Grenache, $45, 14% alc.: Deep, dark garnet color, offering flavors and aromas of earthy black plum, black currant, briar-bramble, a little cola and a stony minerality. Full bodied, balanced and well structured, this is a solid wine that already drinks well and shows excellent prospects for several years of further development; I wouldn't flinch at a mid or even high $20s price tag, but $45?! True, the wine has a certain rough elegance that's bound to smooth out with age, but I wouldn't cough up the SRP for this, no matter what the age of the vines. It's what's in the bottle that counts, and this doesn't offer that kind of quality, from what we tasted. Maybe time will prove me wrong, so let's give it the benefit of the doubt and just say that the jury is still out on this one. Les Hauts de Julien is owned and farmed by the Perrin family; this wine is sourced from a single plot of 90-year old vines. The Syrah and Grenache are co-fermented, with 15% seeing French oak aging, then bottled unfiltered. Find this wine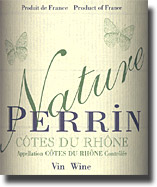 2005 Perrin & Fils Côtes du Rhône Nature, 95% Grenache, 5% Syrah, 13% alc., $13.99: This shows a clean dark garnet color from rim to rim, and gives up aromatics of smoked stone, earthy, brambly black currant and a hint of licorice; red currant and red berries take over on the palate, along with more of the same earth, bramble and smoked stone. Not a "huge" wine (medium full to full body), but very well structured, with significant tannins and plenty of acidity. After an hour and a half, the preponderance of Grenache shows more and more, with earthy, leathery strawberry and raspberry characteristics emerging. This is pretty good already with extended air and a grilled lamb burger, and it'll be even better in three to five years; $13.99 is a fair price to ask for this, a much better Côtes du Rhône than you get these days from the likes of Guigal or Jaboulet. Sourced from a single vineyard with full Ecocert status in the commune of Tulette, not far from Vinsobres; traditional winemaking, with long maceration (almost three weeks), no fining and matured in tanks and large oak vats. Find this wine

2005 Perrin Reservé Côtes du Rhône Rouge, 60% Grenache, 20% Syrah, 20% Mourvedre, $10.99, 13% alc.: Dark garnet in color, with a pretty, if not overly effusive nose of black plum and red currant and berry that echoes and expands on the medium full to full bodied palate with a solid earthy anchor and excellent structure; it shows a little less earth and a little more fruit than the 2005 La Vieille Ferme Rouge noted below, which was tasted on the same occasion. A nice all around everyday CdR that shows neither any weaknesses nor any great strengths; it does exactly what it's supposed to, and that's fine by me. Like last year's model, made from fruit sourced from Perrin's vineyards at Grand Prebois and Vinsobres, as well as from leased vineyards and purchased grapes and wines; fermented and matured mainly in tank, with 25% in casks, then fined with egg whites and bottled. Find this wine

2005 La Vieille Ferme Côtes du Ventoux Rouge, 50% Grenache, 20% Syrah, 15% Carignan, 15% Cinsault, $7.99, 13.5% alc.: Ruby dark garnet color; earthy black plum and black currant, with a hint of herbaceousness on the nose; even earthier on the palate, being medium full bodied, with a solid intensity of fruit. Well structured, with a good dose of tannins and zippy acidity, excessively so, until I took a bite of Parmesan cheese and then a tri-tip steak. Give it some air and have it with some food now, but don't be afraid to put it down for a year or two either. Sees 10 months in both cement vats and large oak barrels, then fined, filtered and bottled. Find this wine

OK, so the next selection noted here isn't a red Rhône, but being another new offering from the Perrins and a Châteauneuf du Pape, we thought that there is a certain continuity maintained with its inclusion. Anyway, that's our story and we're sticking to it.

2005 Perrin & Fils Châteauneuf du Pape Blanc Les Sinards, 75% Grenache Blanc, 25%Clairette, 13% alc., $34: Pale honeycomb golden color; not giving much on the nose, but pleasant enough, if not terribly complex or expressive on the palate, with yellow apple, a little honeycomb and some subtle minerality. Medium full body, decent acids and length, with good concentration. The only thing wrong with this wine is the price tag; it's simply not worth $34 based on what it's showing now, or what it suggests for the future. Perhaps a few years of development will surprise this taster, but I probably won't be buying any to find out. Sourced from a leased 2.5 acre vineyard; the hand picked and sorted grapes are laid in small boxes. Crushed pneumatically, then the must is settled to separate the solid particles. 50% of the fermentation takes place in new oak barrels, with the remainder in 1-year barrels. Find this wine

Perrin & Fils and La Vieille Ferme imported by Vineyard Brands, Inc., Birmingham, AL

Finally, we've reported on the following Costières de Nîmes producers previously, but they were not included in our Red Wings and Red Rhônes pages, because although the appellation IS in the southern Rhône Valley, it is more often associated with the Coteaux du Languedoc. Arguments could probably be made as to whether or not these two actually belong here, but since they went so well with a 6-2 Red Wings victory the Chicago Blackhawks in early March, we think that gives all the justification we need.

2005 Château Grande Cassagne Costières de Nimes "G.S.," 13.5% alc., $9.99: My better half absolutely LOVED the 2003 version of this dark garnet colored Grenache-Syrah blend; she called it "her wine," and I was fortunate that she shared several with me, because they were very tasty. This one is a fine follow-up, with fairly ripe earthy black plum, currant and berry, shaded with some herbaceous notes and just a hint of chocolate, showing solid concentration, structure and length. I got the last glass from the bottle a few hours after it was opened and it's drinking quite nicely, but there's no reason to think that it won't do well with three to five years in the cellar. Find this wine

2003 Château de Valcombe Costières de Nimes Cuvée Tradition, 70% Syrah, 30% Grenache, 13.5% alc., $10.99: Dark garnet in color, with ripe, earthy red currant and plum accented with a hint of chocolate on the nose; the flavors echo and expand with smoke, grilled meat and a subtle herb-infused thing in the heart of the wine, along with what Kim describes as "a plastic-y, Play Dough quality, " and I can see, or make that taste, what she means. It exhibits a smooth, sleek mouth feel, with good structure and length, and while it never quite loses that note of plastic, it does recede to become a minor detraction in an otherwise pretty nice red. Find this wine

Château Grande Cassagne and Château de Valcombe imported by Robert Kacher Selections, Washington, D.C.
Reporting from Day-twah,
Bastardo

Other Recent Rhône Explorations
Rednecks & Red Rhônes 2007 "Yo, Dood, Wake Up!
Wines of Domaine Berthet-Rayne
More Red Wings and Red Rhônes 2006
Red Wings and Red Rhônes: The Boys Are Back In Town!
Back to the Underground Index

Back to the Top



© George Heritier April, 2007