2005 Spice Route Swartland Pinotage, $23, 14.5% alc.: Sporting an ink-like purple garnet robe, this offers tarry dark plum and berry on the nose, followed by deep dark plum, blackberry and black cherry on the palate, shaded with some well-integrated toasty oak and good doses of earth and tar; it shows real density, structure and even power, and seems to have the stuffing to age and improve for at least five years. Like so many fine reds from all over the world, it opens nicely with 1 ½ hours of air, becoming much more harmonious, so give it some time in a decanter and you can enjoy it now. My better half spoke for both of us when she enthused, "I like this a lot!" Fermented in 5 ton open concrete fermenters, with manual hand punch downs twice a day; full malolactic fermentation in barrel; matured in American oak (40% new) for 11 months. Find this wine

2005 Spice Route Swartland Chenin Blanc, $17.99, 14.5% alc.: This concentrated, aromatic, pale gold colored Chenin gives up nice green apple, melon and white peach in both flavor and aroma, showing rich, but not sweet fruit; almost, but not quite oily with good density on a medium full bodied frame, all braced with excellent acids. This saw some oak, but in this case, it compliments rather than detracts, and it will pair well with a variety of seafood dishes. Sourced from a 28 year old vineyard, fermented in French oak, with partial (75%) malolactic fermentation; matured in oak (20% new) for 10 months. Find this wine

2005 Spice Route Coastal Region Sauvignon Blanc, 12% alc.: Pale straw color with a lemon-y tinge; the green apple, gooseberry nose follows through on the palate with good minerality that intensifies right on through the finish and finally showing something reminiscent of detergent (a not-uncommon characteristic in Loire Valley whites); this shows crisp acidity, with good weight, balance and length, making for a solid Sauvignon and a refreshing change of pace from the ubiquitous steroidal Kiwi yeast monsters. Harvested in February 2005; picked ripe at sugar level of 24.5°B., Whole bunch pressed and fermented in stainless steel tanks. Find this wine

2005 Spice Route Swartland Viognier, 14% alc.: Medium straw in color, with rather plain, straightforward apple, melon and hint o' peach flavors and aromas, with little, if any
pizzazz; it doesn't suck, but it doesn't excite either. A drink-me-now, forget-me-later
kind of wine (although it serves well enough with seared diver scallops), this is the first
wine from this label that doesn't do much for me. I have read good things about this, so it's possible that we encountered an off-bottle; jury's still out on this one. Harvested 29 January 2005; picked at 24.2° Balling (Brix), and whole bunch pressed, then fermented in second, fourth and fifth fill French oak barrels; spent seven months on lees in barrel prior to bottling. Only 22 barrels produced. Find this wine

These are by no means the only wines that Spice Route produces; we're looking forward to trying more from these folks somewhere down the road, especially their heralded their Flagship line.

While we've had some experience with Fairview wines in the past, this time out, we were able to get a better cross-section overview of what they produce, starting with a delicious Shiraz.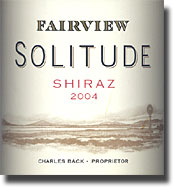 2004 Fairview Paarl Shiraz Solitude, 14% alc.: A pretty dark garnet in color, with aromatic toasty oak, sweet (but not too sweet) plum, mulberry and blueberry that follow through beautifully on the palate with creamy undertones; this is not just approachable, but downright enjoyable, with the structure to improve for at least a few years. The oak can't quite mask the subtle earthiness at the wine's core, and if said oak wasn't handled with a deft hand, I wouldn't like it as well as I do. It makes a very nice match for Indian curried lamb and chickpea dal. Harvested in Mid February 2004, at 26.4º Balling (Brix). Grapes were transported to the cellar in 12kg mini lug-boxes, pre-cooled and then destalked and hand selected; whole berries were transferred to 600 litre open-ended new French oak barrels. Approximately 400kg of grapes per barrel were allowed to ferment naturally. During fermentation, they received four manual punch downs per day, followed by post- fermentation maceration for approximately ten days, then basket pressed and returned to 225 liter French oak barriques for malolactic fermentation and ageing for another 16 months. Click here for further vineyard tech notes. Find this wine

2005 Fairview Coastal Region Pinotage, $14, 14.47% alc.: With a ruby garnet robe, this exudes a lovely bouquet of perfumed dark plum and berry and black cherry that has a distinctive feminine aspect to it; the flavors echo with more muscle on a medium full bodied frame, showing good density and structure, along with some smoke, spice and earth underneath it all, which linger long on the finish. Rich and lush without going over the top, with a savory aspect that sets the tone to its personality, this drinks pretty well right now, especially with an hour in a decanter and paired with a baked pulled pork pie, but a year or two in the cellar will help to smooth out some frisky tannins without sacrificing much, if anything in the way of fruit. Harvested mostly from bush vines, some over 25 years old, and supplemented by a small amount of fruit from a younger trellised vineyard at Fairview; the vineyards are at three sites, Malmesbury and Agter Paarl with their dry farmed vineyards on deep soils and the Paarl fruit grown on sandy soils. Harvested in late January and early February 2005, picked over a number of days at sugar levels between 24º and 26º Balling. The bunches were destalked, and lightly pumped through the crusher with the rollers full open. After malolactic fermentation was completed in stainless steel, the wine spent ten months in used French and American oak barrels, before blending and bottling. Find this wine

2004 Fairview Coastal Region Shiraz, $15, 14.83% alc.: Ruby garnet in color, fading to pink at the rim; not terribly expressive on the nose, giving some red plum, berry, tar and a little oak. Flavors echo with some spicy character, medium intensity, decent structure and length, but there's nothing to distinguish this from dozens of other $15 Shiraz. It's balanced, food friendly and "correct," it's just not very exciting. Perhaps the problem here is tasting it directly after the '05 Fairview Pinotage, which is clearly the superior wine, regardless of the difference in varietals. Harvested February 2004; grapes were destalked but not crushed, and Rhone yeasts were used for fermentation; malolactic fermentation completed in stainless steel tanks, then the wine was racked and put in barrel (predominantly French oak with a touch of new American oak for seasoning) for 14 months. Find this wine

2005 Fairview Coastal Region Viognier, $19.99, 15% alc.: Pale straw in color, with a tinge of peach, offering peach, pear and a hint of honeysuckle in both flavor and aroma; almost fat, not quite oily, with excellent cut. Bright and rich, without the overt floral character that many of the Left Coast models show, and slightly (and not uncharacteristically) bitter on the finish. My better half exclaimed "This wine rocks!" I have no reason whatsoever to disagree. Harvested February 2005; picked ripe at 25.2ºB, once the skin color changes to a slight yellow color on the shoulder of the bunch; picked early morning and whole bunch pressed. Fermentation in 50% second fill, 15% new French oak and the remainder in tank. After fermentation, the wine was left sur lie for four months, with battonage weekly and limited natural malolactic fermentation during this time, then blended and prepared for bottling. Find this wine

2006 Fairview Coastal Region Sauvignon Blanc, $12.99, 12.45% alc.: Medium straw in color, with a lemon-like twinge; bright, rich grapefruit and gooseberry flavors and aromas, with a not-so-subtle undercurrent of minerality; good intensity, cut and varietal character, making for an all-around solid Sauvignon that offers good QPR. Harvested from the 5th through 14th February 2006 from a number of vineyard sites in the Swartland and Stellenbosch areas; picked at between 21° and 22.5° balling, and fermented in stainless steel tanks at 13° Celsius; cold fermented, and left on its lees before blending and bottling. Find this wine

We've already expressed our fondness for Charles Back's wacky Goats do Roam wines, so we were jazzed to try three newer bottlings, along with some new versions of old favorites and a few old faves themselves.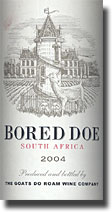 2004 Goats do Roam Coastal Region Bored Doe, $12.99, 14.5% alc.: Dark garnet color, with sweet cassis, black currant and black cherry flavors and aromas, underscored with some subtle earth; smoothly textured, with decent structure and good length. A little too sweet for Kim's tastes, but the earthy base provides good counter-balance for this taster. A good value and a good buy for those who like their Bordeaux blends upfront and fruit forward. Harvested in late February and early March 2004; Cabernet Sauvignon and Merlot grapes are grown on both the Fairview estate in Paarl and the Houmoed farm in Stellenbosch, Petit Verdot and Malbec are grown in Agter Paarl. The grapes are crushed and destalked, then Bordeaux yeasts are used and fermentation takes place in stainless steel tanks, with daily pumpovers. The wine is pressed off, and malolactic fermentation is completed in tank. The wine is transferred to barrel, predominantly 2nd to 4th fill French oak barriques, matured for 12 months and then blended, lightly filtered and bottled. Merlot(48%), Cabernet Sauvignon (28%), Malbec(13%) and Petit Verdot (11%). Find this wine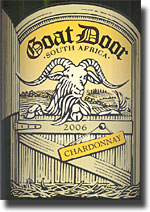 2006 Goats do Roam Coastal Region Chardonnay Goat Door, $12.99, 13.94% alc.: Medium straw in color, showing slightly tart green apple and pear, with a streak of lime and subtle spicy overtones; bright, rich and quite flavorful; medium full body, excellent acids and concentration and a good finish. A somewhat off-beat expression of the varietal, but a very tasty one that sees some oak, but doesn't show it all that much. I really like this wine. Harvested in February 2006; sourced from three vineyard sites,the Fairview estate, at the foot of Paarl Mountain, an older vineyard in the Paardeberg region, and a selection of vineyards between the Agter-Paarl region and Riebeek West. After three months contact with lees in barrels, and some components undergoing tank ageing the wines are blended, stabilized and bottled. Find this wine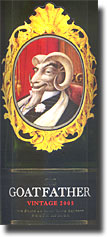 2005 Goats do Roam Coastal Region The Goat Father, $14.99, 14.5% alc.: Goats do Roam's entry into the Italian varietal realm, this rim-to-rim dark garnet blends Shiraz, Cabernet Sauvignon, Merlot, Barbera and Primativo, sourced from vineyards in Paarl, Agter- Paarl, Perdeberg and Stellenbosch. It had been open for a few hours by the time I got to it (Kim really likes it…); the nose shows a note of perfumed spicy oak over black cherry, berry and currant, underscored with earth, sticks and leather. Flavors generally echo, and nicely so, with good, balance, excellent structure and solid presence without any sense of excess extraction. A nice wine that should pair well with many red-friendly meats and pastas, and it drinks pretty well all by its lonesome to boot; a few years in the cellar should only make it better. Harvested in February 2005; after being de-stalking and being lightly crushed, the juice was fermented in stainless steel tanks. After malolactic, the various components were aged in 225 liter barriques for 12 months, a mix of French and American oak, mainly 2nd to 4th fill, with approximately 10% new wood being used. The wine was blended and lightly filtered once before being bottled. Find this wine

I found it interesting to try the following two wines once again after almost a year and a
half.

2003 Goats do Roam Goat-Roti, $16.99, 14.5% alc.: Dark garnet, fading to pink at the rim; not too expressive on the nose, but there's good intensity to the dark plum and berry flavors accented with some earth and tar. The wine has a nice density to it without being over extracted, being full bodied, well structured with some slightly burry tannins that smooth out with air and showing decent length on the finish. A solid Rhône blend that delivers good QPR; blended mainly from Shiraz, Grenache, Carignan and Viognier. Find this wine

2004 Goats do Roam In Villages Coastal Region Red Wine, $14.99, 14.5% alc.: Dark garnet color, with earthy, tarry dark plum and berry flavors and aromas; medium to medium full body, with medium+ intensity, decent structure and a fairly smooth personality, this one starts out a little slowly, but picks up momentum with air and morphs into a pretty nice red wine. A blend of shiraz (74%) and pinotage (26%), with the components co-fermented, then aged in a mixture of French and American oak, 10% new, with the remainder 2nd and 4th fill, for 12 months. Find this wine

2005 Goats do Roam In Villages Western Cape White Wine, $14.99, 14% alc.: Pale to medium straw in color, this wine isn't as enjoyable as the 2004 version; it's perfectly drinkable, but ultimately forgettable, showing fairly low acidity and not-quite-bland apple and pear flavors with a so-so finish. Not a lot here to recommend this. Find this wine

2005 Goats do Roam Red Wine Western Cape, $10.99, 14% alc.: A clean dark garnet in color, with a subtle, but attractive perfume of cola-root beer and some little floral notes; on the palate, it's hard to describe any fruit components, as the dominant characteristics seem to be the same cola-root beer, some soft leather and a note of chocolate. Medium to medium full body, with medium intensity and concentration and moderate tannins for short term cellaring. This shows none of the tarry character that the 2003 model did, and that's not a criticism, because, all in all, it's a solid everyday red. Tasted twice with consistent impressions. Harvested in February 2005, from vineyards in the Paarl, Perdeberg, Piekenierskloof and Malmesbury regions, mostly sourced from dry farmed old bush vines, providing low yields, resulting in wine with considerable concentration. This vintage incorporated fruit from Stellenbosch for the first time, adding ripe, supple tannins to the blend. Primarily Shiraz and Pinotage with Cinsaut, Mourvèdre, Grenache, Merlot, Carignan, Gamay and Cabernet; harvested ripe and destalked before being fermented at 25 - 28

°

C; lightly oaked before being blended and bottled. Find this wine

2006 Goats do Roam White Wine Coastal Region, $10.99, 14% alc.: Medium straw color, medium to medium full body, fairly ripe, with good intensity and excellent acidity, offering apple, melon and lime flavors and aromas with some underlying minerality; this has an almost tangy quality to it, and pairs well with some pan fried tilapia. Find this wine

Spice Route, Fairview and Goats do Roam Wines are imported by Vineyard Brands, Inc., Birmingham, AL

Reporting from Day-twah,

Bastardo

Other Recent Wine Explorations
Following Up With Fisher, Ladera and Schweiger
QPR All Stars: MAN Vintners & Marqués de Cáceres
Back to the Underground Index

Back to the Top



© George Heritier December, 2006