Bigdog's Sine Qua Non Tasting
By George Heritier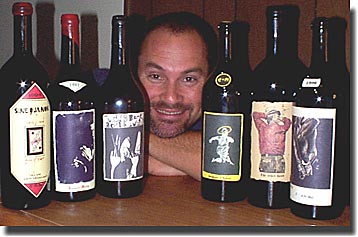 There was a small, informal gathering at Chateau califusa planned for the night before the big do at Montelena. Jon Cook (above) aka Bigdog had a spread of wines from Sine Qua Non he wanted to share, and that was the focal point of the evening. Bree threw a leg of lamb on the grill with plenty of fixins to go along with it, and viola, we had a party!
In attendance were Bigdog, George Palmer, Mary Adams, Larry and Mary Meehan, Russell Briggs, Ken Rosenfeld, Richard Leland, Lisa Doenecke, Bree, Kim and this taster.
1996 Hacienda Monasterio Ribera del Duero, $30, 13.5% alc.: George Palmer brought this impressive dark garnet along, and for the first few of us, it was our aperitif! It exhibits deep dark plum/blackberry character with significant tannins and good acidity; intense and concentrated, this is serious stuff. Give it at least five years to mellow.
Bree pulled some fine Chardonnay from his cellar to really get things going, and I wasted no time going right for the Kistler.
1994 Kistler Sonoma Coast Cuvee Cathleen, 14% alc.: This medium straw is showing beautiful complexities as it matures, featuring matchstick/asparagus/canned peas/pineapple and hints of butterscotch on the nose, gaining more rich pineapple/pear on the palate. Richard noted "butterscotch/crème brulee," while Bree marveled at the "incredible mouthfeel." The oak isn't at all overdone, there's just enough acidity to keep it lively and it has a nice long finish. This is the second '94 Kistler Chardonnay we've tasted in a month courtesy of califusa, and both have been absolutely wonderful. That goofy George Palmer said, "It only has one fault; it's California Chardonnay."
1997 Rochioli Russian River Valley Chardonnay, 13.9% alc.: Pale to medium straw, this shows big oak (but not too much) /pear/tropical fruit/green melon flavors and aromas. It's rich and intense, and like the Kistler, has just enough acidity to keep it lively. Russell found it to be "a bit over the top," and George mentioned "a bit of a metallic finish."
1997 Flowers Sonoma Coast Chardonnay Camp Meeting Ridge, 14.3% alc.: Pale gold with toasty sweet oak/tropical fruit/hint of asparagus aromatics that follow through on the palate, this shows the most acidity of these three. The fruit is somewhat restrained and not as overt as the Rochioli, with nice balance.
I liked all three of these, as each had its own distinctive qualities and charms, but I'd have to pick the Kistler as my favorite for its mature complexities and marvelous depth. At that point, we were ready to move on to the Sine Qua Non lineup, and someone asked Bigdog if they should be consumed in any particular order. His deadpan reply was, "You might want to start with the whites…"
1996 Sine Qua Non Omadhaum & Poltroon Alban Vineyard, 60% Rousanne, 40% Chardonnay, 15.2% alc.: The name of this medium straw is German for Chicken Manure and Feathers, but it tastes and smells more like matchsticks and pears to me, with a good jolt of oak to boot. Rich and concentrated with low acidity, there's nothing chickenshit about this big white; Russell says it's "gaining some elegance," and he's had it before, so he should know.
1997 Sine Qua Non Twisted and Bent, 60% Rousanne, 40% Chardonnay Alban Vineyard, 14% alc.: George and Russell said that the oak in this medium straw is toning down too, but it's still more obvious than in the Omadhaum & Poltroon; Larry couldn't get past what he referred to as a "charred" quality. It isn't exactly sweet or toasty, just huge. Unctuous, with nice floral notes and serious intensity, it shows excellent acidity, rich pear/melon flavors and aromas, and what Doggie described as "seaweed on the nose." This has all the stuffing to improve for some time.
Jon told me that all four of the reds are Syrahs, although some have small amounts of Grenache.
1994 Sine Qua Non Queen of Spades: We couldn't find an alcohol level on the label but we drank this inky garnet anyway and it received a wide range of impressions. Ken wasn't wrong when he called the nose "grilled meat and burnt rubber," and Mary A. added, "barnyard; very Bridgestone." This has tannins that are mostly resolved, good acidity, ripe plum/ multi-berry/coffee flavors with a hint of herb and a long finish. Russell commented that "it wasn't coming together in some way," and Ken added "a little disjointed; interesting, but not quite successful." Bree called it "beautiful," and Doggie, Larry and I tended to agree, but I didn't get a later taste to see if it fell apart, as some observed.
1995 Sine Qua Non The Other Hand, 13.5% alc.: Someone used the descriptor "stones and mineral" on this dark garnet, and it fit; like the Queen, it doesn't show any excessive oak. Flavors and aromas feature dark plum/berry character with hints of tar and garrigue. A lovely wine, this garnered such comments as "more sophisticated and less blowsy" than the Queen (Richard) and "gardenias, garrigue and blackberry." (Larry)
1996 Sine Qua Non Against the Wall, 14.5% alc.: These bottles are heavy; Samson could have fought off a host of Philistines with one! This dark garnet shows hints of tar over the dark plum bouquet with oaked hints in the background. With plenty of rich plum/dark berry on the palate, it isn't too tannic and zips right along with good acidity and a nice finish. Once again, the oak isn't at all overdone in this excellent wine.
1997 Sine Qua Non Imposter McCoy, 14.9% alc.: Finally, this dark garnet showed some substantial oak, with a bright, slightly "yeasty" nose that reminded me a little of Flowers. The nose was all plum/blackberry/rhubarb, with the bright berry dominating the flavors. Still a young wine, this is impressive now, and should only get better and better. Kim's favorite of the night.
I was a SQN virgin until this occasion; even Kim had a glass or two from this producer before. But after tasting through this impressive lineup, I'm a fan, especially of the reds.
Many thanks to Doglington for his generosity in sharing the wares of this esoteric producer.
Good fortune smiled upon us when Richard's friend Lisa arrived with "leftovers" from wine.com's BV tasting from earlier in the day. – Larry

Link to Gang of Pour Home Page

Link to Gang of Pour Site Index (Table of Contents)
September, 2000 © Gang of Pour