Sunday Afternoon at the Parfitís
By George Heritier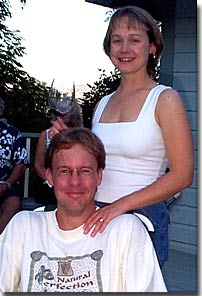 The day after the Montelena tasting, Matt and Alicia Parfit (left) opened their beautiful home on the south side of Petaluma (you know, where all the jazz and blues guys hang out) to any of the previous dayís participants who cared to show up, and more than a few did just that. There was Sam and Jean Leone, Jon Cook (who helped out with organizing) and Kira Maximovich, Rob and Ilene Adler (who HADNíT been to Montelena), Larry and Mary Meehan, David and Glenda King, David Wright and Pamela Mallett, Richard Leland, John Jenness, Bree, Kim and you-know-who. Kim and I had never met Matt and Alicia before, and found them to be delightful folks; I was even more impressed when he let slip that he is a Jazz Ďbone player and she mentioned that there was a stash of H. Upmann Islanders in the cellar.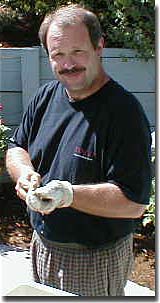 We got started with a tasty flute of Roederer Estate Non-Vintage Brut Anderson Valley, all rich, toasty green apple/pear with a decent bead. It was a perfect match for a batch of fresh oysters that David Wright (*right) brought along, cracking and serving them out in the back yard. After that, it was a grab bag with everyone tasting whatever they liked from the assembled mass of bottles on the kitchen counter. I started with white Burgundy.
1996 Domaine dí Chateau de Puligny-Montrachet Mersault Premier Cru Les Poruzots, 13.5 alc.: Pale gold with a toasty oak/ butterscotch/pear bouquet that follows through on the palate where it gains a note of anise. Just enough acidity and a long finish round out a very attractive package.
1998 Martinelli Russian River Valley Gewurztraminer Martinelli Vineyard, 14.5 alc.: Medium straw, oily, low acid with rich, intense honeysuckle/peach flavors and aromas and a slightly bitter finish. The closest thing to Alsace Iíve ever tasted in a Left Coast Gewurz. Yumm!
1993 Dehlinger Russian River Valley Syrah, 13.5 alc.: There was some controversy regarding this dark garnet; Bree swore it was corked, and a couple of people agreed with him. Others swore that there was no TCA, but there was plenty of rich, lush earthy plum/blackberry character with hints of leather and mostly resolved tannins.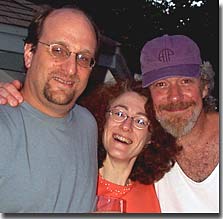 1998 Domaine du Vieux Telegraphe Chateauneuf-du-Pape La Crau, 14% alc.: Dark garnet with a purple tinge, this is a fruit bomb by CdP standards with plum/prune/toast/ berry/leather flavors and aromas and a soft texture and tannins. Rob Adler (left with Ilene and geo t.) pointed out correctly that it has ďplenty of structure,Ē however. Some of us stood enjoying this while practicing our synchronized swirlatude in the event that it becomes a demonstration event in the next Olympics.
1997 Ken Wright Willamette Valley Pinot Noir McCrone Vineyard, 12 % alc. (and it shows it): Smoky ruby garnet with effusive aromatics and smoky black cherry character, this is medium bodied, with silky tannins that can use some time, but it peters out on the finish.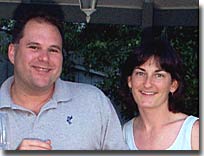 Larry and Mary Meehan
1997 Pride Sonoma Cabernet Franc: Dark garnet with huge sweet oak/red currant/ multi-berry/big maple syrup flavors and aromas; very smooth with no tannins to speak of, and good acidity. I donít want to like this wine, but I really do!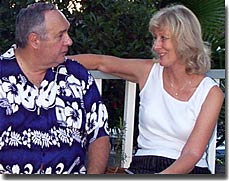 Sam and Jean Leone
1995 Milagro Napa Syrah: The oak isnít as pronounced as in the Pride, but itís still quite prominent; medium full body with red currant/ raspberry character thatís not as dense as your average Syrah. Surprisingly, this was overwhelmed by the grilled sausages and sauces.
There was also some great grilled salmon and steak that were well appreciated, as was the friendship and the hospitality of our host and hostess. Just before we departed, Alicia appeared with two of the aforementioned Upmann Habanas for Doggie and me, and a big Cohiba for herself. We took a spot a little away from the rest of the crowd on the back deck, not wanting our smoke to intrude on their noses. The Upmanns were full bodied cigars, with big meaty tobacco flavors that were the perfect ending to a wonderful afternoonís gathering. Many thanks to Matt and Alicia Parfit, Jon Cook, and all those who attended.

Link to Gang of Pour Home Page

Link to Gang of Pour Site Index (Table of Contents)
September, 2000 © Gang of Pour