Rattin' 'Round Napa
By George Heritier
We pulled into Chateau califusa sometime after midnight, but we didn't let it all hang out, preferring instead to lay back, enjoy a few glasses of '97 Perry Creek El Dorado Viognier with Bree and watch the end of the Duke's McCahill movie, one of his poorest vehicles ever. As for the flight out left, I can sum it up in three lines of five, seven and five syllables.
Stereo babies
And mystery meat sandwich
Fly Continental
We woke up early and greeted the day with Peet's Major Hooligan's Blend, trading good natured insults with our host and berating him for not having a swimming hole like the 'Deauxnuts. Eventually, he went to work and we headed north on Highway 29 to see what kind of trouble we could cause in wine country. Our first stop was the Oakville Grocery for sandwiches that were light years beyond those served on the airplane, and we found some '98 Geyserville and Chave Offerus to investigate as well. I also instigated a minor food fight, escaping without any damage to myself, but taking considerable delight in seeing a number of BMW/Mercedes types splatter each other with pesto and pecorino.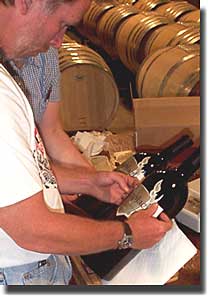 Hand labeling 3 litre bottles of '97 Plumpjack Reserve Cabernet Sauvignon
We then took a leisurely drive over to Plumpjack, where we peeked in on Mary Pisor; she graciously took a few minutes from her very busy schedule (it's "crush" in the valley, after all) to chat and give us a taste of the famous 1997 Reserve Cabernet Sauvignon. Yes, the one with the screwcap. It's a lovely dark garnet with an effusive sweet oak/cassis/ plum/ blackberry bouquet that echoes and expands in the flavors and finishes with that deep dark Cabernet Sauvignon essence that takes it well beyond the mere "fruit bomb." It shows no heat, despite the 14.7 % alcohol, and while oak-phobes may not like it, we thought it was absolutely delicious. Mary laughed and said, "We weren't kidding when we said we put our best wine in that bottle!"
I asked about the vines by the parking lot, and she informed us that they produced the Cabernet Sauvignon that went into their Estate bottling, adding that the grapes "are twice as sweet as Coca-Cola Classic," having weighed in at 23.9 Brix the day before. She added that unlike the Chardonnay, they harvested the Cabernet in warmer temperatures, so if the morning was foggy, they would wait until it burns off.
We bid our adieus to Mary, letting her get back to work and we ambled over to the tasting room where we sampled the current offerings.
We then took our leave, and would have been satisfied if we didn't hit another winery the rest of the day, but after a couple of wine stores, did indeed stop into V. Sattui (guzzundheidt!), a well kept older styled winery which was bustling with business. The retail operation features a deli, a gift shop with plenty of merchandise and lots and lots of wine. We found the place to have a certain "move 'em in and out" production line feel to it, with a little too much "Napatude" for our tastes. It might have been more palatable had the wines been better, though we didn't get to taste any single vineyard or Reserve bottlings.
As we pulled back onto 29 and drove back south, Kim opened the window of our rental car and exclaimed, "The smell of crush, don't you love it?" And it certainly did fill the air, demonstrating why many say this is the best time of year to be in wine country.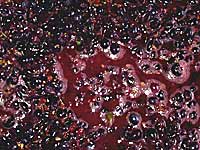 We made our last stop at Peju Province, another well kept establishment with a special emphasis on architecture and sculpture. We observed the winemaking area first, noting vats of Zinfandel and Merlot "soup;" then we headed for the tasting room, where Sales Associate Joseph Payne took us through an entertaining sampling of their wares.
At one point, we were discussing older Zinfandels, and happened to mention the Lytton Springs Winery models from the '70s and '80s we had a few weeks previous with Frank Joyce, Mary Anne Barnett and Bree. Owner Tony Peju overheard and came out of the office to tell of a '74 Cuvaison Zinfandel that he'd had not long ago that was still alive and kicking. We had a pleasant chat with him as well, which was in keeping with our overall experience here.
It is also worth noting that the new winemaker here is Gustavo Brambila, formerly of Grgich Hills, not to mention his own project, Gustavo Thrace Winery. Bree and this taster both sampled the latter's wines last May and we were very impressed, so the future looks bright indeed at Peju Province.
All in all, not a bad day for just rattin' 'round in Napa Valley.

Link to Gang of Pour Home Page

Link to Gang of Pour Site Index (Table of Contents)
September, 2000 © Gang of Pour