A Day at Chateau Montelena
By George Heritier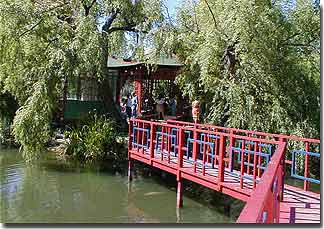 Early on during the summer of 2000, some members of the online wine crowd were having a virtual discussion regarding the wines of Chateau Montelena. After some back and forth, Allan Bree, who has been collecting the wines of this producer for years, decided to see if he could put together a comprehensive tasting at the winery itself. He made some calls, checked on various dates, and finally settled on September 16th for the event. Because of space considerations, it was limited to thirty people, and Kim and this taster raised our hands immediately when the call went out as to who might want to attend.
On Friday, September 15th, Bree and Kim spent the entire day shopping for and preparing food for not only the following day's affair, but also the Sine Qua Non gathering that evening. Together, they put together a spread that was every bit the match for the wines that were presented.
We arrived at Chateau Montelena, on Tubbs Lane just north of Calistoga at 9 AM Saturday morning, and began taking food, wine and accessories out to one of the two beautiful island pagoda/picnic areas (*above) on the property, situated in the middle of a rather sizable pond. Once this was accomplished, it was just a matter of getting organized and waiting for folks to arrive. The setting is an idyllic one, with large man eating gold fish, medium sized turtles and a collection of waterfowl that add a special feel to the already lovely ambience. While we waited, I made the acquaintance of the resident goose, with the help of some bread and crackers. I was also inspired to compose a few haiku.
Montelena Haiku

Island Pagoda
Now the goose and I are one
At Montelena
Turtles in the sun
And carp fishing for handouts
Don't play coy with me!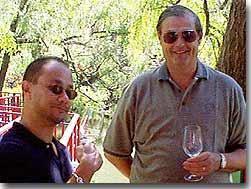 Guests started to arrive, and by the time everyone was assembled, we were thirty strong indeed. Attendees included those who had been at the previous night's affair (with the exception of Lisa), Josh du Lac (right, the shorter guy), Kira Maximovich, George and Sheila Chadwick, Robin and Ngoc Gee, Paula Galleron and her son Matthew, Bill McCullers and Melissa Whitney, Stephen Bozeman and Kim Bernard, Sam and Jean Leone, Morgan Ong, David and Glenda King, Peter (above, the taller guy) and Barbara Marsh, Bruce Leiserowitz, John Jenness, David Wright and Pamela Mallett.
Our tour guide, a gentleman named Ralph, then joined us and led us up to the winery. We couldn't enter the facility, as "crush" was in full swing, and we'd only be in the way, but he prevailed upon winemaker Bo Barrett to come out and take a few minutes to talk with us about some of what was going on. He told us of how they were gently crushing whole cluster Chardonnay, the first time they'd ever done this. He added the maxim, "Every time you manipulate Chardonnay, you pay in fruit," which explains why they do as little as possible with that varietal. (Tasting some of these later would confirm that these were pure fruit, unadorned with any of the oak that characterizes so many "cookie cutter" Napa Valley Chards.)
Mr. Barrett informed us that their Estate Cabernet Sauvignon had no stem tannins after 1990, due to the use of a destemmer. This provided an interesting slant, especially as we tasted through the vintages later that day. He also made this humorous, but accurate observation; "Red wine plus sun equals hammock," referring no doubt to past Cabernet tastings that had taken place in the area's 100 degree summer temperatures.
As we listened to him, all the while taking in the intoxicating aroma of "crush," I also couldn't help but overhear the whispered comments of some female members of our group, and felt another haiku coming on.
Heidi's husband Bo
His hands full of Zinfandel
Ladies like his legs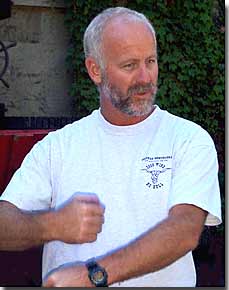 After Bo (right) returned to his busy schedule, Ralph gave us a bit of the history of Chateau Montelena, telling us how Alfred Tubbs had established the first winery there in 1882. Situated in the northern-most end of valley, temperatures average seven or eight degrees warmer than at Oakville Cross Road. Prohibition put a damper on operations, save for sacramental wines; vineyards were sold after repeal, and the winery's production was sporadic at best until the '50s. Rebirth took place in 1972, when Bo's father Jim Barrett bought the property, replanting vineyards and establishing the philosophy and tradition that is stated succinctly thus: "Make the best. Period."
We then moved on to the antique spaced (12' x 8') Cabernet Sauvignon vineyard just beyond the pond, periodically making way for the trucks bringing in more freshly harvested grapes. Fifteen different lots go into the Estate Cab; the hillside fruit was coming in on that day. A small amount of Cabernet Franc is also added, about 3%. The vineyards are farmed organically, and we were allowed to each take a grape to taste. There's nothing like a Cabernet Sauvignon grape at or close to full maturity right off the vine, with its remarkably sweet flavor.
After that, we returned to our island retreat, where Ralph took us through a tasting of Chateau Montelena's current releases.
Then, Ralph left us to our own devices; we thanked him for his fine presentation and began to dig into Bree's amazing spread of food and the assembled wines, to which almost everyone in attendance contributed a bottle or three. Bree brought no less than a case from his own cellar. I started with the older whites.
There were at least a few later vintages of these on hand, but I felt it prudent to move on to the Zinfandels, due to the mass of bottles that were on hand. However, the '95 Potter Valley Riesling found its way to the Parfit BBQ the following day, and it too was most impressive.
These Zins are all excellent (except for the unfortunate '91), and have a certain Italian quality about them; I made a point of tasting through the entire lineup that was present before moving on to the "main event," the Estate Cabernets.
I had always known that Chateau Montelena made one of the finest Cabernet Sauvignons in California, but because I'd only tasted a few previously, I'd only had an inkling as to how powerful and long lived they were. I was also mucho impressed with the Zins and Rieslings for their depth of fruit and age ability. And while I'm not a big fan of Chardonnay, there can be no doubt that theirs are among the very best in California as well. They don't gussy up their juice with any excessive oak, they just let the tremendous fruit do all the talking.
I never got a chance to taste the last of the Cabs, the '96, because we had to vacate the premises due to another scheduled event. We packed up the leftover food and wine that wasn't taken by attendees, as Allan was most hospitable with the bottles that he had uncorked. This was an incredible tasting, which he put an even more incredible amount of effort into bringing off without a hitch, and I can't say enough about his warmth and generosity.
It should also be noted that Robin Gee made a fine contribution with helping to organize various aspects of this and other weekend events, and is to be duly commended.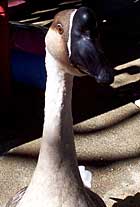 We bid adieu to our compatriots, knowing we'd see a number of them again the following day at Matt and Alicia Parfit's place in Petaluma, and after giving my newfound friend the goose a farewell crust of bread, we drove off into the afternoon sunshine, with the Oldies station blaring Born to Be Wild.

Link to Gang of Pour Home Page

Link to Gang of Pour Site Index (Table of Contents)
September, 2000 © Gang of Pour