Rattin' 'Round Napa Tasting Notes
By George Heritier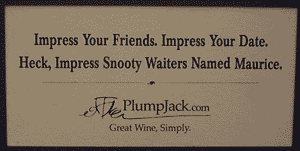 1999 Plumpjack Napa Chardonnay Reserve St. Helena: Pale straw with a big sweet oak/pear/tropical fruit character; not too acidic, but not fat or flabby by any means. Fairly dry flavors, with a nice finish, and easily the best white wine we tried on this day.
1997 Plumpjack North Coast Sangiovese: Ruby dark garnet with big sweet oak/raspberry/black cherry flavors and aromas; soft with big fruit and a good finish.
1997 Plumpjack Napa Cabernet Sauvignon Estate Oakville: Dark garnet with a big cassis/plum nose overlaid with nice oak that's rich, if not as effusive as the Reserve. Flavors echo with more of that deep, dark Cabernet essence that is rich, yet dry, but at least five years worth of tannins clamp down on the finish, so cellar accordingly.
1998 V. Sattui Napa Chardonnay: Pale straw, this is just another sweet oak/tropical fruit cookie cutter Napa Chardonnay, neither offensive nor impressive. In other words, boring.
1999 V. Sattui Dry Johannisberg Riesling: Pale straw, with spicy sweet oak/ apple flavors and aromas that Kim found appealing; too much oak for me though.
1997 V. Sattui Sonoma Zinfandel (Alexander Valley): Ruby dark garnet, with a big sweet toasty oak/spicy raspberry bouquet that was pleasant, but the flavors didn't quite deliver what the nose promised, and it was somewhat tannic and rather acidic to boot. Not bad, but nothing special.
1997 V. Sattui Napa Cabernet Sauvignon: Dark garnet, with a sweet oak/red currant nose and added cassis on the palate; tannins clamp down on the finish. Boring.
V. Sattui California Madeira: I didn't try this rusty ruby garnet dessert wine, but Kim did and said she liked it, noting the nutty quality. I took a whiff of it, and it smelled pretty good; I just wasn't ready for any sweet stuff yet, because one taste and "you can't go back."
1998 Peju Napa Chardonnay: Another medium straw cookie cutter Napa Chardonnay; not unpleasant, but nothing special.
1998 Peju Provence "A Unique Blend": This ruby garnet is a blend of Cabernet Franc, Cabernet Sauvignon, Merlot and Columbard, and is essentially a Rose with strawberry/ raspberry/cranberry cocktail flavors and aromas that shows considerably more concentration than your average "blush." We both found it pleasant and enjoyable.
1996 Peju Napa Cabernet Franc: Dark garnet, with a medium full body and sweet oak/red currant/nutmeg character. There are still some tannins to resolve and decent acidity; nice stuff.
1997 Peju Napa Merlot: Dark garnet, with a restrained dark fruit nose that expands on the palate with some significant tannins, but ultimately, it's just a Merlot.
1997 Peju Napa Cabernet Sauvignon: Dark garnet, with a deep dark nose that's not showing a lot right now; nice fairly dense red currant/berry flavors with a sweet oak overlay.
1997 Peju Napa Cabernet Franc Reserve: Dark garnet, with big toasty oak/red currant/chocolate flavors and aromas and a velvet-y texture. Very nice.
1997 Peju Napa Cabernet Sauvignon Estate Reserve: This dark garnet is the one that got the big 92 from the Wine Spectator, and in fact was the reason I wanted to stop in here, though I doubted we'd get a chance to try it. We apparently established a rapport with Mr. Payne, because he gave us a taste after all, and it is very nice indeed. (Maybe it was the Monty Python quotes.) It features pretty sweet oak/red currant/cassis/blackberry flavors and aromas with an even more velvet-y texture than the Cab Franc Reserve, but it doesn't have the depth or power of the Plumpjack Reserve tasted earlier. Still, it's a very nice Napa Cabernet. (Back to Peju section)

Link to Gang of Pour Home Page

Link to Gang of Pour Site Index (Table of Contents)
September, 2000 © Gang of Pour