A Whirlwind Weekend in Wine Country
By George Heritier
There were some serious doings in Sonapanoma during the weekend of September 15th, and The Director and this taster were right there to stick our noses in the middle of it.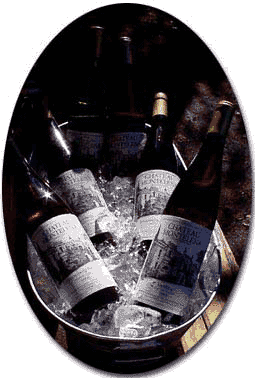 The focal event was a major tasting of the wines of Chateau Montelena, held at the winery on Saturday afternoon and hosted by Allan Bree aka califusa, The Gang's Left Coast Correspondent. There was also a survey of Manfred Krankl's Sine Qua Non wines the night before, courtesy of Jon Cook aka Bigdog. Add to that a big Sunday Bar-B-Q at the beautiful home of Matt and Alicia Parfit in Petaluma and the fact that "crush" was in full swing and what more could you ask for? A trip back to Flowers Vineyards & Winery you say? No hey problema, thanks to the effort of Larry Meehan and the hospitality of Walt and Joan Flowers.
The proceedings unfolded with a speed that practically left our heads spinning, but we documented every aspect of our adventures, so pour a glass of something good and join in on all the fun.

Link to Gang of Pour Home Page

Link to Gang of Pour Site Index (Table of Contents)
September, 2000 © Gang of Pour